Textbook
Lecture Notes:Tropical Medicine, 7th Edition
June 2014, ©2014, Wiley-Blackwell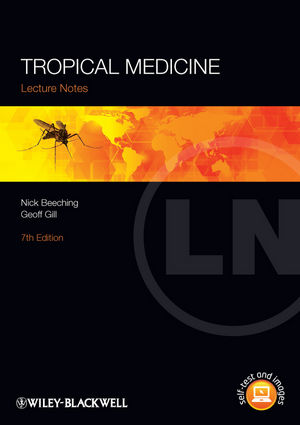 Providing a comprehensive introduction to the study of tropical medicine, this new edition has been thoroughly revised and updated to include new content and more illustrations and clinical photographs to aid understanding. Now fully supported by a companion website containing hundreds of interactive multiple-choice questions, and available in a range of digital formats, Tropical Medicine Lecture Notes is the perfect resource for study and revision, and is the ideal companion for those practising medicine in tropical and sub-tropical regions.
New edition of the best-selling tropical medicine textbook
Brand new chapters covering Ophthalmology and Neglected Tropical Diseases (NTDs)
Increased coverage of malaria, tuberculosis and HIV/AIDS
More colour illustrations and photographs for greater clarity and understanding
Fully supported by a companion website at www.lecturenoteseries.com/tropicalmed containing figures and summaries from the book in PowerPoint format, and hundreds of interactive MCQs (written by Dom Colbert)
Now available in a range of digital formats - perfect for on-the-go study and clinical practice
See More
Contributors, vii
Preface, ix
List of abbreviations, x
New drug names, xiii
How to use your textbook, xiv
About the companion website, xvii
Part 1 A general approach to syndromes/symptom complexes, 1
1 Gastrointestinal presentations, 3
2 Respiratory presentations, 11
3 Neurological presentations, 16
4 Febrile presentations, 24
5 Dermatological presentations, 29
6 The patient with anaemia, 33
7 A syndromic approach to sexually transmitted infections, 38
8 Splenomegaly in the tropics, 47
Part 2 Major tropical infections, 51
9 Malaria, 53
10 Visceral leishmaniasis, 70
11 Cutaneous leishmaniasis, 77
12 Tuberculosis, 82
13 HIV infection and disease in the tropics, 96
14 Onchocerciasis, filariasis and loiasis, 126
15 African trypanosomiasis, 141
16 South American trypanosomiasis (Chagas' disease), 148
17 Schistosomiasis, 151
18 Leprosy, 163

Part 3 Other tropical diseases, 175
19 Amoebiasis, 177
20 Bacillary dysentery, 183
21 Cholera, 186
22 Giardiasis and other intestinal protozoal infections, 190
23 Intestinal cestode infections (tapeworms) including cysticercosis, 195
24 Soil-transmitted helminths, 199
25 Viral hepatitis, 205
26 Liver and intestinal flukes, 214
27 Hydatid disease, 218
28 Pneumonia, 222
29 Lung flukes, 229
30 Tropical pulmonary eosinophilia, 231
31 Pyogenic meningitis, 233
32 Cryptococcal meningitis, 241
33 Encephalitis, 243
34 Acute flaccid paralysis, 248
35 Spastic paralysis, 251
36 Rabies, 254
37 Tetanus, 259
38 Brucellosis, 262
39 Typhoid and paratyphoid fevers, 267
40 Arboviruses, 273
41 Viral haemorrhagic fevers, 276
42 Dengue and yellow fever, 283
43 Relapsing fevers, 289
44 Rickettsial infections, 292
45 Leptospirosis, 294
46 Melioidosis, 297
47 Tropical ulcer, 299
48 Buruli ulcer, 301
49 Myiasis, 305
50 Cutaneous larva migrans, 307
51 Scabies and lice, 309
52 Strongyloidiasis, 311
53 Guinea worm infection (dracunculiasis), 315
54 Histoplasmosis, 317
55 Other fungal infections, 319
56 Haemoglobinopathies and red cell enzymopathies, 321
57 Haematinic deficiencies, 326
58 Bites and stings, 330
59 Non-communicable diseases, 334
60 Refugee health, 351
61 Syndromes of malnutrition, 358
62 Eye disease in the tropics, 364
63 Neglected tropical diseases, 372
Index, 381
See More
Nick Beeching is Senior Lecturer in Infectious Diseases at Liverpool School of Tropical Medicine
Geoff Gill is Emeritus Professor of International Medicine, Liverpool School of Tropical Medicine
See More
"This is a comprehensive review of many tropical diseases, appropriately updated from the previous edition, that accomplishes its educational purpose by presenting material in a way that makes learning uncomplicated and enhancing it with online materials and multiple-choice questions." (Doody's, 9 January 2015)
See More
Purchase Options
Lecture Notes: Tropical Medicine, 7th Edition
ISBN : 978-1-118-73456-8
408 pages
April 2014
Paperback
Lecture Notes: Tropical Medicine, 7th Edition
ISBN : 978-0-470-65853-6
408 pages
June 2014
Lecture Notes: Tropical Medicine, 7th Edition
ISBN : 978-1-118-73453-7
408 pages
July 2014

Information about Wiley E-Texts:
Wiley E-Texts are powered by VitalSource and accessed via the VitalSource Bookshelf reader, available online and via a downloadable app.
Wiley E-Texts are accessible online and offline, and can be read on a variety of devices, including smartphones and tablets.
Wiley E-Texts are non-returnable and non-refundable.
Wiley E-Texts are protected by DRM. For specific DRM policies, please refer to our FAQ.
WileyPLUS registration codes are NOT included with any Wiley E-Text. For informationon WileyPLUS, click here .
To learn more about Wiley E-Texts, please refer to our FAQ.

Information about e-books:
E-books are offered as e-Pubs or PDFs. To download and read them, users must install Adobe Digital Editions (ADE) on their PC.
E-books have DRM protection on them, which means only the person who purchases and downloads the e-book can access it.
E-books are non-returnable and non-refundable.
To learn more about our e-books, please refer to our FAQ.
More in this series