Textbook
Writing for Publication in Nursing and Healthcare: Getting it Right
October 2012, ©2012, Wiley-Blackwell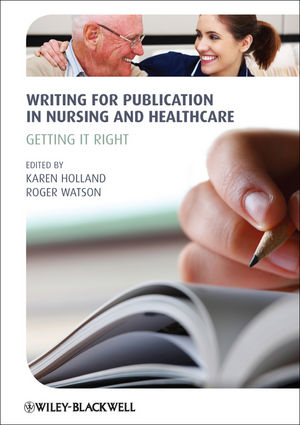 Writing for Publication in Nursing and Healthcare is an invaluable guide to 'getting it right', focusing on all aspects of writing for publication. It will help the reader to develop skills in writing articles, book reviews and other forms of publications, and can also be used as an aide-mémoire for editors and journal or book reviewers. It explores:
How to get started
How to write various forms of publication including abstracts, papers, book reviews, journal articles and books
Good practice in reviewing
The editorial process
Ethical and legal aspects of publishing
Offering guidance, tips, examples and activities, this practical how-to book written by experts in the field is essential reading for all nurses and healthcare professionals.
See More
List of Contributors xi
Foreword xv
Preface xvii
Acknowledgements xix
1 Introduction: The Book, Its Philosophy and Its Focus 1
Karen Holland and Roger Watson
Introduction 1
Why publish what we write? 2
What are perceived barriers to successful writing? 4
How can we succeed? 4
Summary 5
References 6
Further reading 6
Websites 6
2 The Basics of Writing for Publication and the Steps to Success: Getting Started 7
Roger Watson
Introduction 7
Barriers to writing 7
Getting started 9
The process of publishing 1 8
What happens next? 2 1
References 2 1
3 Writing a Conference Abstract and Paper 23
Jan Draper
Introduction 23
Section 1: How to write an abstract 24
Section 2: How to write a conference presentation 33
Summary 40
References 41
Further reading 41
4 Writing for Publication: The Book Review 42
Dean Whitehead
Introduction 42
Personal experience 42
What are the different types of media for review? 43
Does writing a review differ from other scholarly publications? 44
Why write book/media reviews? 45
Writing successful and effective book/media reviews 47
Tips for writing effective book/media reviews: avoiding the pitfalls 49
Dealing with Review Editors 50
Starting slow or ready to go? 52
Summary 55
References 55
Websites 57
5 Writing for Publication: The Journal Article 59
Roger Watson
Introduction 59
What message and to whom? 59
Targeting a journal 61
Read the guidelines 63
Section 1: Reading the guidelines 63
Section 2: Writing and organising the article 67
Section 3: Writing the paper 82
Submitting your manuscript 92
Conclusion 92
References 93
6 Writing for Publication: The Book 94
Karen Holland
Introduction 94
Why write a book? 94
Getting started 95
Contacting a publisher 96
Writing a book proposal 97
Writing on your own: key issues to consider 98
Writing with others: key issues to consider 98
The process of writing a book: key issues to consider 99
Tips for successful management of writing a book 99
Tips for being a book editor and author 101
What comes next? 102
Summary 103
References 103
Websites 103
7 Writing for Publication: The Essential Literature Review 104
Zena Moore
Introduction 104
Decide the question/aims/objectives 105
Identify the search strategy 107
Identifying bias in the literature 109
Critically evaluating the literature 111
Assessing quality issues in randomised controlled clinical trials 112
Assessing quality issues in qualitative studies 115
Write the review 117
Conclusion 118
References 118
Further reading 122
Websites 122
8 Writing for Publication: Turning Assignments into Publishable Works 123
Mark Hayter
Introduction 123
Get advice on writing your work for publication 124
Role of supervisors/authorship 124
What type of publication? 125
Editing research dissertations and theses for publication 131
Conclusion 144
References 144
Further reading 144
9 Writing for Publication: Turning the Conference Paper into Publishable Works 145
Tracy Levett-Jones and Teresa Stone Introduction 145
The benefits of turning a conference paper into a published work 146
Ethical considerations 147
The barriers to turning the conference paper into publishable work 147
Strategies for success 148
Start with the end in mind 149
The title 152
The introduction 153
Developing your presentation and manuscript concurrently 154
Writing the conclusion 156
Timeline 156
Conclusion 159
References 159
Further reading 160
Websites 161
10 The Editorial Process 162
Roger Watson
Introduction 1 62
Who are editors? 1 62
What is editing about? 163
Who else is involved? 164
What do editors look for in an article? 166
Editorial boards 168
What happens to your manuscript? 169
Digital object identifiers 173
Ethics 174
Compiling issues of the journal 175
Media exposure 176
Conclusion 176
References 176
Further reading 177
Websites 177
11 Being a Journal Reviewer: Good Practice in Reviewing 178
Karen Holland
Introduction 178
What is peer review? 179
Types of peer review 179
The role of a reviewer 180
What do we look for in a reviewer? 180
What do we expect from reviewers? 181
Reviewing for an international nursing education/practice journal: additional issues 188
What the editor and publisher can do for the reviewer? 189
Why become a reviewer? 190
Summary 191
References 191
Further reading 192
Websites 192
12 Ethical and Legal Aspects of Publishing: Avoiding Plagiarism and Other Issues 193
Charon A. Pierson
Introduction 193
Dilemma of ethics in publishing 193
Conflict of interest or competing interests 194
Summary and conclusions 206
References 206
Websites 207
13 The World Wide Web and Its Potential for Publication 209
Paul Murphy and Seamus Cowman
Introduction to web publishing 209
Open access publishing and open access self-archiving 211
BioMed Central 213
Publication fees 214
Peer review, quality, timeliness and impact 215
Depositing in a repository 217
Funding bodies and open access mandates 219
Electronic theses and dissertations 220
Web publishing, patient information and best practice 220
Communities of interest 221
Conclusion 221
References 222
Further reading 223
14 Dissemination of Published Work: The Process and the Value 224
Sue Turale
Chapter aim 224
Introduction 224
The value of disseminating your work 225
Strategies for dissemination of findings 230
Conclusion 238
References 239
15 Other Forms of Writing: Letters, Commentaries and Editorials 240
David R. Thompson and Chantal F. Ski
Introduction 240
Good practice and ethics of critical commentary 240
Submission procedures for alternative publishing opportunities 241
Letters 242
Commentaries 243
Editorials 244
'New generation' commenting facilities 245
Submission process and good practice 246
Conclusion 247
References 247
Further reading 248
Website 248
16 Where Do We Go from Here? Action Planning for Writing and Publishing 249
Roger Watson and Karen Holland
Introduction 249
What can we do? 249
Activities that will support your writing 250
Organising your life as a writer 254
Conclusion 257
References 258
Bibliography 259
Index 261
See More
"It is highly recommended for all nursing professionals interesting in promoting healthcare practices through publication."  (Nursing Older People, 1 July 2014)
"Despite that, this book remains a valuable addition to any nurse's library."  (Cancer Nursing Practice, 1 May 2014)
"This guide is easy to read and beautifully structured. Highly recommended."  (Nursing Standard, 30 July 2013)
"The book will be useful for diabetes educators interested in improving their writing and presentation skills and communicating in written form."  (European Diabetes, 27 February 2013)
See More
Purchase Options
Writing for Publication in Nursing and Healthcare: Getting it Right
ISBN : 978-1-118-30247-7
288 pages
August 2012
Paperback
Writing for Publication in Nursing and Healthcare: Getting it Right
ISBN : 978-0-470-65782-9
286 pages
October 2012
Writing for Publication in Nursing and Healthcare: Getting it Right
ISBN : 978-1-118-77335-2
288 pages
June 2013

Information about Wiley E-Texts:
Wiley E-Texts are powered by VitalSource and accessed via the VitalSource Bookshelf reader, available online and via a downloadable app.
Wiley E-Texts are accessible online and offline, and can be read on a variety of devices, including smartphones and tablets.
Wiley E-Texts are non-returnable and non-refundable.
Wiley E-Texts are protected by DRM. For specific DRM policies, please refer to our FAQ.
WileyPLUS registration codes are NOT included with any Wiley E-Text. For informationon WileyPLUS, click here .
To learn more about Wiley E-Texts, please refer to our FAQ.

Information about e-books:
E-books are offered as e-Pubs or PDFs. To download and read them, users must install Adobe Digital Editions (ADE) on their PC.
E-books have DRM protection on them, which means only the person who purchases and downloads the e-book can access it.
E-books are non-returnable and non-refundable.
To learn more about our e-books, please refer to our FAQ.