Textbook
Business Basics for Dentists
May 2013, ©2013, Wiley-Blackwell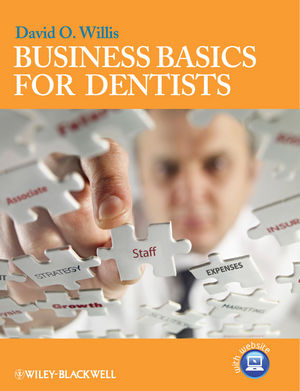 Dr. David Willis combines his experience as a practicing dentist, educator, MBA, and certified financial planner in this breakthrough text about managing a dental business. Rather than a checklist of steps for success, Business Basics for Dentists describes business, economic, marketing, and management principles and explains how to apply them to the dental practice. Dental students and new practitioners will learn how to use the core strategic and operational business philosophies to develop an effective dental practice. He provides the essential elements of a business course--management principles, economics, business finance, and financial analysis--without bogged down in too much detail. These are then related specifically to various aspects of running and managing a dental practice, including office communications, billing, inventory, and marketing the practice. All aspects of practice transition are approached: career opportunities, buying a practice, starting a new practice, multi-practitioner arrangements, practice valuation, and planning and developing a practice. Last, Willis included personal financial planning to ensure that the dentist is also planning for his own finances and retirement beyond the bounds of the practice.
See More
Preface vii
About the Companion Website ix
Section 1 Personal Financial Management 1
Chapter 1 Personal Money Management 3
Chapter 2 Personal Insurance Needs 15
Chapter 3 Planning for Retirement Income 29
Chapter 4 Reducing the Personal Tax Burden 43
Chapter 5 Estate Planning 53
Section 2 Business Foundations 59
Chapter 6 Business Entities 61
Chapter 7 Basic Economics 73
Chapter 8 The Legal Environment of the Dental Practice 87
Chapter 9 Financial Statements 101
Chapter 10 Basics of Business Finance 111
Chapter 11 Business Taxes and Tax Planning 129
Chapter 12 Management Principles 141
Chapter 13 Planning the Dental Practice 147
Section 3 Dental Office Success Factors 159
Chapter 14 Financial Analysis and Control in the Dental Office 161
Chapter 15 Maintaining Production 173
Chapter 16 Maintaining Collections 199
Chapter 17 Generating Patients for the Practice 213
Chapter 18 Gaining Case Acceptance 229
Chapter 19 Controlling Costs in the Practice 241
Chapter 20 Promoting Staff Effectiveness 247
Chapter 21 Maintaining Daily Operations 277
Chapter 22 Managing Risk in the Office 319
Section 4 Practice Transitions 353
Chapter 23 Career Planning 355
Chapter 24 Employment Opportunities 361
Chapter 25 Practice Ownership 369
Chapter 26 Practice Transitions 379
Chapter 27 Valuing Practices 395
Chapter 28 Securing Financing 403
Chapter 29 The Business Plan 411
Index 419
See More
David O. Willis, DMD, MBA, CFP is Professor for the Department of Diagnosis and General Dentistry and Coordinator of Practice Management at the University of Louisville. He is a dentist who has earned an MBA and is a Certified Financial Planner.  He has taught Practice Management for over thirty years in the dental school setting.  In that time, he has also consulted with practitioners concerning management and financial management issues, and have counseled hundreds of graduates who are entering the practice world.  His computer-based dental business simulation is used by many schools in their management curricula.
See More
Written by practicing dentist who is also an M.B.A. and certified financial planner
Applies core business principles to the specifics of dental practice
Web site includes handouts, checklists, forms, etc
See More
Instructors Resources
Digital evaluation copy available for this title
Request Copy

Contact your Wiley Representative
Find Your Rep

See More
See Less
Purchase Options
Business Basics for Dentists
ISBN : 978-1-118-58166-7
432 pages
March 2013
Paperback
Business Basics for Dentists
ISBN : 978-1-118-26606-9
432 pages
May 2013
Business Basics for Dentists
ISBN : 978-1-118-58180-3
432 pages
July 2013

Information about Wiley E-Texts:
Wiley E-Texts are powered by VitalSource and accessed via the VitalSource Bookshelf reader, available online and via a downloadable app.
Wiley E-Texts are accessible online and offline, and can be read on a variety of devices, including smartphones and tablets.
Wiley E-Texts are non-returnable and non-refundable.
Wiley E-Texts are protected by DRM. For specific DRM policies, please refer to our FAQ.
WileyPLUS registration codes are NOT included with any Wiley E-Text. For informationon WileyPLUS, click here .
To learn more about Wiley E-Texts, please refer to our FAQ.

Information about e-books:
E-books are offered as e-Pubs or PDFs. To download and read them, users must install Adobe Digital Editions (ADE) on their PC.
E-books have DRM protection on them, which means only the person who purchases and downloads the e-book can access it.
E-books are non-returnable and non-refundable.
To learn more about our e-books, please refer to our FAQ.