Textbook
PowerPhys Online 3.0 Mobile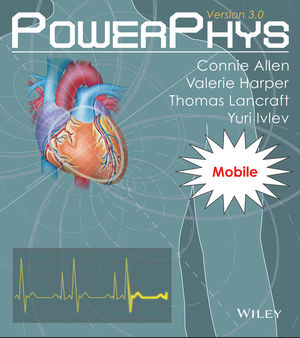 Physiological simulation software for the A & P laboratory, PowerPhys 3.0 allows users to explore physiology principles through 14 self-contained activities. Each activity contains objectives with illustrated and animated review material, pre-lab quizzes, pre-lab reports, data collection and analysis, and a full lab report with discussion and application questions. Experiments contain randomly generated data, allowing users to experiment multiple times but still arrive at the same conclusions. Authored by teaching lab faculty, these activities focus on core physiological concepts and reinforce techniques experienced in the laboratory.
See More
Activity 1: Enzyme Activity
Activity 2: Twitch Contractions and Summation 
Activity 3: Recruitment and Isotonic and Isometric Contractions 
Activity 4: Action Potentials 
Activity 5: Blood Glucose Regulation 
Activity 6: Effect of Exercise on Cardiac Output
Activity 7: Effect of Exercise on Arterial Pressure and Vascular Resistance
Activity 8: Respiratory Volumes
Activity 9: Regulation of Pulmonary Ventilation
Activity 10: Influence of Fluid Intake on Urine Formation
Activity 11: Homeostatic Imbalances of Thyroid Function
Activity 12: Hematocrit and Hemoglobin Concentration and Blood Typing
Activity 13: Acid-Base Balance
Activity 14: Effect of Dietary Fiber on Transit Time and Bile
See More
Three new lab simulation modules:
Hematocrit and Hemoglobin Concentration and Blood Typing
Acid-Base Balance
Effect of Dietary Fiber on Transit Time and Bile
The home page content list now includes main experiments and sub-experiments. In the 14 modules, there are a total of 23 lab simulations. 
The saving feature has been improved. All data analysis and laboratory report data for all experiments will be saved to the user's local machine.  
Users can move through the modules in any order.  
PowerPhys 3.0 is a mobile web site and can be accessed by tablets as well as laptops and desktops. 
PowerPhys 3.0 can be accessed: standalone, packaged with any Wiley Anatomy and Physiology text, or within a version of the WileyPLUS course management system for the Allen & Harper Laboratory Manual for Anatomy and Physiology 5e or the WileyPLUS course for Tortora and Derrickson's Principles of Anatomy and Physiology 14e. Using WileyPLUS provides a single source system for all Anatomy and Physiology Laboratory or lecture course needs.
See More
Objectives and Review Material: Each experiment begins with the necessary background information to successfully complete the activity. These include text, pop-up links to images and definitions and, where appropriate, animations to clarify key physiological processes. 
Pre-Lab Quiz: Each Pre-Lab Quiz consists of ten randomly-generated multiple-choice questions. The correct answer must be selected prior to progressing through the exercise. These questions reinforce key concepts prior to students proceeding onto pre-lab reporting.  
Pre-Lab Reporting: Provides a synopsis of the experiment that the student is about to perform. Students are asked to make predictions about the outcome and are able to select dependent, independent and controlled variables. These predictions are then submitted into the laboratory report.  
Data Collection and Data Analysis: Users can perform physiological experiments using simulated equipment and real data. Data is collected from multiple subjects and then used for analysis. Once the data is collected, students will perform various calculations and equations using an onscreen calculator. Users can view data in either a graphic or tabular format. Tables and Graphs are submitted to the laboratory report.  
Laboratory Report: Lab reports include the user's predictions and data analysis results. Students are asked a series of short answer questions about their experiments, to write a conclusion, and to answer application questions. The lab report may be printed and saved as a PDF file or downloaded from the companion website as an editable Word file.
See More
Instructors Resources
Request a print evaluation copy
Contact us

Contact your Wiley Representative
Find Your Rep

See More
See Less
Purchase Options
Paperback
PowerPhys 3.0 Password Card
ISBN : 978-1-118-52054-3
1 pages
November 2013, ©2013

Information about Wiley E-Texts:
Wiley E-Texts are powered by VitalSource and accessed via the VitalSource Bookshelf reader, available online and via a downloadable app.
Wiley E-Texts are accessible online and offline, and can be read on a variety of devices, including smartphones and tablets.
Wiley E-Texts are non-returnable and non-refundable.
Wiley E-Texts are protected by DRM. For specific DRM policies, please refer to our FAQ.
WileyPLUS registration codes are NOT included with any Wiley E-Text. For informationon WileyPLUS, click here .
To learn more about Wiley E-Texts, please refer to our FAQ.

Information about e-books:
E-books are offered as e-Pubs or PDFs. To download and read them, users must install Adobe Digital Editions (ADE) on their PC.
E-books have DRM protection on them, which means only the person who purchases and downloads the e-book can access it.
E-books are non-returnable and non-refundable.
To learn more about our e-books, please refer to our FAQ.