Textbook
Articulatory Phonetics
January 2013, ©2013, Wiley-Blackwell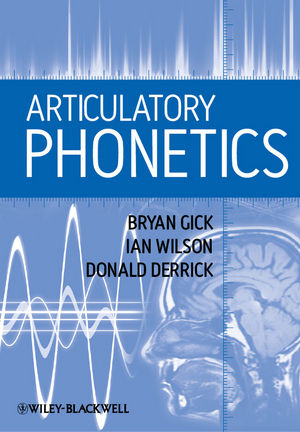 Articulatory Phonetics
presents a concise and non-technical introduction to the physiological processes involved in producing sounds in human speech.
Traces the path of the speech production system through to the point where simple vocal sounds are produced, covering the nervous system, and muscles, respiration, and phonation
Introduces more complex anatomical concepts of articulatory phonetics and particular sounds of human speech, including brain anatomy and coarticulation
Explores the most current methodologies, measurement tools, and theories in the field
Features chapter-by-chapter exercises and a series of original illustrations which take the mystery out of the anatomy, physiology, and measurement techniques relevant to speech research
Includes a companion website at www.wiley.com/go/articulatoryphonetics with additional exercises for each chapter and new, easy-to-understand images of the vocal tract and of measurement tools/data for articulatory phonetics teaching and research
Password protected instructor's material includes an answer key for the additional exercises
See More
List of Figures ix
Acknowledgments xix
Introduction xxi
Part I Getting to Sounds 1
1 The Speech System and Basic Anatomy 3
1.1 The Speech Chain 3
1.1.1 The speech production chain 6
1.2 The Building Blocks of Articulatory Phonetics 7
1.2.1 Materials in the body 9
1.3 The Tools of Articulatory Phonetics 10
Exercises 12
References 13
2 Where It All Starts: The Central Nervous System 15
2.1 The Basic Units of the Nervous System 15
2.1.1 The action potential: how the nervous system communicates 18
2.2 The Central Nervous System 19
2.2.1 Speech areas in the brain 22
2.3 Measuring the Brain: fMRI, PET, EEG, MEG, TMS 27
Exercises 30
References 31
3 From Thought to Movement: The Peripheral Nervous System 33
3.1 The Peripheral Nervous System 33
3.1.1 Cranial nerves 34
3.1.2 Spinal nerves 36
3.2 How Muscles Move 38
3.3 Measuring Muscles: EMG 41
3.3.1 The speed of thought to movement 43
Exercises 45
References 46
4 From Movement to Flow: Respiration 47
4.1 Breathing Basics 47
4.1.1 Two principles for respiration 47
4.1.2 Lung volumes 48
4.1.3 Measuring lung volume 50
4.2 The Anatomy of Breathing 51
4.2.1 The lungs 51
4.2.2 The hard parts: bones and cartilages of respiration 53
4.2.3 Passive forces of breathing 57
4.2.4 Inspiratory muscles 57
4.2.5 Expiratory muscles 61
4.2.6 The respiratory cycle revisited 64
4.3 Measuring Airfl ow and Pressure: Pneumotachograph 66
4.4 Sounds 67
4.4.1 /h/ 67
4.4.2 Pitch and loudness 68
Exercises 68
References 69
5 From Flow to Sound 71
5.1 Intrinsic Laryngeal Anatomy 71
5.1.1 The hard parts 72
5.1.2 Intrinsic laryngeal muscles 74
5.2 Sounds: The Voice 78
5.2.1 Modal phonation 78
5.2.2 Theories of modal phonation 80
5.2.3 Pitch control 86
5.2.4 Voicelessness 89
5.3 Measuring the Vocal Folds: EGG 90
Exercises 91
References 94
Part II Articulating Sounds 97
6 Articulating Laryngeal Sounds 99
6.1 Extrinsic Laryngeal Anatomy 100
6.1.1 The hard parts 100
6.1.2 Extrinsic laryngeal muscles 101
6.2 Sounds 106
6.2.1 Non-modal phonation types 106
6.2.2 The glottalic airstream mechanism 114
6.3 Measuring Laryngeal Articulations: Endoscopy 118
Exercises 120
References 122
7 Articulating Velic Sounds 125
7.1 Anatomy of the Velum 125
7.1.1 The hard parts 126
7.1.2 Muscles of the velum 129
7.2 Sounds 134
7.2.1 The oral-nasal distinction: more on the VPP 134
7.2.2 Uvular constrictions: the oropharyngeal isthmus 136
7.3 Measuring the Velum: X-ray Video 138
Exercises 140
References 141
8 Articulating Vowels 143
8.1 The Jaw and Extrinsic Tongue Muscles 146
8.1.1 The hard parts 146
8.1.2 Jaw muscles 148
8.1.3 Extrinsic tongue muscles 152
8.2 Sounds: Vowels 154
8.2.1 High front vowels 156
8.2.2 High back vowels 156
8.2.3 Low vowels 157
8.2.4 ATR and RTR 159
8.3 Measuring Vowels: Ultrasound 160
Exercises 163
References 164
9 Articulating Lingual Consonants 167
9.1 The Intrinsic Tongue Muscles 167
9.1.1 The transversus and verticalis muscles 168
9.1.2 The longitudinal muscles 170
9.2 Sounds: Lingual Consonants 171
9.2.1 Degrees of constriction and tongue bracing 171
9.2.2 Locations of constriction 176
9.3 Measuring Lingual Consonants: Palatography and Linguography 180
Exercises 182
References 186
10 Articulating Labial Sounds 189
10.1 Muscles of the Lips and Face 192
10.1.1 The amazing OO 192
10.1.2 Other lip and face muscles 194
10.2 Sounds: Making Sense of [labial] 196
10.3 Measuring the Lips and Face: Point Tracking and Video 198
Exercises 202
References 203
11 Putting Articulations Together 205
11.1 Coordinating Movements 205
11.1.1 Context-sensitive models 207
11.1.2 Context-invariant models 207
11.1.3 Unifying theories 209
11.2 Coordinating Complex Sounds 210
11.2.1 Lingual-lingual sounds 211
11.2.2 Other complex sounds 216
11.3 Coarticulation 217
11.3.1 Articulatory overlap 218
11.3.2 Articulatory confl ict 219
11.3.3 Modeling coarticulation 220
11.4 Measuring the Whole Vocal Tract: Tomography 221
Exercises 225
References 225
Abbreviations Used in this Book 229
Muscles with Innervation, Origin, and Insertion 233
Index 243
See More
Bryan Gick is Professor and Director of the Interdisciplinary Speech Research Laboratory at the University of British Columbia, and is a Senior Researcher at Haskins Laboratories. Dr. Gick's work has been featured on NOVA, NPR Morning Edition, and BBC Radio's "Naked Scientist". He is the editor of The Oneida Creation Story as told by Demus Elm and Harvey Antone (with F. Lounsbury, 2000).

Ian Wilson is Professor and Director of the CLR Phonetics Lab at the University of Aizu. Dr. Wilson was a regular in a 3-month English pronunciation television program aired on the "NHK World" channel.

Donald Derrick is a Postdoctoral Fellow at the New Zealand Institute of Language, Brain and Behaviour in Christchurch, and the MARCS Institute in Sydney.
See More
"A rich yet approachable source of phonetic information, this new text is well structured, well designed, and full of original diagrams."  (Expofairs, 25 November 2014)
"This book is the perfect companion for all students in phonetics, speech sciences and speech pathologies and complements Keith Johnson's Acoustic and Auditory Phonetics (3rd edition, 2011, Wiley-Blackwell) as introductory books to phonetic sciences."  (International Journal of Language & Communication Disorders, 1 May 2013)
"Life has just become less lonely for Acoustic and Auditory Phonetics.  Gick, Wilson & Derrick have given us a marvelous addition to the classroom, providing an authoritative description of speech articulation, an insightful and balanced guide to the theory of cognitive control of speech, and a highly readable introduction to the methods used in articulatory phonetics.  All students of phonetics should study this book!" - Keith Johnson, University of California, Berkeley
"Gick, Wilson, and Derrick offer an engaging, comprehensive introduction to how articulation works and how it is investigated in the laboratory.  This textbook fills an important gap in our training of phoneticians and speech scientists." - Patrice Beddor, University of Michigan
"A rich yet approachable source of phonetic information, this new text is well structured, well designed, and full of original diagrams." - James Scobbie, Queen Margaret University
See More
Instructors Resources
Request a print evaluation copy
Contact us

Contact your Wiley Representative
Find Your Rep

See More
See Less
Purchase Options
Articulatory Phonetics
ISBN : 978-1-118-43808-4
272 pages
November 2012
Paperback
Articulatory Phonetics
ISBN : 978-1-4051-9320-7
272 pages
January 2013
Hardcover
Articulatory Phonetics
ISBN : 978-1-4051-9321-4
272 pages
January 2013

Information about Wiley E-Texts:
Wiley E-Texts are powered by VitalSource and accessed via the VitalSource Bookshelf reader, available online and via a downloadable app.
Wiley E-Texts are accessible online and offline, and can be read on a variety of devices, including smartphones and tablets.
Wiley E-Texts are non-returnable and non-refundable.
Wiley E-Texts are protected by DRM. For specific DRM policies, please refer to our FAQ.
WileyPLUS registration codes are NOT included with any Wiley E-Text. For informationon WileyPLUS, click here .
To learn more about Wiley E-Texts, please refer to our FAQ.

Information about e-books:
E-books are offered as e-Pubs or PDFs. To download and read them, users must install Adobe Digital Editions (ADE) on their PC.
E-books have DRM protection on them, which means only the person who purchases and downloads the e-book can access it.
E-books are non-returnable and non-refundable.
To learn more about our e-books, please refer to our FAQ.