Textbook
Strategic Market Management, 10th edition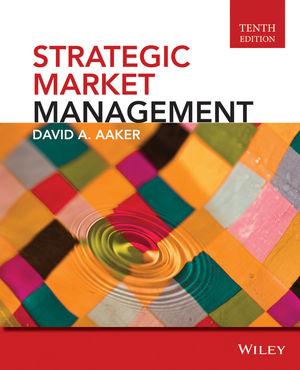 Completely revised and updated, David Aaker's best-selling book, Strategic Market Management, helps managers identify, implement, prioritize, and adapt market-driven business strategies in dynamic markets. The text provides decision makers with concepts, methods, and procedures by which they can improve the quality of their strategic decision-making.
The 10th Edition provides students in strategic marketing, policy, planning, and entrepreneurship courses with the critical knowledge and skills for successful market management, including strategic analysis, innovation, working across business units, and developing sustainable advantages.
See More
Chapter 1 Strategic Market Management—An Introduction and Overview 1
What Is a Business Strategy? 3
A Business Strategy 4
Strategic Market Management 9
Marketing and Its Role in Strategy 13
PART ONE STRATEGIC ANALYSIS 17
Chapter 2 External and Customer Analysis 19
External Analysis 19
The Scope of Customer Analysis 23
Segmentation 24
Customer Motivations 28
Unmet Needs 31
Chapter 3 Competitor Analysis 37
Identifying Competitors—Customer-Based Approaches 38
Identifying Competitors—Strategic Groups 40
Potential Competitors 42
Competitor Analysis—Understanding Competitors 42
Competitor Strengths and Weaknesses 47
The Competitive Strength Grid 50
Obtaining Information on Competitors 53
Chapter 4 Market/Submarket Analysis 55
Dimensions of a Market/submarket Analysis 55
Emerging Submarkets 57
Actual and Potential Market or Submarket Size 58
Market and Submarket Growth 59
Market and Submarket Profitability Analysis 61
Cost Structure 64
Distribution Systems 65
Market Trends 65
Key Success Factors 66
Risks in High-Growth Markets 67
Chapter 5 Environmental Analysis and Strategic Uncertainty 72
Technology Trends 74
Consumer Trends 77
Government/Economic Trends 81
Dealing With Strategic Uncertainty 85
Impact Analysis—Assessing the Impact of Strategic Uncertainties 85
Scenario Analysis 87
Chapter 6 Internal Analysis 91
Financial Performance and Profitability 92
Performance Measurement Beyond Profitability 94
Strengths and Weaknesses 99
Threats and Opportunities 99
From Analysis to Strategy 101
Case Challenges for Part I 103
Trends in Retailing 103
The Energy Bar Industry 105
Transformational Innovations 108
Environmental Trends That Matter 110
PART TWO CREATING, ADAPTING, AND IMPLEMENTING STRATEGY 111
Chapter 7 Creating Advantage: Synergy and Commitment vs. Opportunism vs. Adaptability 113
The Sustainable Competitive Advantage 114
The Role of Synergy 118
Strategic Commitment, Opportunism, and Adaptability 121

Chapter 8 Alternative Value Propositions 130
Business Strategy Challenges 131
Alternative Value Propositions 132
Superior Quality 138
Value 143
Chapter 9 Building and Managing Brand Equity 150
Brand Awareness 151
Brand Loyalty 152
Brand Associations 153
Brand Identity 159
Chapter 10 Toward a Strong Brand Relationship 166
Understanding and Prioritizing Brand Touchpoints 166
Focusing on the Customer's Sweet Spot 170
How to Create or Find a Customer Sweet Spot 172
Get Beyond Functional Benefits 173
Broadening the Concept of a Brand 175
Chapter 11 Energizing the Business 181
Innovating the Offering 182
Energizing the Brand and Marketing 186
Increasing the Usage of Existing Customers 194
Chapter 12 Leveraging the Business 199
Which Assets and Competencies Can Be Leveraged? 200
Brand Extensions 201
Expanding the Scope of the Offering 205
New Markets 206
Evaluating Business Leveraging Options 207
The Mirage of Synergy 209
Chapter 13 Creating New Businesses 213
Create "must Haves," Rendering Competitors Irrelevant 214
The Innovator's Advantage 217
Managing Category Perceptions 219
Creating New Business Arenas 220
From Ideas to Market 225
Chapter 14 Global Strategies 230
Motivations Underlying Global Strategies 231
Standardization vs. Customization 235
Expanding the Global Footprint 239
Strategic Alliances 241
Global Marketing Management 244
Chapter 15 Setting Priorities for Businesses and Brands—The Exit, Milk, and Consolidate Options 247
The Business Portfolio 248
Divestment or Liquidation 250
The Milk Strategy 253
Prioritizing and Trimming the Brand Portfolio 256
Chapter 16 From Silos to Synergy—Harnessing the Organization 263
Silo-Driven Problems—The Case of Marketing 264
Addressing the Silo Marketing Issues—Challenges and Solutions 266
Organizational Levers and Their Link to Strategy 267
Structure 268
Systems 270
People 272
Culture 275
A Recap of Strategic Market Management 278
Case Challenges for Part II 282
Hobart Corporation 282
Dove 284
Competing Against Wal-Mart 287
WEGMANS 290
Costco 291
Contemporary Art 292
Sony vs. iPOD 294
Appendix: Planning Forms 296
Index 311
See More
Ethics LX Simulation: The Med4Life Marketing Simulation puts students in the role of marketing managers to use critical thinking and decision making skills as they face challenges in product cannibalization, segmentation and international marketing.
New Case Studies including well-known companies and programs including P&G's "Thank You Mom" campaign, Red Bull events, and Whole Foods Markets.
New and Revised Material based on recent research and writings by influential thinkers regarding big data, going green and corporate social responsibility.
New chapter on "Toward a Strong Brand Relationship" focusing on how managers can build a loyal base for the business.
See More
The 10th Edition offers the latest concepts, methods, and procedures to help students improve their strategic decision making and develop growth strategies.
Instruction on business strategy that includes product/market scope, value proposition, assets and competencies, and functional area strategies.
Inclusion of strategic analysis, which covers concepts of strategic commitment, opportunism, and adaptability, and how these elements work together.
Instruction on how to grow businesses by energizing business, leveraging business, creating new business, and going global. 
Coverage of pressing market management challenges, such as creating synergetic marketing with silo organizations defined by products or countries.
See More
Instructors Resources
Digital evaluation copy available for this title
Request Copy

Contact your Wiley Representative
Find Your Rep

See More
See Less
Purchase Options

Information about Wiley E-Texts:
Wiley E-Texts are powered by VitalSource and accessed via the VitalSource Bookshelf reader, available online and via a downloadable app.
Wiley E-Texts are accessible online and offline, and can be read on a variety of devices, including smartphones and tablets.
Wiley E-Texts are non-returnable and non-refundable.
Wiley E-Texts are protected by DRM. For specific DRM policies, please refer to our FAQ.
WileyPLUS registration codes are NOT included with any Wiley E-Text. For informationon WileyPLUS, click here .
To learn more about Wiley E-Texts, please refer to our FAQ.

Information about e-books:
E-books are offered as e-Pubs or PDFs. To download and read them, users must install Adobe Digital Editions (ADE) on their PC.
E-books have DRM protection on them, which means only the person who purchases and downloads the e-book can access it.
E-books are non-returnable and non-refundable.
To learn more about our e-books, please refer to our FAQ.