Textbook
Marketing Management: The Big Picture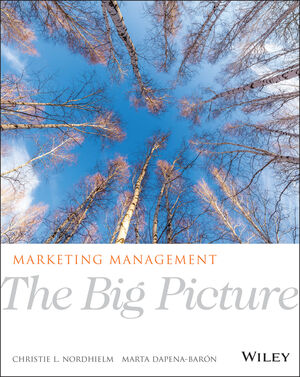 Marketing Management: The Big Picture offers a complete overview of an integrated strategy-through-execution process. The framework allows students to understand strategic marketing as a system where changes in one aspect of the plan affect other aspects, and where strategic decisions have executional consequences. The interrelatedness of the text's 14 modules encourages unity of purpose that results in efficient decision making.
Throughout the text, the authors provide a set of materials that will enable students to attack marketing problems by utilizing an integrated framework and associated tools designed to help them analyze, prioritize, and then solve these problems. The simplicity of the Big Picture Framework enables students to "practice" outside the classroom as well-- finding themselves evaluating marketing problems they encounter in their daily lives through the lens of the Big Picture framework. 
Properly applied, the framework allows students to reduce the uncertainty associated with marketing decisions, and increase their ability to generate a wider range of solutions to the specific problem. Perhaps more importantly, the framework enables the marketer to assess decisions on an ongoing basis, thereby engaging in a process of continuous evaluation and learning.
See More
Chapter 1 - Tools and Responsibilities
Chapter 2 - The Business Objective
Chapter 3 - The Marketing Objective: Customer Focus
Chapter 4 - Source of Volume:  Competitive Focus
Chapter 5 - Segmentation
Chapter 6 - Targeting
Chapter 7 - Positioning
Chapter 8 - Product
Chapter 9 - Service as Product
Chapter 10 - Marketing Communications
Chapter 11 - Pricing
Chapter 12 - Channels
Chapter 13 - Integrated Market Research
Chapter 14 - Marketing Metrics
See More
The Big Picture Framework: The purpose of this approach is to provide a set of materials for students to approach marketing problems by using an integrated framework and tools designed to help them analyze, prioritize, and solve.
Integrated Framework: Because the Big Picture approach is integrated, students never performs a single marketing activity without considering all of the other elements of the Big Picture; this integrated method encourages critical thinking and produces stronger, more effective marketers in the long run.
Proven Results: As consultants, the author team has implemented the Big Picture at more than twenty US and international companies including Johnson & Johnson, Ecolab, and American Express and industries like manufacturing, medical devices, retailing, financial services and airlines.
The Big Picture Partners website (www.bigpictureonline.com) is available to textbook adopters and provides articles, case studies and information about the authors' current research.
Applications outside of the classroom: The core knowledge of the framework is absorbed quickly, and students' learning is enhanced because they are afforded a wide variety of opportunities to see the Big Picture in action, and apply their growing knowledge and skills.
Real-World Case Studies: the cases in the text have been informed by experience implementing the Big Picture in real organizations.
See More
Instructors Resources
Digital evaluation copy available for this title
Request Copy

Contact your Wiley Representative
Find Your Rep

See More
See Less
Purchase Options

Information about Wiley E-Texts:
Wiley E-Texts are powered by VitalSource and accessed via the VitalSource Bookshelf reader, available online and via a downloadable app.
Wiley E-Texts are accessible online and offline, and can be read on a variety of devices, including smartphones and tablets.
Wiley E-Texts are non-returnable and non-refundable.
Wiley E-Texts are protected by DRM. For specific DRM policies, please refer to our FAQ.
WileyPLUS registration codes are NOT included with any Wiley E-Text. For informationon WileyPLUS, click here .
To learn more about Wiley E-Texts, please refer to our FAQ.

Information about e-books:
E-books are offered as e-Pubs or PDFs. To download and read them, users must install Adobe Digital Editions (ADE) on their PC.
E-books have DRM protection on them, which means only the person who purchases and downloads the e-book can access it.
E-books are non-returnable and non-refundable.
To learn more about our e-books, please refer to our FAQ.