Textbook
Introduction to Behavioral Economics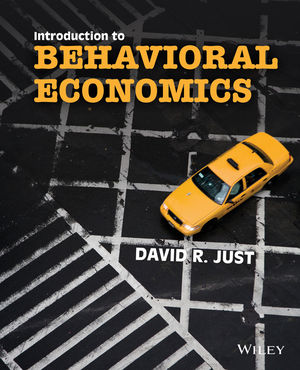 With the rise of behavioral economics courses undergraduates are seeking more formal training and instruction in behavioral economics topics. Introduction to Behavioral Economics covers all the ways consumers and other economic agents behave in an irrational manner, and prepares readers to make rational economic choices.
This book is focused on the broad principles of behavior, which are illustrated using real-world examples, examples from experimental literature, as well as experiential examples. All examples are drawn from news items, historical accounts and the economics literature. Experimental examples are drawn from the economics literature and are in the form of classroom experiments that complement the principles of the book.
See More
Preface xv
1 Rationality, Irrationality, and Rationalization 1
Part 1 Consumer Purchasing Decisions
2 Transaction Utility and Consumer Pricing 17
3 Mental Accounting 41
4 Status Quo Bias and Default Options 70
5 The Winner's Curse and Auction Behavior 93
Part 2 Information and Uncertainty
6 Bracketing Decisions 125
7 Representativeness and Availability 156
8 Confirmation and Overconfidence 187
9 Decision under Risk and Uncertainty 214
10 Prospect Theory and Decision under Risk or Uncertainty 250
Part 3 Time Discounting and the Long and Short Run
11 Disagreeing with Ourselves: Projection and Hindsight Biases 281
12 Naïve Procrastination 309
13 Committing and Uncommitting 347
Part 4 Social Preferences
14 Selfishness and Altruism 389
15 Fairness and Psychological Games 417
16 Trust and Reciprocity 450
Glossary 473
Index 495
See More
Use of a wide range of examples: real-world examples, examples from experimental literature, and examples from laboratory exercise.
Experiential examples put students in the position to experience the effect of behavioral economics themselves.
Text is organized in a more user-friendly format—by behavioral principles—rather than by topic and diverse experiments with conflicting results, like many other textbooks.
Text is flexible enough to appeal to a wide variety of audiences, and instructors can determine rigor, specifically when it comes to treatment of mathematical models.
Significant discussion of management and policy implications, as well as the potential impacts of behavioral theory on welfare economics and policy.
See More
Instructors Resources
Digital evaluation copy available for this title
Request Copy

Contact your Wiley Representative
Find Your Rep

See More
See Less
Purchase Options

Information about Wiley E-Texts:
Wiley E-Texts are powered by VitalSource and accessed via the VitalSource Bookshelf reader, available online and via a downloadable app.
Wiley E-Texts are accessible online and offline, and can be read on a variety of devices, including smartphones and tablets.
Wiley E-Texts are non-returnable and non-refundable.
Wiley E-Texts are protected by DRM. For specific DRM policies, please refer to our FAQ.
WileyPLUS registration codes are NOT included with any Wiley E-Text. For informationon WileyPLUS, click here .
To learn more about Wiley E-Texts, please refer to our FAQ.

Information about e-books:
E-books are offered as e-Pubs or PDFs. To download and read them, users must install Adobe Digital Editions (ADE) on their PC.
E-books have DRM protection on them, which means only the person who purchases and downloads the e-book can access it.
E-books are non-returnable and non-refundable.
To learn more about our e-books, please refer to our FAQ.