Textbook
Multinational Financial Management, 10th Edition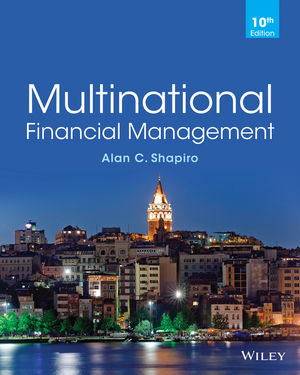 Multinational Financial Management, 10th Edition provides corporate managers with a conceptual framework within which the key financial decisions of the multinational firm can be analyzed. All the traditional areas of corporate finance are explored, including working capital management, capital budgeting, cost of capital, and financial structure, in the context of a multinational corporation.
The text offers a variety of real‑life examples, both numerical and institutional, that demonstrate the use of financial analysis and reasoning in solving international financial problems.
See More
Preface xiii
Selected Currencies and Symbols xvii
Symbols and Acronyms xix
Part I Environment of International Financial Management 1
1 Introduction: Multinational Enterprise and Multinational Financial Management 2
2 The Determination of Exchange Rates 52
3 The International Monetary System 88
4 Parity Conditions in International Finance and Currency Forecasting 138
5 The Balance of Payments and International Economic Linkages 183
6 Country Risk Analysis 214
Part II Foreign Exchange and Derivatives Markets 255
7 The Foreign Exchange Market 256
8 Currency Futures and Options Markets 280
9 Swaps and Interest Rate Derivatives 312
Part III Foreign Exchange Risk Management 335
10 Measuring and Managing Translation and Transaction Exposure 336
11 Measuring and Managing Economic Exposure 379
Part IV Financing the Multinational Corporation 421
12 International Financing and National Capital Markets 422
13 The Euromarkets 455
14 The Cost of Capital for Foreign Investments 476
Part V Foreign Investment Analysis 507
15 International Portfolio Investment 508
16 Corporate Strategy and Foreign Direct Investment 535
17 Capital Budgeting for the Multinational Corporation 554
Part VI Multinational Working Capital Management 585
18 Financing Foreign Trade 586
19 Current Asset Management and Short-Term Financing 613
20 Managing the Multinational Financial System 643
Glossary 673
Index 693
See More
Incorporates the changes in the world financial system, particularly the ongoing European sovereign debt crisis and the continuing development of China and India.
Added discussion of recent instability in the international monetary system, as well as of the issues policymakers face in designing an exchange rate regime.
Extensive analysis and discussion of QE2 and of the recent crises and structural flaws in the European Monetary Union, particularly related to the experience of the PIGS. 
New charts and illustrations of corporate practice that are designed to highlight specific techniques or teaching points in order to emphasize and reinforce the concepts developed in the body of each chapter.
See More
Focus on Corporate Practice throughnumerous real-world examples and vignettes that provide actual applications of financial concepts and theories.
Extensive Use of Examples and Applications scattered throughout the body of most chapters.
Learning Objectives at the start of each chapter that enhance learning by previewing and guiding the reader's understanding of the materials that will be encountered in the chapter.
New Alternate Brief Edition available which will mirror the contents of the previously published Shapiro, Foundations of Multinational Financial Management 6th edition
See More
Instructors Resources
Digital evaluation copy available for this title
Request Copy

Contact your Wiley Representative
Find Your Rep

See More
See Less
Purchase Options

Information about Wiley E-Texts:
Wiley E-Texts are powered by VitalSource and accessed via the VitalSource Bookshelf reader, available online and via a downloadable app.
Wiley E-Texts are accessible online and offline, and can be read on a variety of devices, including smartphones and tablets.
Wiley E-Texts are non-returnable and non-refundable.
Wiley E-Texts are protected by DRM. For specific DRM policies, please refer to our FAQ.
WileyPLUS registration codes are NOT included with any Wiley E-Text. For informationon WileyPLUS, click here .
To learn more about Wiley E-Texts, please refer to our FAQ.

Information about e-books:
E-books are offered as e-Pubs or PDFs. To download and read them, users must install Adobe Digital Editions (ADE) on their PC.
E-books have DRM protection on them, which means only the person who purchases and downloads the e-book can access it.
E-books are non-returnable and non-refundable.
To learn more about our e-books, please refer to our FAQ.