Textbook
Modern Portfolio Theory and Investment Analysis, 9th Edition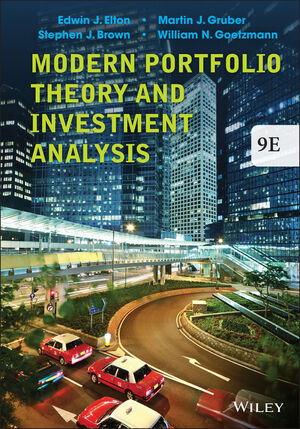 Modern Portfolio Theory and Investment Analysis, 9th Editionexamines the characteristics and analysis of individual securities, as well as the theory and practice of optimally combining securities into portfolios. It stresses the economic intuition behind the subject matter while presenting advanced concepts of investment analysis and portfolio management.
The authors present material that captures the state of modern portfolio analysis, general equilibrium theory, and investment analysis in an accessible and intuitive manner.
See More
Chapter 1: Introduction
Chapter 2: Financial Securities
Chapter 3: Financial Markets
Chapter 4: The Characteristics of the Opportunity Set Under Risk
Chapter 5: Delineating Efficient Portfolios
Chapter 6: Techniques for Calculating the Efficient Frontier
Chapter 7: The Correlation Structure of Security Returns: The Single-Index Model
Chapter 8: The Correlation Structure of Security Returns: Multi-Index Models and Grouping Techniques
Chapter 9: Simple Techniques for Determining the Efficient Frontier
Chapter 10: Estimating Expected Returns
Chapter 11: How to Select Among the Portfolios in the Opportunity Set
Chapter 12: International Diversification
Chapter 13: The Standard Capital Asset Pricing Model
Chapter 14: Nonstandard Forms of Capital Asset Pricing Models
Chapter 15: Empirical Tests of Equilibrium Models
Chapter 16: The Arbitrage Pricing Model APT – A Multifactor Approach to Explaining Asset Prices
Chapter 17: Efficient Markets
Chapter 18: The Valuation Process
Chapter 19: Earnings Estimation
Chapter 20: Behavioral Finance, Investor Decision Making, and Asset Prices
Chapter 21: Interest Rate Theory and the Pricing of Bonds
Chapter 22: The Management of Bond Portfolios
Chapter 23: Option Pricing Theory
Chapter 24: The Valuation and Uses of Financial Futures
Chapter 25: Mutual Funds
Chapter 26: Evaluation of Portfolio Performance
Chapter 27: Evaluation of Security Analysis
Chapter 28: Portfolio Management Revisited
See More
A new chapter has been added to describe changing conditions in the mutual fund industry.
Structural changes that have occurred in the markets in which securities are traded have been recognized.
Discussion on the causes of the financial crisis of 2008 and the financial instruments that affected the crisis.
See More
Real-world examples are integrated throughout the pages to reinforce important concepts.
The text demonstrates how to apply modern tools such as equilibrium theory to the management of a portfolio.
Up-to-date with the rapidly changing environment of modern portfolio theory and investment analysis.
Mathematical proofs can be found in the footnotes, appendices, and specially noted sections of the text in order to enhance student application.
See More
Instructors Resources
Digital evaluation copy available for this title
Request Copy

Contact your Wiley Representative
Find Your Rep

See More
See Less
Purchase Options

Information about Wiley E-Texts:
Wiley E-Texts are powered by VitalSource and accessed via the VitalSource Bookshelf reader, available online and via a downloadable app.
Wiley E-Texts are accessible online and offline, and can be read on a variety of devices, including smartphones and tablets.
Wiley E-Texts are non-returnable and non-refundable.
Wiley E-Texts are protected by DRM. For specific DRM policies, please refer to our FAQ.
WileyPLUS registration codes are NOT included with any Wiley E-Text. For informationon WileyPLUS, click here .
To learn more about Wiley E-Texts, please refer to our FAQ.

Information about e-books:
E-books are offered as e-Pubs or PDFs. To download and read them, users must install Adobe Digital Editions (ADE) on their PC.
E-books have DRM protection on them, which means only the person who purchases and downloads the e-book can access it.
E-books are non-returnable and non-refundable.
To learn more about our e-books, please refer to our FAQ.