Textbook
Analytical Chemistry, 7th Edition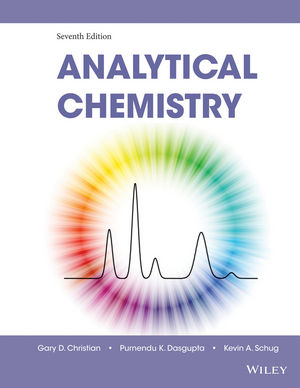 The 7th Edition of Gary Christian's Analytical Chemistry focuses on more in-depth coverage and information about Quantitative Analysis (aka Analytical Chemistry) and related fields. The content builds upon previous editions with more enhanced content that deals with principles and techniques of quantitative analysis with more examples of analytical techniques drawn from areas such as clinical chemistry, life sciences, air and water pollution, and industrial analyses.
See More
Ch. 1 Analytical Objectives, or: What Analytical Chemists Do 1
Ch. 2 Basic Tools and Operations of Analytical Chemistry 20
Ch. 3 Statistics and Data Handling in Analytical Chemistry 62
Ch. 4 Good Laboratory Practice: Quality Assurance and Method Validation 132
Ch. 5 Stoichiometric Calculations: The Workhorse of the Analyst 149
Ch. 6 General Concepts of Chemical Equilibrium 188
Ch. 7 Acid–Base Equilibria 222
Ch. 8 Acid–Base Titrations 281
Ch. 9 Complexometric Reactions and Titrations 322
Ch. 10 Gravimetric Analysis and Precipitation Equilibria 342
Ch. 11 Precipitation Reactions and Titrations 366
Ch. 12 Electrochemical Cells and Electrode Potentials 383
Ch. 13 Potentiometric Electrodes and Potentiometry 399
Ch. 14 Redox and Potentiometric Titrations 437
Ch. 15 Voltammetry and Electrochemical Sensors 466
Ch. 16 Spectrochemical Methods 477
Ch. 17 Atomic Spectrometric Methods 548
Ch. 18 Sample Preparation: Solvent and Solid-Phase Extraction 579
Ch. 19 Chromatography: Principles and Theory 596
Ch. 20 Gas Chromatography 619
Ch. 21 Liquid Chromatography and Electrophoresis 649
Ch. 22 Mass Spectrometry 735
Ch. 23 Kinetic Methods of Analysis 769
Ch. 24 Automation in Measurements 784
Available on textbook website: www.wiley.com/college/christian
Ch. 25 Clinical Chemistry C1
Ch. 26 Environmental Sampling and Analysis EN1
Ch. G Century of the Gene—Genomics and Proteomics: DNA Sequencing and Protein G1

APPENDIX A LITERATURE OF ANALYTICAL CHEMISTRY 794

APPENDIX B REVIEW OF MATHEMATICAL OPERATIONS: EXPONENTS, LOGARITHMS, AND THE QUADRATIC FORMULA 797

APPENDIX C TABLES OF CONSTANTS 801

APPENDIX D SAFETY IN THE LABORATORY S1



See More
Professor's Favorite Examples and Professor's Favorite Problems have been added throughout the text. We asked professors and practicing analytical chemists to suggest new analytical examples and problems, especially as they relate to real world practice.
New chapter (chapter 22) on mass spectrometry, since this is increasingly a routine and powerful analytic tool. Significant updates to the liquid chromatography chapter (chapter 21) that not only give the fundamentals of various techniques, how they evolved and their operation, but also what the capabilities of different systems are and guidance for selecting a suitable system for a specific application.
Revised chapters, especially those dealing with instrumentation to include recent technological innovations.
Historical information is added throughout to put into perspective how the tools have been developed and evolved.
Video tutorials created by students of Professor Dasgupta to illustrate the use of powerful Excel programs to perform complicated calculations, and to create plots of titration curves, alpha vs. pH, logC vs. pH, etc.
New experiments have been added. All experiments are available for download from the book companion site.
QR codes are provided for selected text website materials, allowing students to browse for the videos, URL links, etc. on their smartphones or iPads.
See More
Each chapter is introduced with a summary paragraph that lists the topics to be covered, providing a broad overview of each important topic, including key learning objectives to help students focus on the key topics.
Detailed instructions are given on how to use and take advantage of spreadsheets in analytical calculations, plotting, and data processing. The use of Excel Goal Seek and Excel Solver is introduced for solving complex problems.
There are 46 experiments, grouped by topic, illustrating most of the measurement techniques presented in the text. Each contains a description of the principles and chemical reactions involved so the student gains an overview of what is being determined and how.
Problems and Recommended References are grouped by topic, for ease in assignment. Numerous references are classics with historical but valuable information, but references have been extensively updated.
PowerPoint slides of all figures and tables in the text are posted on the book website for each chapter, with summaries of text material for each.
See More
Instructors Resources
ENHANCE YOUR COURSE
Digital evaluation copy available for this title
Request Copy

Contact your Wiley Representative
Find Your Rep

See More
See Less
Students Resources
See More
See Less
Purchase Options

Information about Wiley E-Texts:
Wiley E-Texts are powered by VitalSource technologies e-book software.
With Wiley E-Texts you can access your e-book how and where you want to study: Online, Download and Mobile.
Wiley e-texts are non-returnable and non-refundable.
WileyPLUS registration codes are NOT included with the Wiley E-Text. For informationon WileyPLUS, click here .
To learn more about Wiley e-texts, please refer to our FAQ.

Information about e-books:
E-books are offered as e-Pubs or PDFs. To download and read them, users must install Adobe Digital Editions (ADE) on their PC.
E-books have DRM protection on them, which means only the person who purchases and downloads the e-book can access it.
E-books are non-returnable and non-refundable.
To learn more about our e-books, please refer to our FAQ.
This title is also available on :