Textbook
The Restaurant: From Concept to Operation, 7th edition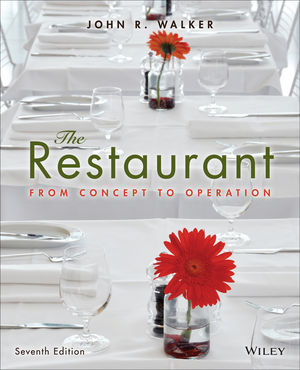 The Restaurant: From Concept to Operation, 7th Edition takes the reader from the initial idea to the grand opening. It features comprehensive, applications-based coverage of all aspects of developing, opening, and running a restaurant. This includes topics such as staffing, legal and regulatory concerns, cost control and general financing, marketing and promotion, equipment and design, the menu, sanitation, and concept. A one-stop guide to the restaurant business, the Seventh Edition of Walker's, The Restaurant continues the success of previous editions, providing, in an easy-to-read way, all of the skills and information needed to master every challenge and succeed in this highly competitive and rewarding industry. Each chapter has been revised, updated, and enhanced with numerous industry examples, sidebars, charts, tables, photographs, and menus. Greater emphasis is placed on restaurant business plans, restaurant management, and restaurant operations. The themes of sustainability and sustainable restaurant management have been added throughout. The Seventh Edition includes new sections on purchasing meat, cocktails, and the early history of eating out. All of this information will help restaurant owners make the decisions necessary to build a thriving business.
See More
Preface ix
Acknowledgments xiii
Part One Restaurants, Owners, Locations, and Concepts 1
The Concept of B. Café
Chapter 1 Introduction 3
Early History of Eating Out 5
French Culinary History 6
Birth of Restaurants in America 7
Challenges of Restaurant Operation 12
Buy, Build, Franchise, or Manage? 14
Starting from Scratch 17
Restaurants as Roads to Riches 18
Global Issues 19
Case Study: Castelli's Restaurant at 255 21
Chapter 2 Restaurants and Their Owners 24
Kinds and Characteristics of Restaurants 25
Sandwich Shops 29
Quick-Service Restaurants 30
Quick Casual Restaurants 32
Family Restaurants 33
Casual Restaurants 33
Fine-Dining Restaurants 35
Hotel Restaurants 36
Steakhouses 37
Seafood Restaurants 40
Ethnic Restaurants 40
Theme Restaurants 43
Coffee Shops 46
Chef-Owned Restaurants 47
Celebrity Chefs 51
Centralized Home Delivery Restaurants 54
Case Study: EVOS 56
Chapter 3 Concept, Location, and Design 60
Restaurant Concepts 61
Defi ning the Concept and Market 66
Successful Restaurant Concepts 67
Restaurant Life Cycles 71
Concept Adaptation 72
Restaurant Symbology 75
Multiple-Concept Chains 75
Sequence of Restaurant Development: From Concept to Opening 76
Planning Services 77
Common Denominators of Restaurants 77
Mission Statement 84
Concept and Location 85
Criteria for Locating a Restaurant 86
Location Information Checklist 98
Case Study: Wurstkuche 100
Part Two Menus, Kitchens, and Purchasing 103
Daniel Boulud
Chapter 4 The Menu 105
Considerations in Planning a Menu 107
Capability/Consistency 108
Equipment Capacity and Layout 108
Availability of Ingredients 108
Price and Pricing Strategy 109
Nutritional Value 112
Flavor 119
Accuracy in Menus 120
Menu Items 123
Menu Types 126
Menu Engineering 129
Menu Design and Layout 131
Standardized Recipes 132
Menu Trends 132
Case Study: Salt "Gastropub" 137
Chapter 5 Planning and Equipping the Kitchen 142
Back-of-the-House Green 146
Open Kitchen 147
Kitchen Floor Coverings 150
Kitchen Equipment 150
Equipment Stars 155
Maintaining Kitchen Equipment 163
Meeting with the Health Inspector 165
Case Study: Steuben's Food Service 167
Chapter 6 Food Purchasing 169
Sustainable Purchasing 170
Food-Purchasing System 172
Types of Purchasing 177
Buying Meat 178
Buying Fresh Fruits and Vegetables 180
Case Study: Farm Burger 185
Part Three Restaurant Operations 187
Concept of Aria Restaurant
Chapter 7 Bar and Beverages 189
Alcoholic Beverage Licenses 190
Bar Layout and Design 192
Beverages 194
Bartenders 198
Basic Bar Inventory 199
Wines 200
Responsible Alcoholic Beverage Service 211
Third-Party Liability 212
Controls 212
Coffee and Tea 214
Case Study: Classic Restaurant Concepts 216
Chapter 8 Operations, Budgeting, and Control 219
Restaurant Operations 220
Front of the House 220
Back of the House 227
Control 229
Liquor Control 231
Controllable Expenses 234
Labor Costs 235
Guest Check Control 241
Productivity Analysis and Cost Control 242
Case Study: Big Shanty Smokehouse 244
Chapter 9 Food Production and Sanitation 246
Our Culinary Heritage 247
Native American Infl uence 247
African American Infl uence 248
Italian Infl uence 248
French Infl uence 249
Receiving 253
Storage 254
Food Production 255
Production Procedures 258
Staffi ng and Scheduling 260
Foodborne Illness 260
Hazard Analysis of Critical Control Points 268
Common Food Safety Mistakes 269
Approaches to Food Safety 270
Food Protection as a System 271
Case Study: PDQ 274
Part Four Restaurant Management 277
Concept of Niche Restaurant
Chapter 10 Restaurant Leadership and Management 279
Leading Employees 280
The Nature of Leadership 283
Employee Input, and What's in It for Me? 284
Policies and Procedures 285
Management Topics 285
Restaurant Management Issues 290
Case Study: Eat Here 301
Chapter 11 Organization, Recruiting, and Staffi ng 304
Job Descriptions 305
Organizing People and Jobs 307
Staffi ng the Restaurant 309
Civil Rights Laws 317
Questions to Avoid on the Application Form
and During the Interview 320
Careful Selection of Staff 324
Case Study: Short Street Cakes 327
Chapter 12 Training and Service 330
Orientation 331
Part-Time Employees 332
Training and Development 332
Methods for Training Employees 341
Service 344
Tact: Always 356
Case Study: Ophelia's on the Bay 358
Chapter 13 Technology in the Restaurant Industry 361
Technology in the Restaurant Industry 362
Table Management 372
PCI DSS 374
POS Systems 375
Mobile Phone Technology 376
Web-Based Enterprise Portals 378
Gift Card and Loyalty Programs 379
Guest Services and Websites 379
Restaurant Management Systems 380
Case Study: Carmel Café & Wine Bar 382
Part Five Business Plans, Financing, and Legal Matters 385
Concept of Panifi cio Café and Restaurant
Chapter 14 Restaurant Business and Marketing Plans 387
What Business Entity Is Best? 388
Buy–Sell Agreement with Partners 394
Legal Aspects of Doing Business 394
Business Plan 398
The Difference between Marketing and Sales 402
Marketing Planning and Strategy 403
Market Assessment, Demand, Potential, and Competition Analysis 406
Marketing Mix—The Four Ps 408
Case Study: Old Salty Dog 422
Chapter 15 Financing and Leasing 425
Financing 426
Suffi cient Capital 426
Preparing for the Loan Application 427
Uniform System of Accounts for Restaurants 432
Securing a Loan 438
Leasing 448
What Is a Restaurant Worth? 455
Case Study: Hopleaf 458
Glossary 461
Index 473
See More
A Case Study has been added to each chapter: These new case studies will help improve student's critical thinking skills.
A new section on Pop-Ups, Food Trucks, gluten-free cooking, and menu items is now included
Examples and discussions of new restaurant concepts and their founders are now included.
A new section on food allergy safety precautions and properly training staff to handle allergy attacks is now included.
An updated discussion on how it's easy being "green": The themes of sustainability and sustainable restaurant management have been updated throughout this new edition.
An updated and extended section on purchasing meat has been added to Chapter 6: Food Purchasing.
Additional emphasis on restaurant business plans, restaurant management, training, and restaurant operations is included in this new edition.
See More
Comprehensive and reader friendly approach to all the basics
Takes readers step-by-step through the complicated process of planning, creating, and opening any type of restaurant
Includes information on topics such as staffing, legal and regulatory concerns, cost control and general financing, marketing and promotion, kitchen planning and design, the menu, sanitation and concept
Strong pedagogical features such as learning objectives, key terms and concepts, and review questions in each chapter
Includes up-to-date restaurant profiles, as well as sidebars offering advice, charts, tables, photographs and menus
See More
Instructors Resources
Request a print evaluation copy
Contact us

Contact your Wiley Representative
Find Your Rep

See More
See Less
Purchase Options
Paperback
Study Guide to accompany The Restaurant: From Concept to Operation, 7th Edition
ISBN : 978-1-118-62960-4
186 pages
December 2013, ©2014
The Restaurant: From Concept to Operation, 7th Edition
ISBN : 978-1-118-80290-8
512 pages
October 2013, ©2014
Hardcover
The Restaurant: From Concept to Operation, 7th Edition
ISBN : 978-1-118-62962-8
512 pages
November 2013, ©2014

Information about Wiley E-Texts:
Wiley E-Texts are powered by VitalSource and accessed via the VitalSource Bookshelf reader, available online and via a downloadable app.
Wiley E-Texts are accessible online and offline, and can be read on a variety of devices, including smartphones and tablets.
Wiley E-Texts are non-returnable and non-refundable.
Wiley E-Texts are protected by DRM. For specific DRM policies, please refer to our FAQ.
WileyPLUS registration codes are NOT included with any Wiley E-Text. For informationon WileyPLUS, click here .
To learn more about Wiley E-Texts, please refer to our FAQ.

Information about e-books:
E-books are offered as e-Pubs or PDFs. To download and read them, users must install Adobe Digital Editions (ADE) on their PC.
E-books have DRM protection on them, which means only the person who purchases and downloads the e-book can access it.
E-books are non-returnable and non-refundable.
To learn more about our e-books, please refer to our FAQ.