Textbook
Earth Resources and Environmental Impact, 1st Edition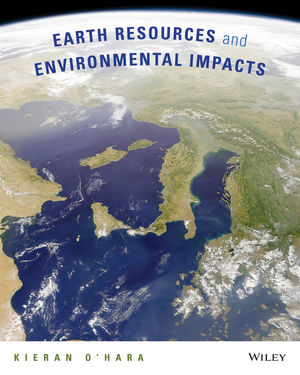 Earth Resources and Environmental Impacts uses everyday examples and current issues to help readers understand how mineral, water and energy resources – and the impacts of their use and extraction – affect their daily lives. A historical perspective makes the material in this text fascinating by showing readers that the earth's resources have always been fundamental to society, even as far back as the Stone Age. Environmental impacts and sustainable use of energy and mineral resources are emphasized. With the increase of public interest surrounding environmental impacts, readers will appreciate the knowledge gained from this text.
See More
Preface vii
Part 1 Earth Systems and Earth Materials
1 Introduction 2
2 Earth-System Science 31
3 Earth Materials I—Minerals 63
4 Earth Materials II—Igneous, Sedimentary, and Metamorphic Rocks 98
Part 2 Mineral Resources
5 Ore Deposits and Mineral Exploration 132
6 Abundant and Scarce Metal Resources 167
7 Nonmetals and Industrial Minerals 211
8 Environmental Impacts of Metal Resources 248
Part 3 Energy Resources
9 Energy Perspectives 274
10 Carbon-Based Energy Resources 293
11 Environmental Impacts of Carbon-Based Energy 346
12 Noncarbon-Based Energy Resources 383
13 Environmental Impacts of Noncarbon-Based Energy 430
Part 4 Freshwater Resources
14 Water Resources 464
15 Environmental Impacts on Water Resources 506
Index 529
See More
Earth's resources are discussed within the broader context of Earth-system* science.
Introductory material (Part I) means no prerequisite Earth science courses are needed.
Parts II, III and IV address mineral, energy, and water/soil resources, respectively.
By classifying energy resources as carbon-based (fossil fuels) versus non carbon-based, man's role in the global carbon cycle is emphasized. 
Four of the 15 chapters address environmental impacts of resource use and extraction.
On nuclear energy and fossil fuels, three nuclear accidents and three major oil spills are compared and contrasted.
Case studies on water resources include the United States, the Middle East, China and eastern Australia.
Simple quantitative examples (such as the power of a wind turbine or a hydroelectric plant) are provided in text boxes throughout the book.
Fundamental ideas on energy are outlined and the concepts of energy and power density are introduced (Chapter9).
See More
Instructors Resources
Digital evaluation copy available for this title
Request Copy

Contact your Wiley Representative
Find Your Rep

See More
See Less
Purchase Options

Information about Wiley E-Texts:
Wiley E-Texts are powered by VitalSource and accessed via the VitalSource Bookshelf reader, available online and via a downloadable app.
Wiley E-Texts are accessible online and offline, and can be read on a variety of devices, including smartphones and tablets.
Wiley E-Texts are non-returnable and non-refundable.
Wiley E-Texts are protected by DRM. For specific DRM policies, please refer to our FAQ.
WileyPLUS registration codes are NOT included with any Wiley E-Text. For informationon WileyPLUS, click here .
To learn more about Wiley E-Texts, please refer to our FAQ.

Information about e-books:
E-books are offered as e-Pubs or PDFs. To download and read them, users must install Adobe Digital Editions (ADE) on their PC.
E-books have DRM protection on them, which means only the person who purchases and downloads the e-book can access it.
E-books are non-returnable and non-refundable.
To learn more about our e-books, please refer to our FAQ.