Textbook
Opening and Operating a Retail bakery, 1st Edition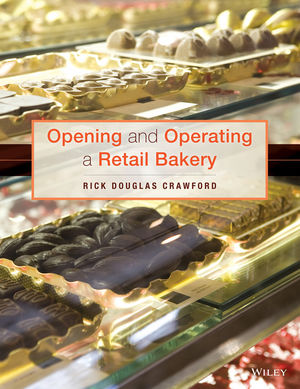 Most of us have said at one time or another, "I should open a bakery" or "I can make better products than this"—and maybe you can. To students and beginners,Opening and Operating a Retail Bakeryhelps students learn about operations, and offers a great deal of information that will assist in applying that information. To entrepreneurs and business owners, this text is a template to guide you through the foundational steps.
See More
Preface xi
Acknowledgments xv
PART 1 Planning and Key Decisions 1
CHAPTER 1 Early Steps and Key Decisions 3
Concept to Reality 4
What Are Your Specialties? 5
What Type of Bakery Is Yours? 5
Franchises 14
Failure Is an Option 15
Types of Business Organizations 16
Your Job as a Bakery Owner 17
Timeline—Introduction 18
CHAPTER 2 Lining Up Your Experts 21
How to Use the Store Opening Guide 24
Finding the Right Team 24
Training and Education 32
CHAPTER 3 Operating Plans and Resources 37
Government and Nonprofi t Resources 38
Business Plans 39
The Baking Industry 40
Industry Marketing Groups (Boards and Associations) 47
Distributors 49
Trade Shows 52
Trade Magazines 53
CHAPTER 4 Product Mix, Equipment, and Design 55
Finding the Correct Location 56
The Importance of Demographics for Your Business Location 59
Equipment: What Do You Need? 62
Finding an Architect 68
Finding the Builder/Contractor 69
CHAPTER 5 Basic Starting Systems 71
Introduction 72
Computer Systems for Operations 72
Point of Sale Data 75
Food Safety 79
Dealing with Inspectors 81
Hiring Employees 84
Average Sale per Customer 89
PART 2 Store Rules, Labor, and Progressive Discipline 93
CHAPTER 6 Staffing and Labor Management 95
Ensuring that You Get Great Staff 96
Being Honest with Your Staff 123
CHAPTER 7 Rules and Training 127
Progressive Discipline 146
Training Record Systems 151
PART 3 Operations 157
CHAPTER 8 Marketing and Promotion 159
Marketing 160
Social Media 162
Your First Social Media Campaign: Your Grand Opening 169
Traditional Media 174
CHAPTER 9 Sourcing Ingredients and Costing 179
Manufacturers and Distributors 180
Costing Materials 183
Profit 186
Discounting 190
CHAPTER 10 Production Skills and Costs 195
Production 196
Skill Levels 199
Tools for Measuring Productivity 205
CHAPTER 11 What Is Bakery Merchandising? 217
Product 218
Production 220
People 221
Placement 222
Price 223
Packaging 225
Promotion 228
Presentation 231
PART 4 Operations Systems and Growth 235
CHAPTER 12 Pre-Opening, Opening, and Post-Opening 237
Pre-Opening 238
Opening 246
Post-Opening 251
CHAPTER 13 The Bakery Sales Cycle and Day Parts 257
Major Selling Seasons 258
Minor Seasons and Events 264
Promotional Events 267
Wedding Season 268
Black Swan Events 269
Day Parts 269
CHAPTER 14 Promotions: Setup to Execution 271
Types of Promotions 272
Running a Promotion 274
Using Coupons 283
CHAPTER 15 Check-Up, Growth, and Rescue 287
How Are You Doing? 288
Measuring Your Progress 289
Owning the Game of Business 291
When Things Go Well 294
When Things Go Bad 296
Index 299
See More
Provides much-sought-after and proven strategies needed to open a bakery, along with keys to successfully operate it
Breaks down required tasks into an easily adaptable template that can be adjusted for personal experience. Divided into four sections:
Basic planning and key decisions;
Store rule, labor, and progressive discipline
Operations-related areas needed to run your business
Systems and information for growth
Focuses more on practical implementation and less on abstract theory.
See More
Instructors Resources
Digital evaluation copy available for this title
Request Copy

Contact your Wiley Representative
Find Your Rep

See More
See Less
Purchase Options

Information about Wiley E-Texts:
Wiley E-Texts are powered by VitalSource and accessed via the VitalSource Bookshelf reader, available online and via a downloadable app.
Wiley E-Texts are accessible online and offline, and can be read on a variety of devices, including smartphones and tablets.
Wiley E-Texts are non-returnable and non-refundable.
Wiley E-Texts are protected by DRM. For specific DRM policies, please refer to our FAQ.
WileyPLUS registration codes are NOT included with any Wiley E-Text. For informationon WileyPLUS, click here .
To learn more about Wiley E-Texts, please refer to our FAQ.

Information about e-books:
E-books are offered as e-Pubs or PDFs. To download and read them, users must install Adobe Digital Editions (ADE) on their PC.
E-books have DRM protection on them, which means only the person who purchases and downloads the e-book can access it.
E-books are non-returnable and non-refundable.
To learn more about our e-books, please refer to our FAQ.