Textbook
Modern Buffet Presentation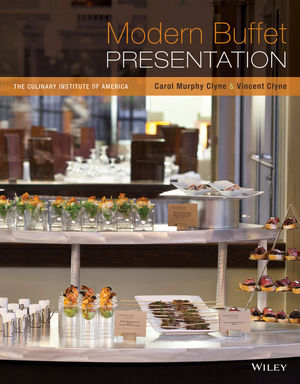 Modern Buffet Presentation gives readers the ability to plan and execute a successful buffet, an essential skill required for professionals in the restaurant industry and in the rapidly growing field of catering and special events. This text includes guidance on everything, including menu planning and pricing, arranging food and action stations, and training staff, and communicating with clients. Brilliant photography illustrates successful buffet setups, platter arrangements, centerpieces and displays, and much more. From simple cafeteria lines to formal banquets, this text covers every type of buffet presentation imaginable and is an essential resource for anyone who plans or executes buffets.
See More
Acknowledgments

Introduction

Chapter 1. Mise en Place

Chapter 2. Designing the Buffet

Chapter 3. Buffet Equipment

Chapter 4. Executing the Buffet

Chapter 5. Stations: Service and Setup

Chapter 6. Buffet Recipes

Buffet Menus

Glossary

Appendix A. On-site Buffet Planning Worksheet

Appendix B. Sample Catering Menu

Appendix C. Complete Party Planning Spreadsheet

Appendix D. Off-site Buffet Planning Worksheet

Resources

Index 
See More
Carol Murphy Clyne and Vincent Clyne launched PAIRINGS palate + plate in Cranford, N.J. in 2010. Their restaurant concept is based on constantly evolving seasonal recipes featured in the globally inspired, contemporary American dinner menu; the on-site buffet menu; and their cooking classes. The couple also owned a personal catering company for 20 years. Carol holds ProChef Level II Certification from The Culinary Institute of America in Hyde Park, and Vincent, a Certified Wine Professional credential from the CIA in Napa Valley. Vincent was also awarded the Signorello Vineyards Food Writing Scholarship to the Symposium for Professional Food Writers at The Greenbrier in West Virginia. Carol is currently a visiting instructor for the food enthusiasts programs at the CIA.
Founded in 1946, The Culinary Institute of America is an independent, not-for-profit college offering bachelor's and associate degrees in culinary arts and baking and pastry arts, as well as certificate programs in culinary arts and wine and beverage studies. A network of more than 45,000 alumni has helped the CIA earn its reputation as the world's premier culinary college. The CIA, which also offers courses for professionals and food enthusiasts, as well as consulting services for the foodservice and hospitality industry, has campuses in Hyde Park, N.Y.; St. Helena, Calif.; San Antonio, Texas; and Singapore.
See More
Examine buffet tactics with emphasis on new and exciting methods of preparation, presentation, and profitability.
Chapters illuminate the actual steps in planning an event: the initial meeting with the client, menu development and ingredient selection, budgeting and staffing, designing and displaying, and the "how to wow."
Provides recipes for dishes that can be held at temperature and that are suitable for intimate dinners or large parties while being budget sensitive.
Skills and techniques are described in detail with attention to the safe handling and holding of foods, the balancing of flavors, colors and textures, and the designing of displays that excite and entice.
Chapter 1, Mise en Place outlines all of the details you need to know to prepare for the execution of the buffet, from the client meeting to developing the concept and theme to making the production plan.
Chapter 2, Designing the Buffet provides thorough instructions and illustrations for designing the buffet in a way that will exceed the customers' expectations every time.
Chapter 3, Buffet Stations: Equipment, Service, and Setup describes the different types of stations that can be incorporated into the buffet including a comprehensive section on action stations and instructs the reader on physically setting up the buffet.
Chapter 4, Executing the Buffet is full of practical information about executing all different types of buffets including portioning information and examples of platter arrangement.
See More
Instructors Resources
Digital evaluation copy available for this title
Request Copy

Contact your Wiley Representative
Find Your Rep

See More
See Less
Purchase Options

Information about Wiley E-Texts:
Wiley E-Texts are powered by VitalSource and accessed via the VitalSource Bookshelf reader, available online and via a downloadable app.
Wiley E-Texts are accessible online and offline, and can be read on a variety of devices, including smartphones and tablets.
Wiley E-Texts are non-returnable and non-refundable.
Wiley E-Texts are protected by DRM. For specific DRM policies, please refer to our FAQ.
WileyPLUS registration codes are NOT included with any Wiley E-Text. For informationon WileyPLUS, click here .
To learn more about Wiley E-Texts, please refer to our FAQ.

Information about e-books:
E-books are offered as e-Pubs or PDFs. To download and read them, users must install Adobe Digital Editions (ADE) on their PC.
E-books have DRM protection on them, which means only the person who purchases and downloads the e-book can access it.
E-books are non-returnable and non-refundable.
To learn more about our e-books, please refer to our FAQ.