Textbook
Health Psychology: Biopsychosocial Interactions, 8th Edition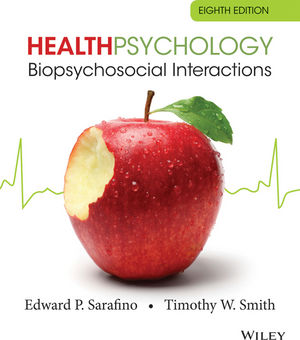 Authors Ed Sarafino and Timothy Smith draw from the research and theory of many disciplines in order to show how psychology and health affect each other. The 8th Edition of Health Psychology: Biopsychsocial Interactions has been updated to include a broader picture of health psychology by presenting cross-cultural data. Additionally, international examples are included to broaden the psychologist's view of health issues around the world and highlight what works in the field.
The psychological research cited in the text supports a variety of behavioral, physiological, cognitive, and social/personality viewpoints. A focus on lifespan development in health and illness is integrated throughout the text.
See More
PART I An Introduction: Basic Issues and Processes 1
Chapter 1 An Overview of Psychology and Health 1
Chapter 2 The Body's Physical Systems 30
PART II Stress, Illness, and Coping 57
Chapter 3 Stress—Its Meaning, Impact, and Sources 57
Chapter 4 Stress, Biopsychosocial Factors, and Illness 82
Chapter 5 Coping With and Reducing Stress 112
PART III Lifestyles to Enhance Health and Prevent Illness 134
Chapter 6 Health-Related Behavior and Health Promotion 134
Chapter 7 Substance Use and Abuse 165
Chapter 8 Nutrition, Weight Control and Diet, Exercise, and Safety 198
PART IV Becoming Ill and Getting Medical Treatment 230
Chapter 9 Using Health Services 230
Chapter 10 In the Hospital: The Setting, Procedures, and Effects on Patients 258
PART V Physical Symptoms: Pain and Discomfort 286
Chapter 11 The Nature and Symptoms of Pain 286
Chapter 12 Managing and Controlling Clinical Pain 311
PART VI Chronic and Life-Threatening Health Problems 333
Chapter 13 Serious and Disabling Chronic Illnesses: Causes, Management, and Coping 333
Chapter 14 Heart Disease, Stroke, Cancer, and AIDS: Causes, Management, and Coping 361
PART VII Looking to the Future 390
Chapter 15 What's Ahead for Health Psychology? 390
Glossary 403
References 409
Author Index 511
Subject Index 529
See More
Cross-cultural data. The latest available data on health and lifestyles in 14 countries is presented to provide students with a broader picture of health psychology.
Illustrations. Data has been updated in several figures and new ones added to clarify physiological processes and to present interesting and important data.
Every chapter has been updated, and we substantially revised or expanded the coverage of a number of topics
See More
Includes three different types of boxed features "Highlights on Issues," "Assess Yourself," and "Clinical Methods and Issues" to help give readers context for the material. The "Highlight" feature focuses on high-interest and in-depth topics such as careers relating to health and psychology. The "Assess Yourself" feature has readers actively examine their own health-related characteristics such as lifestyles and ways of coping with stress. Finally, the "Clinical Methods and Issues" focuses on methods and issues in application efforts in clinical health psychology, medicine, public health, and rehabilitation.
Lifespan development in health and illness is integrated throughout the book and each chapter contains information dealing with development.
Each chapter concludes with a substantial Summary and a list of Key Terms for readers to review and reflect on chapter topics and content.
Interactive animation notices are placed throughout the text for each interactive animation -- featured on the complimentary Student Companion Site -- when relevant material is presented.
See More
Instructors Resources
Request a print evaluation copy
Contact us

Contact your Wiley Representative
Find Your Rep

See More
See Less
Purchase Options

Information about Wiley E-Texts:
Wiley E-Texts are powered by VitalSource and accessed via the VitalSource Bookshelf reader, available online and via a downloadable app.
Wiley E-Texts are accessible online and offline, and can be read on a variety of devices, including smartphones and tablets.
Wiley E-Texts are non-returnable and non-refundable.
Wiley E-Texts are protected by DRM. For specific DRM policies, please refer to our FAQ.
WileyPLUS registration codes are NOT included with any Wiley E-Text. For informationon WileyPLUS, click here .
To learn more about Wiley E-Texts, please refer to our FAQ.

Information about e-books:
E-books are offered as e-Pubs or PDFs. To download and read them, users must install Adobe Digital Editions (ADE) on their PC.
E-books have DRM protection on them, which means only the person who purchases and downloads the e-book can access it.
E-books are non-returnable and non-refundable.
To learn more about our e-books, please refer to our FAQ.