Textbook
Drug Use, Misuse, and Abuse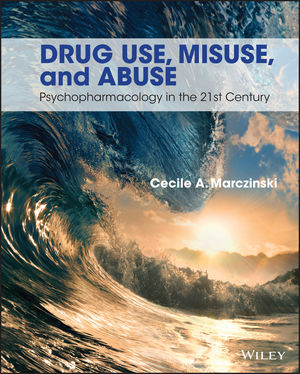 Bringing a new approach to covering the basic principles and major topics found in a typical psychopharmacology course, Drug Use, Misuse and Abuse also adds the newest exciting and controversial findings in the study of drug use and abuse. At the core, the text has a strong emphasis on developing scientific literacy and critical thinking in the student.
Drug Use, Misuse and Abuse includes the major drugs typically covered in an undergraduate psychopharmacology course (caffeine, nicotine, cocaine, amphetamines including methamphetamine, alcohol, opiates, marijuana, the hallucinogens, antipsychotics, antidepressants, and antianxiety medications) and, moreover, the content emphasizes the latest scientific findings in the field, including advances in imaging the living brain. Included is a chapter on careers related to psychopharmacology, as well as a variety of pedagogical features that help students learn, making it appropriate for an instructor of a lecture-based, online or hybrid course. 
See More
PREFACE xxi
FOR THE STUDENT xxiii
FOR THE INSTRUCTOR xxv
ABOUT THE AUTHOR xxix
ACKNOWLEDGMENTS xxxi
THANK YOU TO THE REVIEWERS xxxiii
1 INTRODUCTION TO PSYCHOPHARMACOLOGY 1
2 DRUGS AND THE BRAIN 31
3 BASIC PRINCIPLES OF PHARMACOLOGY 58
4 CAFFEINE 84
5 NICOTINE 114
6 COCAINE 146
7 AMPHETAMINES 173
8 ALCOHOL 203
9 OPIATES 242
10 MARIJUANA 272
11 HALLUCINOGENS 300
12 ANTIPSYCHOTIC DRUGS 327
13 ANTIDEPRESSANT, ANTIANXIETY, AND MOOD-STABILIZING DRUGS 351
14 STEROIDS AND SMART DRUGS 382
GLOSSARY 407
REFERENCES 415
INDEX 441
See More
Designed to let professors spend more time teaching and less time searching for lecture material, this book has various features that act as jumping off points for class discussion. These features develop skills in scientific literacy and critical thinking, and challenge students to apply recently learned knowledge in novel contexts. Each chapter includes:

An In the News feature, which discusses a recent news story relevant to the chapter material with follow-up questions to help students think about the accuracy of the content and its relationship to the textbook material.
A More about the Science feature, which provides a detailed recent research study, with the methodology, results and conclusions, to help students build a base of knowledge in psychopharmacology.
A Myth Busters feature, which disputes common misconceptions about psychopharmacology and then clarifies the reality, based on the science.

This title includes a unique Focus on Careers feature, which provides information on how psychopharmacology can be a launching point for a real career, such as a substance abuse counselor, a health care administrator, or a political lobbyist.
Marczinski addresses eight of the ten goals outlined in the American Psychological Association (APA) Guidelines for the Undergraduate Major (APA, 2007).
The book opens with three background chapters that set the stage for the newer material on each drug that develops later in the book.

Sociocultural and international diversity are integrated throughout, providing this book with an international aspect that exceeds most other books on this topic.
Marczinski approaches this text with a refreshing, conversational voice and style that resonates with students, while the text's topic persuades students to engage.
See More
Instructors Resources
Digital evaluation copy available for this title
Request Copy

Contact your Wiley Representative
Find Your Rep

See More
See Less
Students Resources
See More
See Less
Purchase Options

Information about Wiley E-Texts:
Wiley E-Texts are powered by VitalSource and accessed via the VitalSource Bookshelf reader, available online and via a downloadable app.
Wiley E-Texts are accessible online and offline, and can be read on a variety of devices, including smartphones and tablets.
Wiley E-Texts are non-returnable and non-refundable.
Wiley E-Texts are protected by DRM. For specific DRM policies, please refer to our FAQ.
WileyPLUS registration codes are NOT included with any Wiley E-Text. For informationon WileyPLUS, click here .
To learn more about Wiley E-Texts, please refer to our FAQ.

Information about e-books:
E-books are offered as e-Pubs or PDFs. To download and read them, users must install Adobe Digital Editions (ADE) on their PC.
E-books have DRM protection on them, which means only the person who purchases and downloads the e-book can access it.
E-books are non-returnable and non-refundable.
To learn more about our e-books, please refer to our FAQ.