Textbook
A Brief History of Modern Psychology, 2nd Edition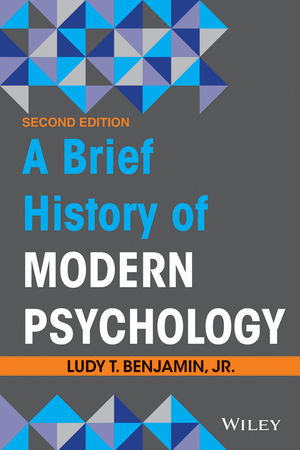 In A Brief History of Modern Psychology, 2nd Edition, Ludy Benjamin, leading historian in the field, discusses the history of both the science and the practice of psychology since the establishment of the first experimental psychology laboratory in 1879.
See More
List of Illustrations ix
Preface x
1 Pre-Scientific Psychology 1
2 Physiology, Psychophysics, and the Science of Mind 20
3 Germany and the Birth of a New Science 38
4 Origins of Scientific Psychology in America 58
5 The Early Schools of American Psychology 77
6 The Birth of the New Applied Psychology in America 98
7 Psychoanalysis 118
8 Behaviorism 139
9 The New Profession of Psychology 160
10 A Psychology of Social Action and Social Change 182
11 Cognitive Psychology 203
Epilogue 224
References 229
Index 244
See More
Much new material has been added to this edition, reflecting the growing scholarship on the history of psychology and related fields. 
To accommodate these additions and still keep the book in its brief form, the amount of biographical coverage have been reduced. However, the biographical content necessary to provide context to understanding the theories, research, and practices described in this book has been maintained.
See More
Captures the excitement of this pervasive field that features prevalently in modern mass media
Presents facts and interesting tidbits about individual psychologists' lives and ideas, as well as illuminating tie-in's to the social contexts in which they lived
Features widely known figures such as William James, Carl Jung, Wilhelm Wundt, G. Stanley Hall, James Catell, John B. Watson, and B.F. Skinner as well as lesser known luminaries such as E.B. Titchener, Mary Calkins, Leta Hollingworth, Kenneth and Mamie Clark, and Helen Thompson Wolley
Provides the historical and disciplinary context that will help readers to better understand the richness and complexity of contemporary psychology
Includes discussions of important events, societies, and landmarks in the history of psychology such as the growth of psychological laboratories in the US, the Thayer Conference (the landmark summit which defined school psychology), Kurt Lewin's social action research, and Lewis M. Terman and the Stanford Revision of the Binet-Simon Scale (now the well-known, "Stanford-Binet Intelligence Scale")
See More
Instructors Resources
Digital evaluation copy available for this title
Request Copy

Contact your Wiley Representative
Find Your Rep

See More
See Less
Purchase Options

Information about Wiley E-Texts:
Wiley E-Texts are powered by VitalSource and accessed via the VitalSource Bookshelf reader, available online and via a downloadable app.
Wiley E-Texts are accessible online and offline, and can be read on a variety of devices, including smartphones and tablets.
Wiley E-Texts are non-returnable and non-refundable.
Wiley E-Texts are protected by DRM. For specific DRM policies, please refer to our FAQ.
WileyPLUS registration codes are NOT included with any Wiley E-Text. For informationon WileyPLUS, click here .
To learn more about Wiley E-Texts, please refer to our FAQ.

Information about e-books:
E-books are offered as e-Pubs or PDFs. To download and read them, users must install Adobe Digital Editions (ADE) on their PC.
E-books have DRM protection on them, which means only the person who purchases and downloads the e-book can access it.
E-books are non-returnable and non-refundable.
To learn more about our e-books, please refer to our FAQ.