Textbook
How to Teach in Clinical Settings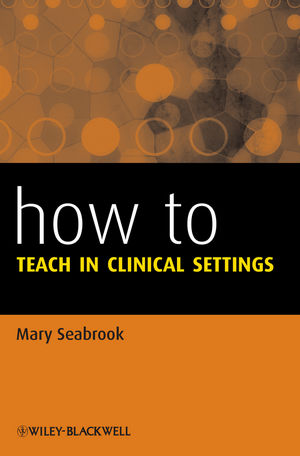 How to Teach in Clinical Settings is a practical guide to support all doctors wishing to develop their skills in clinical teaching and supervision.

It provides hands on strategies to address common problems such as giving critical feedback effectively and teaching mixed-level groups. It gives guidance on the particular challenges of teaching in clinical settings including the need to manage teaching with service provision, to engage patients, motivate students, and to judge the balance of support and independence appropriate for each trainee.

How to Teach in Clinical Settings is invaluable for all doctors involved in teaching and training at any stage of their career. It is also useful and accessible to medical students who increasingly need to consider and develop their own teaching skills as part of their career progression.
See More
Acknowledgements ix
Introduction xi
Chapter 1 Creating an effective learning environment 1
Practical ways to create an environment conducive to learning 4
Design of clinical placements 6
Continuity between learners teachers and patients 8
Teaching and learning resources 9
The teaching climate 9
What makes a good clinical teacher? 10
Involving patients in teaching 11
Involving other disciplines in teaching 13
Some principles of effective clinical teaching 15
Useful strategies for clinical teaching 15
Five tips for clinical teaching which do not take time or money 17
References 17
Chapter 2 Teaching in clinical contexts 19
Teaching on ward rounds 19
General principles 19
Useful strategies 21
What you teach unwittingly 23
The psychiatric ward round 25
Handover meetings board rounds and bench rounds 26
Bedside teaching 29
Preparation 29
Structure for bedside teaching 30
Feedback at the bedside 34
Examination practice at the bedside 36
Teaching in clinics 38
General principles 38
Supervising trainees in parallel clinics 40
Effective questioning on presented cases 41
Seeing the patient together 42
Supervising students or trainees who are supernumerary 43
Teaching in the Accident and Emergency department 46
Teaching the interpretation of images/specimens 47
Teaching in theatre 49
General principles 50
Useful strategies 50
Teaching practical skills 56
On-call/remote teaching 60
Teaching patients 62
Teaching other disciplines 64
Further reading on clinical teaching 65
References 66
Chapter 3 Workplace-based assessment and feedback 67
The workplace-based assessments/supervised learning events 67
Using the tools effectively 69
Case-based discussion 71
The mini-clinical evaluation exercise (Mini-ACE in psychiatry) 73
Directly observed procedural skills 75
Multi-source feedback (MSF) 77
Teaching observation tools 79
Giving feedback 81
Giving negative feedback 81
General principles of feedback 82
Useful strategies for giving feedback 82
Feedback models and structures 85
Further reading on assessment and feedback 89
References 90
Chapter 4 Common problems in clinical teaching 91
Balancing teaching and service demands 91
Pitching teaching at the right level  94
Dealing with complaints and clinical incidents 96
Ad hoc teaching 100
Teaching people at different levels together 101
Teaching older or more experienced colleagues 103
Engaging the quiet or reluctant learner 104
The difficult consultation 106
Teaching multiple students 107
Teaching trainees with no interest in your speciality 108
References 109
Chapter 5 Next steps 110
Developing as a teacher 110
Evaluating your teaching 111
Useful resources 115
Appendix Glossary of assessment tools 118
Index 119
See More
Mary Seabrook, Medical Education Consultant, London, UK
See More
Purchase Options
How to Teach in Clinical Settings
ISBN : 978-1-118-62092-2
136 pages
November 2013
Paperback
How to Teach in Clinical Settings
ISBN : 978-1-118-62093-9
136 pages
February 2014
How to Teach in Clinical Settings
ISBN : 978-1-118-87968-9
136 pages
January 2014
How to Teach in Clinical Settings
ISBN : 978-1-118-86138-7
136 pages
January 2014

Information about Wiley E-Texts:
Wiley E-Texts are powered by VitalSource and accessed via the VitalSource Bookshelf reader, available online and via a downloadable app.
Wiley E-Texts are accessible online and offline, and can be read on a variety of devices, including smartphones and tablets.
Wiley E-Texts are non-returnable and non-refundable.
Wiley E-Texts are protected by DRM. For specific DRM policies, please refer to our FAQ.
WileyPLUS registration codes are NOT included with any Wiley E-Text. For informationon WileyPLUS, click here .
To learn more about Wiley E-Texts, please refer to our FAQ.

Information about e-books:
E-books are offered as e-Pubs or PDFs. To download and read them, users must install Adobe Digital Editions (ADE) on their PC.
E-books have DRM protection on them, which means only the person who purchases and downloads the e-book can access it.
E-books are non-returnable and non-refundable.
To learn more about our e-books, please refer to our FAQ.
More in this series