Textbook
Environment and Society 2e
January 2014, ©2014, Wiley-Blackwell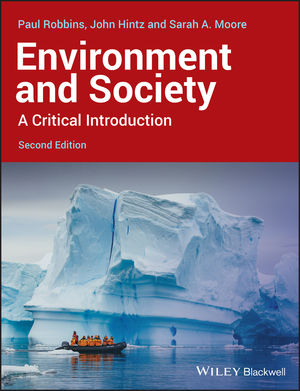 Substantially updated for the second edition, this engaging and innovative introduction to the environment and society uses key theoretical approaches to explore familiar objects.
Features substantial revisions and updates for the second edition, including new chapters on E waste, mosquitoes and uranium, improved maps and graphics, new exercises, shorter theory chapters, and refocused sections on environmental solutions
Discusses topics such as population and scarcity, commodities, environmental ethics, risks and hazards, and political economy and applies them to objects like bottled water, tuna, and trees
Accessible for students, and accompanied by in-book and online resources including exercises and boxed discussions, an online test bank, notes, suggested reading, and website links for enhanced understanding
Offers additional online support for instructors, including suggested teaching models, PowerPoint slides for each chapter with full-color graphics, and supplementary images and teaching material
See More
List of Figures ix
List of Tables xi
List of Boxes xii
Acknowledgments xiii
1 Introduction: The View from a Human-Made Wilderness 1
What Is This Book? 4
The Authors' Points of View 7
Part 1 Approaches and Perspectives 11
2 Population and Scarcity 13
A Crowded Desert City 14
The Problem of "Geometric" Growth 15
Population, Development, and Environment Impact 17
The Other Side of the Coin: Population and Innovation 20
Limits to Population: An Effect Rather than a Cause? 22
Thinking with Population 27
3 Markets and Commodities 31
The Bet 32
Managing Environmental Bads: The Coase Theorem 34
Market Failure 37
Market-Based Solutions to Environmental Problems 38
Beyond Market Failure: Gaps between Nature and Economy 43
Thinking with Markets 46
4 Institutions and "The Commons" 49
Controlling Carbon? 50
The Prisoner's Dilemma 50
The Tragedy of the Commons 52
The Evidence and Logic of Collective Action 54
Crafting Sustainable Environmental Institutions 56
Are All Commoners Equal? Does Scale Matter? 61
Thinking with Institutions 62
5 Environmental Ethics 65
The Price of Cheap Meat 66
Improving Nature: From Biblical Tradition to John Locke 68
Gifford Pinchot vs. John Muir in Yosemite, California 70
Aldo Leopold and "The Land Ethic" 72
Liberation for Animals! 75
Holism, Scientism, and Other Pitfalls 77
Thinking with Ethics 79
6 Risks and Hazards 82
Great Floods 83
Environments as Hazard 84
The Problem of Risk Perception 86
Risk as Culture 89
Beyond Risk: The Political Economy of Hazards 90
Thinking with Hazards and Risk 94
7 Political Economy 98
The Strange Logic of "Under-pollution" 99
Labor, Accumulation, and Crisis 100
Production of Nature 107
Global Capitalism and the Ecology of Uneven Development 109
Social Reproduction and Nature 111
Environments and Economism 115
Thinking with Political Economy 115
8 Social Construction of Nature 119
Welcome to the Jungle 120
So You Say It's "Natural"? 122
Environmental Discourse 126
The Limits of Constructivism: Science, Relativism, and the Very Material World 131
Thinking with Construction 134
Part 2 Objects of Concern 139
9 Carbon Dioxide 141
Stuck in Pittsburgh Traffic 142
A Short History of CO2 143
Institutions: Climate Free-Riders and Carbon Cooperation 149
Markets: Trading More Gases, Buying Less Carbon 152
Political Economy: Who Killed the Atmosphere? 157
The Carbon Puzzle 160
10 Trees 163
Chained to a Tree in Berkeley, California 164
A Short History of Trees 164
Population and Markets: The Forest Transition Theory 172
Political Economy: Accumulation and Deforestation 175
Ethics, Justice, and Equity: Should Trees Have Standing? 177
The Tree Puzzle 179
11 Wolves 183
The Death of 832F 184
A Short History of Wolves 185
Ethics: Rewilding and Wolves 191
Institutions: Stakeholder Management 194
Social Construction: Of Wolves and Men Masculinity 197
The Wolf Puzzle 199
12 Uranium 203
Renaissance Derailed? 204
A Short History of Uranium 205
Risk and Hazards: Debating the Fate of High-Level Radioactive Waste 211
Political Economy: Environmental Justice and the Navajo Nation 214
The Social Construction of Nature: Discourses of Development and Wilderness in Australia 217
The Uranium Puzzle 220
13 Tuna 224
Blood Tuna 225
A Short History of Tuna 225
Markets and Commodities: Eco-Labels to the Rescue? 230
Political Economy: Re-regulating Fishery Economies 233
Ethics: Saving Animals, Conserving Species 236
The Tuna Puzzle 239
14 Lawns 243
How Much Do People Love Lawns? 244
A Short History of Lawns 244
Risk and Chemical Decision-Making 248
Social Construction: Good Lawns Mean Good People 251
Political Economy: The Chemical Tail Wags the Turfgrass Dog 253
The Lawn Puzzle 255
15 Bottled Water 259
A Tale of Two Bottles 260
A Short History of Bottled Water 261
Population: Bottling for Scarcity? 266
Risk: Health and Safety in a Bottle? 269
Political Economy: Manufacturing Demand on an Enclosed Commons 272
The Bottled Water Puzzle 275
16 French Fries 279
Getting Your French Fry Fix 280
A Short History of the Fry 280
Risk Analysis: Eating What We Choose and Choosing What We Eat 285
Political Economy: Eat Fries or Else! 288
Ethics: Protecting or Engineering Potato Heritage? 293
The French Fry Puzzle 296
17 E-Waste 299
Digital Divides 300
A Short History of E-Waste (2000) 301
Risk Management and the Hazard of E-Waste 304
E-Waste and Markets: From Externality to Commodity 306
E-Waste and Environmental Justice: The Political Economy of E-Waste 310
The E-Waste Puzzle 313
Glossary 316
Index 324
See More
Paul Robbins is Professor and Director of the Nelson Institute for Environmental Studies, University of Wisconsin - Madison-. His research interests include understanding human-environment systems, the influence non-humans have on human behavior and organization, and the implications these interactions hold for ecosystem health, local communities, and social justice. He is the author of Political Ecology: A Critical Introduction, Second Edition (Wiley-Blackwell, 2012) and Lawn People: How Grasses, Weeds, and Chemicals Make Us Who We Are (2007). 
John Hintz is Associate Professor of Environmental, Geographic, and Geological Sciences at the Bloomsburg University of Pennsylvania. His current research focuses on land use conflicts, environmental policy, and the US environmental movement. He has published in a number of journals, including Capitalism Nature Socialism and Ethics, Place and Environment.
Sarah A. Moore is Assistant Professor in the Department of Geography at the University of Wisconsin - Madison. Her research focuses on urban development politics, urban environmental issues, and environmental justice in the United States and Latin America. Her publications include articles in numerous journals including Progress in Human Geography, the Professional Geographer and Society and Natural Resources.
See More
Substantial revisions include new chapters on e-waste, mosquitoes, and uranium

A greater diversity of case studies; improved maps and graphics.

New exercises

Shorter theory chapters

Refocused highlight sections on environmental solutions

A range of online student resources at www.wiley.com/go/environmentandsociety, including a test bank, notes, suggested reading, and research links
See More
new edition textbooks are not reviewed
"Robbins, Hintz and Moore have taken something excellent and made it even better. It remains as comprehensive yet accessible as the first, and by adding new material about human-nature relations, the authors ensure that edition two reflects important recent developments in thinking and practice."
—Noel Castree, University of Manchester
"This masterful synthesis of environment-society scholarship brings together cutting-edge ways of thinking about nature/society entanglements with highly grounded objects of exploration--from lawns to bottled water to uranium. The dynamic and accessible writing style belies the book's empirical and theoretical sophistication. For upper-level undergrads and lower-level graduate students of environment-society relations, this new edition remains the "go-to" text in the field."
—Kendra McSweeny, Ohio State University Columbus
"As an introductory text reflecting contemporary scholarship via plural perspectives and hybrid objects, Environment and Society continues to innovate."
—Jim Proctor, Lewis & Clark College
See More
Instructors Resources
Digital evaluation copy available for this title
Request Copy

Contact your Wiley Representative
Find Your Rep

See More
See Less
Purchase Options

Information about Wiley E-Texts:
Wiley E-Texts are powered by VitalSource and accessed via the VitalSource Bookshelf reader, available online and via a downloadable app.
Wiley E-Texts are accessible online and offline, and can be read on a variety of devices, including smartphones and tablets.
Wiley E-Texts are non-returnable and non-refundable.
Wiley E-Texts are protected by DRM. For specific DRM policies, please refer to our FAQ.
WileyPLUS registration codes are NOT included with any Wiley E-Text. For informationon WileyPLUS, click here .
To learn more about Wiley E-Texts, please refer to our FAQ.

Information about e-books:
E-books are offered as e-Pubs or PDFs. To download and read them, users must install Adobe Digital Editions (ADE) on their PC.
E-books have DRM protection on them, which means only the person who purchases and downloads the e-book can access it.
E-books are non-returnable and non-refundable.
To learn more about our e-books, please refer to our FAQ.
More in this series