Textbook
Symptoms in the Pharmacy: A Guide to the Management of Common Illnesses, 7th Edition
March 2014, ©2014, Wiley-Blackwell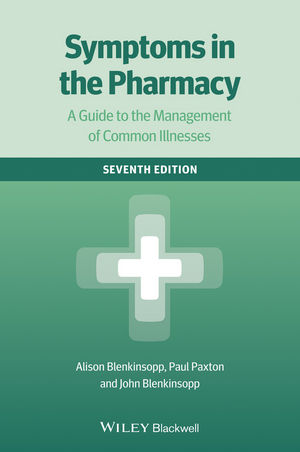 Symptoms in the Pharmacy is the indispensable guide to the management of common symptoms seen in the pharmacy.

Designed for quick and easy reference with separate chapters for each ailment, each chapter incorporates a decision making framework in which the information necessary for treatment and suggestions on 'when to refer' is distilled into helpful summary boxes. Decision making support is provided in cases involving ethical dilemmas. It also includes example case studies providing the view of pharmacists and doctors and, in their own words, patient perspectives of what it is like to live with and manage conditions such as migraine and eczema. These easy-to-follow chapters can be read cover to cover or turned to for quick reference.

This seventh edition covers the availability of new medicines and includes new sections and case studies for 'POM' to 'P' switches. It continues to draw upon the latest evidence for treatment guidelines and includes expanded coverage of common infectious diseases and important safety advice on the use of medicines in children. It also features colour photographs of skin conditions enabling the differentiation and diagnosis of common skin complaints.

With advice from a pharmacist and GP author team, Symptoms in the Pharmacy covers ailments which will be encountered in the pharmacy on a daily basis and should be kept close at hand for frequent consultation.
See More
Preface, vi
Introduction: How to Use This Book, 1
Respiratory Problems
Colds and flu, 19
Cough, 33
Sore throat, 45
Allergic rhinitis (hay fever), 53
Respiratory symptoms for direct referral, 62
Gastrointestinal Tract Problems
Mouth ulcers, 69
Heartburn, 76
Indigestion, 85
Nausea and vomiting, 95
Motion sickness and its prevention, 98
Constipation, 102
Diarrhoea, 112
Irritable bowel syndrome, 124
Haemorrhoids, 132
Skin Conditions
Eczema/dermatitis, 143
Acne, 153
Athlete's foot, 159
Cold sores, 167
Warts and verrucae, 172
Scabies, 178
Dandruff, 182
Psoriasis, 186
Painful Conditions
Headache, 193
Musculoskeletal problems, 210
Women's Health
Cystitis, 225
Dysmenorrhoea, 234
Menorrhagia, 243
Vaginal thrush, 246
Emergency hormonal contraception, 255
Common symptoms in pregnancy, 263
Men's Health
Benign prostatic hyperplasia, 269
Hair loss, 274
Eye and Ear Problems
Eye problems: the painful red eye, 281
Common ear problems, 289
Childhood Conditions
Illnesses affecting infants and children up to 16 years, 297
Colic, 303
Teething, 306
Napkin rash, 307
Head lice, 313
Threadworms (pinworms), 319
Oral thrush, 323
Insomnia
Difficulty sleeping, 331
Prevention of Heart Disease
Prevention of heart disease, 343
Appendix: Summary of Symptoms for Direct Referral, 359
Index, 361
Colour plates are found facing page 184 and 185.
See More
Alison Blenkinsopp, Professor of the Practice of Pharmacy, University of Bradford School of Pharmacy, Bradford, UK


Paul Paxton, Former GP and GP trainer, Training Consultant and Volunteer Advocate, Cambridgeshire Independent Advocacy Service, Cambridge, UK
John Blenkinsopp, Consultant in Medicines Management, School of Pharmacy, Keele University, Staffordshire, UK
See More
Purchase Options
Symptoms in the Pharmacy: A Guide to the Management of Common Illnesses, 7th Edition
ISBN : 978-1-118-66176-5
384 pages
December 2013
Paperback
Symptoms in the Pharmacy: A Guide to the Management of Common Illnesses, 7th Edition
ISBN : 978-1-118-66173-4
382 pages
March 2014
Symptoms in the Pharmacy: A Guide to the Management of Common Illnesses, 7th Edition
ISBN : 978-1-118-88533-8
384 pages
December 2014

Information about Wiley E-Texts:
Wiley E-Texts are powered by VitalSource and accessed via the VitalSource Bookshelf reader, available online and via a downloadable app.
Wiley E-Texts are accessible online and offline, and can be read on a variety of devices, including smartphones and tablets.
Wiley E-Texts are non-returnable and non-refundable.
Wiley E-Texts are protected by DRM. For specific DRM policies, please refer to our FAQ.
WileyPLUS registration codes are NOT included with any Wiley E-Text. For informationon WileyPLUS, click here .
To learn more about Wiley E-Texts, please refer to our FAQ.

Information about e-books:
E-books are offered as e-Pubs or PDFs. To download and read them, users must install Adobe Digital Editions (ADE) on their PC.
E-books have DRM protection on them, which means only the person who purchases and downloads the e-book can access it.
E-books are non-returnable and non-refundable.
To learn more about our e-books, please refer to our FAQ.