Textbook
70-688 Supporting Windows 8.1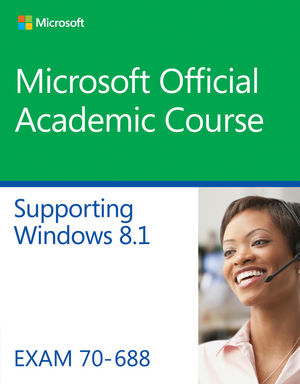 The 70-688 Supporting Windows 8.1 textbook helps prepare students for the second of two exams required for Microsoft Certified Solutions Associate (MCSA): Windows 8 certification. Students master configuration or support for Windows 8 computers, devices, users and associated network and security resources. Those in this IT Professional career field work with networks configured as a domain-based or peer-to-peer environment with access to the Internet and cloud services. These IT Professionals could be a consultant, full-time desktop support technician, or IT generalist who administers Windows 8-based computers and devices as a portion of their broader technical responsibilities. Additional skills addressed, including the recent 8.1 objectives, in this textbook:
Design an Installation and Application Strategy
Maintain Resource Access
Maintain Windows Clients and Devices
Manage Windows 8 Using Cloud Services and Microsoft Desktop Optimization Pack
The MOAC IT Professional series is the Official from Microsoft, turn-key Workforce training program that leads to professional certification and was authored for college instructors and college students. MOAC gets instructors ready to teach and students ready for work by delivering essential resources in 5 key areas: Instructor readiness, student software, student assessment, instruction resources, and learning validation. With the Microsoft Official Academic course program, you are getting instructional support from Microsoft; materials that are accurate and make course delivery easy.
See More
Lesson 1: Supporting Operating System Installation 1

Using a Troubleshooting Methodology 2

Supporting Windows To Go 6

Managing Boot Settings 9

Configuring a Native VHD Boot File 15

Managing Desktop Images 20

Customizing a Windows Installation by Using Windows PE 24

Skill Summary 28

Knowledge Assessment 29

Business Case Scenarios 33

Lesson 2: Supporting Desktop Apps 34

Dealing With Desktop Application Problems 35

Managing Desktop Application Co-Existence 36

Managing Desktop Application Compatibility Using The Application Compatibility Tool (Act) Kit 45

Virtualizing the User Experience 53

Deploying Desktop Applications By Using Windows Intune 54

Skill Summary 56

Knowledge Assessment 57

Business Case Scenarios 60

Lesson 3: Supporting Windows Store and Cloud Apps 62

Introducing Public Cloud Services 63

Working With Windows Store Applications 63

Restricting Access to the Windows Store Using Group Policy 69

Using Applocker to Manage Applications 72

Using Microsft Office 365 77

Integrating Microsoft Accounts 86

Skills Summary 90

Knowledge Assessment 90

Business Case Scenarios 95

Lesson 4: Supporting Network Connectivity 96

Supporting Network Connectivity 97

Troubleshooting IP Network Problems 128

Skill Summary 134

Knowledge Assessment 135

Business Case Scenarios 139

Lesson 5: Supporting Remote Access 140

Providing Off-Network Use and Management 141

Exploring Virtual Private Networks 142

Exploring Remote Access Using Direct Access and Routing and Remote Access (RRAS) 155

Supporting Remote Desktop Services (RDS) 169

Using Remote Assistance 172

Performing Remote Administration 174

Exploring Metered Networks 178

Skill Summary 181

Knowledge Assessment 182

Business Case Scenarios 186

Lesson 6: Supporting Authentication and Authorization 187

Supporting Authentication and Authorization 188

Skill Summary 209

Knowledge Assessment 209

Business Case Scenarios 212

Lesson 7: Supporting Data Storage 213

Resolving Data Storage Issues 214

Managing Storage Pools and Storage Spaces 218

Optimizing Data Access Using Branch Cache 222

Managing Distributed File System (DFS) Client Settings 227

Using Onedrive to Manage Files/Folders 234

Skill Summary 239

Knowledge Assessment 240

Business Case Scenarios 245

Lesson 8: Supporting Data Security 246

Managing Share Permissions and NTFS Permissions 247

Using Dynamic Access Control 252

Configuring The Encrypting File System (EFS) 257

Configuring Security for Removable Media 260

Managing BitLocker and BitLocker To Go 262

Skill Summary 268

Knowledge Assessment 269

Business Case Scenarios 273

Lesson 9: Supporting Operating System and Hardware 274

Resolving Hardware and Device Issues 276

Optimizing Performance by using Windows Performance Toolkit (WPT) 289

Monitoring Performance 292

Monitoring and Managing Printers 300

Remediating Startup Issues Using DaRT 8.1 311

Skill Summary 319

Knowledge Assessment 320

Business Case Scenarios 324

Lesson 10: Supporting Mobile Devices 325

Supporting Mobile Access and Data Synchronization 326

Exploring Exchange Active Sync/Mobile Device Policies In Exchange Server 2013 337

Supporting Broadband Connectivity 344

Supporting Mobile Device Management Using Windows Intune 347

Resolving Mobility Issues 351

Skill Summary 352

Knowledge Assessment 353

Business Case Scenarios 356

Lesson 11: Supporting Client Compliance 357

Managing Endpoint Security 359

Managing Updates Using Windows Update 359

Managing Windows Server Update Services (Wsus) 4.0 Using Windows Server 2012 R2 362

Managing Updates By using Windows update and windows Intune 375

Managing Client Security Using Windows Defender 382

Managing Client Security Using Sccm 2012 Endpoint Protection Client 387

Resolving endpoint security issues 390

Supporting Group Policy Applications 394

Managing Internet Explorer 11 security 401

Skill Summary 412

Knowledge Assessment 413

Business Case Scenarios 418

Lesson 12: Managing Clients by Using Windows Intune 419

Introducing Windows Intune 420

Exploring Windows Intune Configuration Requirements 420

Managing User And Computer Groups 425

Configuring The Company Portal 427

Configuring Monitoring And Alerts 431

Managing Remote Computers 435

Managing Windows Intune Policies 439

Skill Summary 440

Knowledge Assessment 441

Business Case Scenarios 444

Appendix A 445

Index 446
See More
The Microsoft Official Academic Course (MOAC) Program is the official product for Microsoft Programs in higher education. These learning products are created especially for the academic market and combine the business world focus and market research of Microsoft with 200 years of successful higher education publishing from Wiley.
The program is based upon the same curriculum as the Microsoft IT Certifications to build the skills students need to succeed at work and the preparation they need to validate those skills and get the jobs they seek.
All the support instructors need to deliver great courses on Microsoft software is in the program. Student copies of the textbooks include the trial software in select markets and student files for completing homework assignments. Microsoft Updates will bring you the latest information on new products and curriculums and are a part of the program. MOAC is a great way for instructors to get ready to teach and for students to get ready for work.
See More
Instructors Resources
Digital evaluation copy available for this title
Request Copy

Contact your Wiley Representative
Find Your Rep

See More
See Less
Purchase Options
70-688 Supporting Windows 8.1
ISBN : 978-1-118-88243-6
480 pages
July 2014, ©2015
Digital Content
70-688 Supporting Win8.1 MLO Online Access Reg Code
ISBN : 978EOARC00505
February 2016, ©2015
Paperback
70-688 Supporting Windows 8.1
ISBN : 978-1-118-88245-0
480 pages
August 2014, ©2015

Information about Wiley E-Texts:
Wiley E-Texts are powered by VitalSource and accessed via the VitalSource Bookshelf reader, available online and via a downloadable app.
Wiley E-Texts are accessible online and offline, and can be read on a variety of devices, including smartphones and tablets.
Wiley E-Texts are non-returnable and non-refundable.
Wiley E-Texts are protected by DRM. For specific DRM policies, please refer to our FAQ.
WileyPLUS registration codes are NOT included with any Wiley E-Text. For informationon WileyPLUS, click here .
To learn more about Wiley E-Texts, please refer to our FAQ.

Information about e-books:
E-books are offered as e-Pubs or PDFs. To download and read them, users must install Adobe Digital Editions (ADE) on their PC.
E-books have DRM protection on them, which means only the person who purchases and downloads the e-book can access it.
E-books are non-returnable and non-refundable.
To learn more about our e-books, please refer to our FAQ.
Learn more about