Textbook
Textbook for the Veterinary Assistant
June 2014, ©2014, Wiley-Blackwell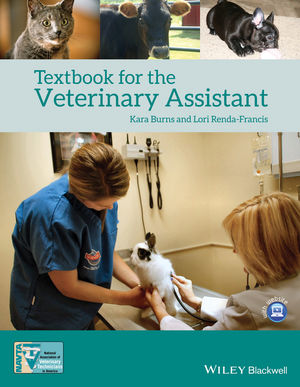 Textbook for the Veterinary Assistant offers a comprehensive guide to the NAVTA-approved curriculum for veterinary assisting programs.  Written by leaders in the profession and copublished with NAVTA, the book covers the complete list of NAVTA Veterinary Assistant Essential Skills.  Specifically tailored for veterinary assistants and veterinary assistant students, the book uses an engaging writing style to provide a concise, user-friendly approach to the material.

With chapters on medical terminology, clinical skills, office procedures, client communication, and more, the book equips veterinary assistants with all the information they need to succeed.  A companion website offers interactive multiple-choice questions, the figures from the book in PowerPoint, teaching activities, breed study guides, and a sample cover letter.  Textbook for the Veterinary Assistant is a must-have resource for all veterinary assistant students and those studying for the Approved Veterinary Assistant certification exam, and serves as a useful refresher for veterinary assistants in practice.
See More
Contributors ix
Acknowledgments xi
About the Companion Website xiii
Chapter 1 Introduction to the Veterinary (or Assistant) Profession 3
References 5
Chapter 2
Medical Terminology 7
Medical terms 7
Prefixes 8
Suffixes 9
Root words 9
Common abbreviations used in veterinary medicine 9
References 10
Chapter 3 Anatomy 11
Anatomical directional terms 11
Skeletal system 13
Branches of science 15

Body systems 15

External anatomy 15
Common veins 16
Muscles 17
Internal organs 17
Urogenital system 18
Internal structures of the thorax 19
Conclusion 19
References 19

Chapter 4 Behavior, Handling, and Restraint 21
Animal body language 21
References 26

Chapter 5 Office Procedures and Telephone Techniques 27
Telephone techniques 28
References 29

Chapter 6 Nutrition 31
Overview 31

Proteins 31
Carbohydrates 32
Fats 32
Vitamins 32
Minerals 32
Water 33
Palatibility 33
Weight management 35
Patient history 35
Body condition scoring 35
Risk factors 37
Assessing the food 37
Summary 38
Suggested reading 38

Chapter 7 Breeds 39
Cat breeds 39
Dog breeds 48
Determine gender in the cat and dog 50
Reference 51

Chapter 8 Breeding and Genetics 53
Introduction 53
The heat cycle 54
Breeding 54
Whelping 55
Necessary human interaction with newborn puppies 56
Warning signs (when to call the vet) 56
Cats 57
Heat cycle 57
Feline breeding process 58
Breeding management 58
References 58

Chapter 9 History Taking and Physical Exams 59
Determining and recoding vitals 59
History and physical exam 60

Chapter 10 Exam Room Procedures 63
Recognizing ectoparasites 63
Nail trimming 63
Ear cleaning 67
Anal glands 68
Bathing animals 69

Chapter 11 Immunology 71
Innate immunity 71
Acquired immunity 72
Cell-mediated immunity 72
Vaccination 72
Vaccine administration routes 73
References 73

Chapter 12 Animal Nursing and Assisting 75
Temperature 75
Pulse 75
Respiration 76
Pain assessment 76
Nutritional assessment 77
General nursing care 77
References 78

Chapter 13 Pharmacology 79
References 81
Chapter 14 Radiology 83
Radiology safety measures and guidelines 83
Cleaning screens 84
Labeling, filing, and storage of radiographs 84
Proper storage of radiographic film 85
Radiographic positioning 85
Conclusion 86
References 86

Chapter 15 Surgical Assisting 87
Introduction 87
The sterilization process 87
Preparing items for the autoclave 87
Wrapping a surgical pack 88
Cold sterilization 88
Instruments 89
Suture Material 90
Gowns and Drapes 90
The sterile field 92
Preparing for surgery 92
Surgical hand scrub 92
Gowning 93
Gloving 93
Opening and passing sterile items 94
Preparing the patient 95
Post-surgical procedures 96

Chapter 16 Avian and Reptile 99
Avian 99
Reptiles 103
References 105

Chapter 17 Equine 107
Skeletal system 107
The digestive tract 109
Nutrition 109
Key nutritional factors for horses 109
Types of feed 110
Behavior and handling 111
Nursing care and husbandry of horses 112
References 113

Chapter 18 Preparing for Internships and Employment 115
Interview 115
Resume writing 115
Cover letter 116
References 117

Chapter 19 Inventory 119
What will be inventoried in your clinic or hospital? 119
A well-run pharmacy 120
The want list 120
The veterinary assistant's role 120
Drug inventory 120
Man versus computer: both needed! 122
Organizing inventory 122
References 122

Chapter 20 Euthanasia and Pet Loss 125
The five stages of grief 127
References 129
Chapter 21 Client Management 131
Evaluating your clients 131
Client management; essential skills for the veterinary assistant 132
Employee roles 132
References 133

Chapter 22 Medical Records 135
References 140

Chapter 23 Occupational Safety and Health Administration 143
What is the occupational safety and health administration? 143
Material safety data sheets 143
OSHA labeling of secondary containers 143
OSHA inspections 144
Common OSHA veterinary violations 144
Fines 144
References 144

Chapter 24 Pet Health Insurance 147
References 148
Glossary 151
Index 159
See More
Kara Burns, MS, MEd, LVT, VTS (Nutrition), is President of the Academy of Veterinary Nutrition Technicians.
Lori Renda-Francis, BBA, MA, LVT, PhD, is the Veterinary Technology Program Director for Macomb Community College in Clinton Township, Michigan, USA
See More
Presents practical, step-by-step coverage of the NAVTA-approved curriculum for veterinary assistants
Serves as a comprehensive review for the Veterinary Assistant certification exam
Offers complete information using a highly accessible, condensed style and a colorful, easy-to-use layout
Provides coverage of canine, feline, avian, reptile and equine patients
Published in association with the National Association of Veterinary Technicians in America (NAVTA)
Includes access to a companion website with interactive multiple-choice questions, the figures from the book in PowerPoint, teaching activities, breed study guides, and a sample cover letter at www.wiley.com/go/burns/textbookvetassistant
See More
"The lovely photos and illustrations make this book an easy tool to use. In addition, there is a website providing further info including teaching modules for your in house learning." (Vet Nurses Today, 1 October 2015)
"Textbook for the Veterinary Assistantis a well-organized book for veterinary assistants or anyone thinking about working in the veterinary profession. It provides basic comprehensive coverage of veterinary topics including medical technology, anatomy and physiology, radiology, pharmacology, handling and restraint, surgical nursing, and office procedures." (JAVMA, 15 December 2014)
"Students will appreciate chapters covering medical terminology, clinical skills, office routines and more, while a companion website fills in details with interactive questions, figures from the book in PowerPoint, and more. Step-by-step coverage of the curriculum for vet assistants makes for a key text any vet student must have." (Midwest Book Review, 1 September 2014)
"This is an easy to read book, which could be dipped in and out of by UK veterinary care assistant students as an addition to the reading list, but it would not replace any of the current texts." (Veterinary Record, 6 December 2014)
See More
Instructors Resources
Digital evaluation copy available for this title
Request Copy

Contact your Wiley Representative
Find Your Rep

See More
See Less
Purchase Options
Textbook for the Veterinary Assistant
ISBN : 978-1-118-81376-8
184 pages
April 2014
Paperback
Textbook for the Veterinary Assistant
ISBN : 978-0-470-95926-8
184 pages
June 2014
Textbook for the Veterinary Assistant
ISBN : 978-1-118-81375-1
184 pages
July 2014

Information about Wiley E-Texts:
Wiley E-Texts are powered by VitalSource and accessed via the VitalSource Bookshelf reader, available online and via a downloadable app.
Wiley E-Texts are accessible online and offline, and can be read on a variety of devices, including smartphones and tablets.
Wiley E-Texts are non-returnable and non-refundable.
Wiley E-Texts are protected by DRM. For specific DRM policies, please refer to our FAQ.
WileyPLUS registration codes are NOT included with any Wiley E-Text. For informationon WileyPLUS, click here .
To learn more about Wiley E-Texts, please refer to our FAQ.

Information about e-books:
E-books are offered as e-Pubs or PDFs. To download and read them, users must install Adobe Digital Editions (ADE) on their PC.
E-books have DRM protection on them, which means only the person who purchases and downloads the e-book can access it.
E-books are non-returnable and non-refundable.
To learn more about our e-books, please refer to our FAQ.