Textbook
Introductory Transport Phenomena, 1st Edition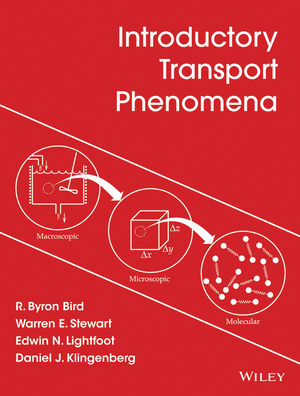 Introductory Transport Phenomena by R. Byron Bird, Warren E. Stewart, Edwin N. Lightfoot, and Daniel Klingenberg is a new introductory textbook based on the classic Bird, Stewart, Lightfoot text, Transport Phenomena. The authors' goal in writing this book reflects topics covered in an undergraduate course. Some of the rigorous topics suitable for the advanced students have been retained.  

The text covers topics such as: the transport of momentum; the transport of energy and the transport of chemical species. The organization of the material is similar to Bird/Stewart/Lightfoot, but presentation has been thoughtfully revised specifically for undergraduate students encountering these concepts for the first time.   

Devoting more space to mathematical derivations and providing fuller explanations of mathematical developments—including a section of the appendix devoted to mathematical topics—allows students to comprehend transport phenomena concepts at an undergraduate level.
See More
0. The Subject of Transport Phenomena

1. Viscosity and the Mechanisms of Momentum Transport

2. Shell Momentum Balances and Velocity Distributions in Laminar Flow

3. The Equations of Change for Isothermal Systems

4. Velocity Distributions in Turbulent Flow

5. Dimensional Analysis for Isothermal Systems

6. Interphase Transport in Isothermal Systems

7. Macroscopic Balances for Isothermal Flow Systems

8. Non-Newtonian Liquids

9. Thermal Conductivity and the Mechanisms of Energy Transport

10. Shell Energy Balances  and Temperature Distributions in Solids and Laminar Flow

11. The Equations of Change for Nonisothermal Systems

12. Temperature Distributions in Turbulent Flow

13. Dimensional Analysis in Nonisothermal Systems

14. Interphase Transport in Nonisothermal Systems

15. Macroscopic Balances for Nonisothermal Systems

16. Energy Transport by Radiation

17. Diffusivity and the Mechanisms of Mass Transport

18. Concentration Distributions in Solids and in Laminar Flow

19. The Equations of Change for Binary Mixtures

20. Concentration Distributions in Turbulent Flow

21. Dimensional Analysis for Flowing Mixtures

22. Interphase Transport in Nonisothermal Mixtures

23. Macroscopic Balances for Multicomponent Systems

24. Other Mechanisms for Mass Transport
See More
This text is an undergraduate-level adaptation of the respected Transport Phenomena title, by Bird, Stewart and Lightfoot.
Emphasis is placed on the similarities and differences between the development of the three types of conservation equations and their associated transport coefficients. Each may be studied at one of three different levels: molecular, microscopic and macroscopic.
Each chapter provides a summary section and a discussion which can be used as "flipped classroom" activities.
Mathematical derivations have been explained step-by-step, making explanations more accessible for undergraduate students.
See More
"Introductory Transport Phenomena is one of the most complete books on the subject, including sections on the topics of momentum, mass and energy transport. It's unusual to find a book that so deeply covers all three subjects as this one."
—May 2015 TCE Book Review, José Carlos Magalhães Pires, postdoctoral researcher, University of Porto
See More
Instructors Resources
Digital evaluation copy available for this title
Request Copy

Contact your Wiley Representative
Find Your Rep

See More
See Less
Purchase Options

Information about Wiley E-Texts:
Wiley E-Texts are powered by VitalSource and accessed via the VitalSource Bookshelf reader, available online and via a downloadable app.
Wiley E-Texts are accessible online and offline, and can be read on a variety of devices, including smartphones and tablets.
Wiley E-Texts are non-returnable and non-refundable.
Wiley E-Texts are protected by DRM. For specific DRM policies, please refer to our FAQ.
WileyPLUS registration codes are NOT included with any Wiley E-Text. For informationon WileyPLUS, click here .
To learn more about Wiley E-Texts, please refer to our FAQ.

Information about e-books:
E-books are offered as e-Pubs or PDFs. To download and read them, users must install Adobe Digital Editions (ADE) on their PC.
E-books have DRM protection on them, which means only the person who purchases and downloads the e-book can access it.
E-books are non-returnable and non-refundable.
To learn more about our e-books, please refer to our FAQ.