Textbook
Visualizing Everyday Chemistry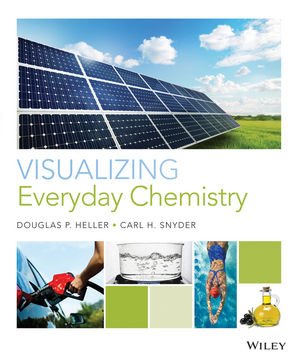 Visualizing Everyday Chemistry is for a one-semester course dedicated to introducing chemistry to non-science students. It shows what chemistry is and what it does, by integrating words with powerful and compelling visuals and learning aids. With this approach, students not only learn the basic principles of chemistry but see how chemistry impacts their lives and society. The goal of Visualizing Everyday Chemistryis to show students that chemistry is important and relevant, not because we say it is but because they see it is.
See More
1 Chemistry in Our World
2 Atoms and Elements
3 Chemical Compounds
4 Energy and Society
5 Energy of Foods
6 Physical and Chemical Changes
7 Water, and Other Solutions
8 Acids and Bases and Neutralization
9 Nuclear Chemistry
10 Energy from Electron Transfer
11 Cleaning Agents, Personal Care and Cosmetics
12 Genes, Medicines, and Drugs
13 Plastics, Pollution, and Sustainability
14 Micronutrients, Food Additives and Food Safety
See More
Powerful visuals are used to teach the concepts of chemistry. In Visualizing Everyday Chemistry, visuals are not just decorative; they present facts, concepts, processes, principles, and relationships.

Three themes are woven throughout the text:
Chemistry is not an abstract field of learning, but has practical, everyday applications that are important to all of us.
Chemistry addresses a growing number of environmental concerns, from energy and resource consumption to pollution.
A risk/benefit perspective on the role of chemistry in society and in our personal lives is central to developing informed opinions on policy and making better consumer choices.

The following features are included in Visualizing Everyday Chemistry to facilitate students' mastery of the material:


Learning Objectives: Located at the start of each major section, a list in behavioral terms presents the concepts that students are expected to master while studying the section.
Process Diagrams: These features integrate visuals and text to describe a complex process, such as the carbon cycle and acid rain formation. Students can follow a process and see the change in the parts of the figure. This approach unburdens the text and lets the images tell the story.
What a Chemist Sees: These high-interest features illustrate a concept that means one thing to the consumer and another to the scientist. They show students how to "think like a chemist" and develop observational skills.
Chemistry InSight: Using a combination of photos, diagrams, and data these multipart visual sections focus on a key concept or topic in the chapter, exploring it in detail or showing how it plays out in several different applications.
In Words, Math, and Pictures: These multipart visual sections guide students through quantitative concepts, such as exponential notation, unit conversions, pH, and the mole.
Experiencing Everyday Chemistry: Icons at points within the text alert students to tie-in video demonstrations available in WileyPLUS Learning Space. Supplementary instructor guides help make in-class demonstrations (using everyday items) a natural part of teaching the course.
Exercises: Within each chapter, student questions appear at the ends of sections (Concept Checks), with selected figures (short-answer questions), and after selected topics known to pose some problems for students, such as unit conversions and compound names and formulas (Know Before You Go).
Did You Know?: Integrated with the chapter presentation, these essays focus on interesting developments in contemporary chemistry, from forensic science to biofuels to designer macronutrients and invite students to think critically about them.
WileyPLUS Learning Space is an easy way for students to learn, collaborate, and grow. With WileyPLUS Learning Space, students create a personalized study plan, assess progress along the way, and make deeper connections as they interact with the course material and each other.
Through a combination of dynamic course materials and visual reports, this collaborative learning environment gives you and your students immediate insight into strengths and problem areas in order to act on what's most important.
See More
Instructors Resources
ENHANCE YOUR COURSE
Digital evaluation copy available for this title
Request Copy

Contact your Wiley Representative
Find Your Rep

See More
See Less
Purchase Options
Visualizing Everyday Chemistry
ISBN : 978-1-119-03474-2
560 pages
January 2015, ©2016
Loose-leaf
Visualizing Everyday Chemistry, Binder Ready Version
ISBN : 978-1-119-00306-9
560 pages
January 2015, ©2016
Paperback
Visualizing Everyday Chemistry
ISBN : 978-0-470-62066-3
560 pages
January 2015, ©2016

Information about Wiley E-Texts:
Wiley E-Texts are powered by VitalSource and accessed via the VitalSource Bookshelf reader, available online and via a downloadable app.
Wiley E-Texts are accessible online and offline, and can be read on a variety of devices, including smartphones and tablets.
Wiley E-Texts are non-returnable and non-refundable.
Wiley E-Texts are protected by DRM. For specific DRM policies, please refer to our FAQ.
WileyPLUS registration codes are NOT included with any Wiley E-Text. For informationon WileyPLUS, click here .
To learn more about Wiley E-Texts, please refer to our FAQ.

Information about e-books:
E-books are offered as e-Pubs or PDFs. To download and read them, users must install Adobe Digital Editions (ADE) on their PC.
E-books have DRM protection on them, which means only the person who purchases and downloads the e-book can access it.
E-books are non-returnable and non-refundable.
To learn more about our e-books, please refer to our FAQ.
This title is also available on :