Textbook
Advanced Accounting, 6th Edition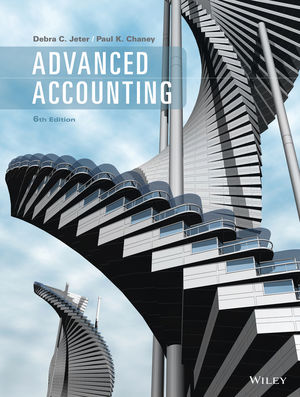 Designed for the advanced accounting course, Advanced Accounting, 6th Edition Binder Ready Version by Debra Jeter and Paul Chaney delivers a balanced and detailed approach to the conceptual and technical aspects of financial accounting and reporting. Advanced Accounting includes comprehensive coverage of all three methods of consolidated financial reporting (cost, partial equity, complete equity). In the 6th edition, U.S. Standards and international principles are compared and contrasted, drawing the readers attention to the remaining differences. This is an unbound binder-ready version.
See More
1. Introduction to Business Combinations and the Conceptual Framework
2. Accounting for Business Combinations
3. Consolidated Financial Statements – Date of Acquisition
4. Consolidated Financial Statements After Acquisition
5. Allocation and Depreciation of Differences Between Implied and Book Values
6. Elimination of Unrealized Profit on Intercompany Sales of Inventory
7. Elimination of Unrealized Gains or Losses on Intercompany Sales of Property and Equipment
8. Changes in Ownership Interest
9. Intercompany Bond Holdings and Miscellaneous Topics – Consolidated Financial Statements
10. Insolvency – Liquidation and Reorganization
11. International Financial Reporting Standards
12. Accounting for Foreign Currency Transactions and Hedging Foreign Exchange Risk
13. Translation of Financial Statements of Foreign Affiliates
14. Reporting for Segments and for Interim Financial Periods
15. Partnerships: Formation, Operation and Ownership Changes
16. Partnership Liquidation
17. Introduction to Fund Accounting
18. Introduction to Accounting for State and Local Governmental Units
19. Accounting for Nongovernment Nonbusiness Organizations:  Colleges and Universities, Hospitals, and other Health Care Organizations
See More
Now Featuring WileyPLUS! WileyPLUS is a research-based online environment for effective teaching and learning. WileyPLUS is packed with interactive study tools and resources–including the complete online textbook–to give your students more value for their money.  www.wileyplus.com
Extended Certain topics, such as contingent consideration and bargain purchases, are expanded to incorporate more realistic real-world issues.
Comparative Principles U.S. Standards and International Principles are compared and contrasted, drawing the readers' attention to important changes, both present and expected future ones.
Thorough Update All chapters have been updated where appropriate to reflect the most recent pronouncements of the Financial Accounting Standards Board and the Governmental Accounting Standards Board.
New Exercises Expanded number and variety of exercises at the end of each chapter, including FASB's Codification exercises.
See More
Comprehensive Coverage of all three methods of consolidated financial reporting (cost, partial equity, complete equity).
Practical Applications through Financial Statement Analysis exercises that relate to real companies in virtually every chapter.
Related Concepts are referenced throughout to tie in FASB's conceptual framework as it relates to Advanced Accounting.
Learning Objectives are strategically placed throughout the chapter, and relevant learning objective numbers are provided with the end-of-chapter materials.
See More
Instructors Resources
ENHANCE YOUR COURSE
Digital evaluation copy available for this title
Request Copy

Contact your Wiley Representative
Find Your Rep

See More
See Less
Students Resources
See More
See Less
Purchase Options

Information about Wiley E-Texts:
Wiley E-Texts are powered by VitalSource and accessed via the VitalSource Bookshelf reader, available online and via a downloadable app.
Wiley E-Texts are accessible online and offline, and can be read on a variety of devices, including smartphones and tablets.
Wiley E-Texts are non-returnable and non-refundable.
Wiley E-Texts are protected by DRM. For specific DRM policies, please refer to our FAQ.
WileyPLUS registration codes are NOT included with any Wiley E-Text. For informationon WileyPLUS, click here .
To learn more about Wiley E-Texts, please refer to our FAQ.

Information about e-books:
E-books are offered as e-Pubs or PDFs. To download and read them, users must install Adobe Digital Editions (ADE) on their PC.
E-books have DRM protection on them, which means only the person who purchases and downloads the e-book can access it.
E-books are non-returnable and non-refundable.
To learn more about our e-books, please refer to our FAQ.
This title is also available on :