Textbook
Essential Clinical Global Health
January 2015, ©2015, Wiley-Blackwell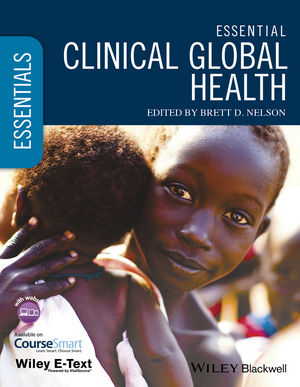 Essential Clinical Global Health is a brand-new, pioneering, and evidence-based textbook that provides a clinical overview of the increasingly prominent specialty of global health. Originally developed from a course at Harvard Medical School, and now with contributions from nearly 100 world-renowned global health experts from across the globe, this textbook presents vital information required of students, trainees, and clinicians during their international experiences and training.
Essential Clinical Global Health introduces readers to the up-to-date knowledge, skills, and approaches needed for productive and rewarding global health experiences. It provides essential clinical information on the diagnosis, management, and prevention of the leading causes of morbidity and mortality in low- and middle-income countries. The textbook also includes practical guidance on topics such as health systems, population-based approaches, cultural awareness and sensitivity, travel preparedness and safety, and career development in global health.
With key learning objectives in each chapter, practical clinical advice, setting-appropriate guidelines, personal field experiences from student and clinician contributors, Essential Clinical Global Health is the first global health textbook with a clinical focus for healthcare students, trainees, and providers.

A companion website at www.wileyessential.com/globalhealth features self-assessment questions and videos.
See More
Editor and Editorial Board vii
Contributors viii
About the Editor xv
Preface xvii
How to Use Your Textbook xviii
About the Companion Website xxi
Acknowledgments xxii
Part 1: Introduction 1
1 Working Clinically in Resource-Limited Settings 3
2 Healthcare Systems 17
3 Health Program Development and Evaluation 28
4 Preparing for Travel and Staying Safe Abroad 40
Part 2: Newborn and Child Health 53
5 Overview of Child Health 55
6 Newborn Care 68
7 Birth Asphyxia 86
8 Acute Respiratory Infections 94
9 Diarrheal Illness and Rehydration 104
10 Malaria 114
11 Measles 126
12 Malnutrition and Micronutrient Deficiencies 135
13 Child Development 144
Part 3: Adolescent, Reproductive, and Maternal Health 157
14 Adolescent Health 159
15 Sexual and Reproductive Health and Rights 171
16 Sexually Transmitted Infections 193
17 Maternal Health 208
Part 4: Infectious Diseases 225
18 HIV/AIDS 227
19 Tuberculosis 242
20 Neglected and Other Tropical Diseases 251
Part 5: Non-Communicable Diseases 273
21 Cardiovascular Disease 275
22 Chronic Respiratory Disease 293
23 Diabetes and Endocrinology 302
24 Cancer and Blood Disorders 314
25 Trauma and Emergency Care 328
26 Critical Care 340
27 Mental Health and Neurological Disorders 352
28 Dermatology 367
29 Oral Health 378
30 Blindness and Visual Impairment 389
Part 6: Other Global Health Topics 399
31 Essential Laboratory Skills 401
32 Nursing Care 419
33 Pharmacy 427
34 Humanitarian Assistance 437
35 Technologies in Global Health 452
36 Illness in the Returning Traveler 461
37 Developing a Career in Global Health 475
Index 486
See More
Brett D. Nelson, MD, MPH, DTM&H, is Director of Pediatric and Newborn Programs, Division of Global Health and Human Rights, Department of Emergency Medicine, Division of Global Health, Department of Pediatrics, Massachusetts General Hospital
and
Assistant Professor, Harvard Medical School, Boston, Massachusetts, USA
See More
Purchase Options
Essential Clinical Global Health
ISBN : 978-1-118-63843-9
528 pages
November 2014
Paperback
Essential Clinical Global Health, Includes Wiley E-Text
ISBN : 978-1-118-63844-6
528 pages
January 2015
Essential Clinical Global Health
ISBN : 978-1-118-93705-1
528 pages
April 2016

Information about Wiley E-Texts:
Wiley E-Texts are powered by VitalSource and accessed via the VitalSource Bookshelf reader, available online and via a downloadable app.
Wiley E-Texts are accessible online and offline, and can be read on a variety of devices, including smartphones and tablets.
Wiley E-Texts are non-returnable and non-refundable.
Wiley E-Texts are protected by DRM. For specific DRM policies, please refer to our FAQ.
WileyPLUS registration codes are NOT included with any Wiley E-Text. For informationon WileyPLUS, click here .
To learn more about Wiley E-Texts, please refer to our FAQ.

Information about e-books:
E-books are offered as e-Pubs or PDFs. To download and read them, users must install Adobe Digital Editions (ADE) on their PC.
E-books have DRM protection on them, which means only the person who purchases and downloads the e-book can access it.
E-books are non-returnable and non-refundable.
To learn more about our e-books, please refer to our FAQ.
More in this series