Textbook
Human Geography: People, Place, and Culture, 11th Edition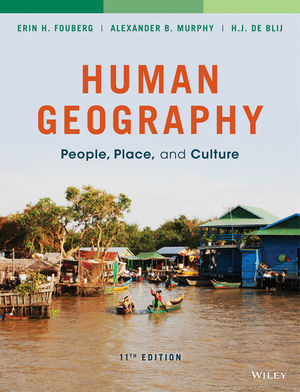 Fouberg's Human Geography, 11th Edition teaches students to appreciate the diversity of people, places, and cultures, and understand the role people play in shaping our world. The goals of this edition are to provide geographic context to global, regional, national and local issues and to teach students to think geographically and critically about these issues. Human Geography: People, Place, and Culture features beautifully designed maps, dozens of vibrant photographs taken by the author team, and author and guest field notes that help students see how geographers read cultural landscapes and use fieldwork to understand places. A newly designed demographic data table includes economic, political, and population data, all of which can be examined in ArcGIS Online.
See More
1 Introduction to Human Geography
2 Population
3 Migration
4 Local Culture, Popular Culture, and
Cultural Landscapes
5 Identity: Race, Ethnicity, Gender and Sexuality
6 Language
7 Religion
8 Political Geography
9 Urban Geography
10 Development
11 Agriculture
12 Industry and Services
13 The Humanized Environment
14 Globalization and the Geography of Networks
See More
Author, professor and television personality Harm de Blij (pronounced duh Blay) for seven years was the popular Geography Editor on ABC's "Good Morning America". In 1996 he joined NBC News as Geography Analyst, appearing mostly on MSNBC. His series "The Power of Place" continues to air on PBS stations.
Born in the Netherlands, de Blij has a unique range of educational experiences. He received his early schooling in Europe (part of it during the Second World War as recounted in his memoir Wartime Encounter), his college education in Africa, and his higher degrees (Ph.D., Northwestern) in the United States. His scholarly work has been recognized through honorary degrees awarded by Marshall University, Rhode Island College, Grand Valley State University, North Carolina State University, and Michigan State University.
Dr. de Blij has published more than 30 books including scientific, educational, and trade titles, and over 100 articles. His textbook Geography: Realms, Regions and Concepts (Wiley) has exceeded 1 million copies in 11 editions since 1970.
He specializes in geopolitical and environmental issues, and has held named chairs at Georgetown University, Marshall University, and the Colorado School of Mines. Dr. de Blij currently is Distinguished Professor of Geography at Michigan State University, where he also taught throughout the decade of the 1960s. In the interim, he chaired the Geography Department at the University of Miami and served as editor at the National Geographic Society. His advocacy of Geography in the media and on the public lecture circuit has taken him to virtually all corners of the United States; his work in research, teaching, and television has spanned the globe. In 1994 National Geographic Society President Gilbert Grosvenor appointed Dr. de Blij an Honorary Life Member of the Society.
See More
WileyPLUS Learning Space is an easy way for students to learn, collaborate, and grow. With WileyPLUS Learning Space, students create a personalized study plan, assess progress along the way, and make deeper connections as they interact with the course material and each other. WileyPlus Learning Space can be purchased in place of a printed book or bundled at a low price with a printed, binder-ready, or custom copy of the book (ask your Wiley representative for options and ISBNs).
Improved Student Workflow, Learning and Collaboration is made possible in WileyPLUS Learning Space through dynamic e-text, figures, assignments and social networking tools that enable interaction with instructors and encourage collaboration and discussion between students.
New layout in the printed book helps improve the visual, draw students into studying maps and photographs, allows for longer and more detailed captions, and facilitates the integration of text, photos, and illustrations.
ArcGIS Online map of demographic data included in the demographic data table. Faculty and students can open maps of each demographic data variable live in ArcGIS Online. Change symbols, basemaps, coverages, and add layers and analyze correlations or change using transparency. Explore human geography maps in the easily learned, dynamic ArcGIS Online environment.
See More
Author and Guest Field Notes demonstrate how geographers use fieldwork and read cultural landscapes to think geographically about places.
Key questions are listed after the opening field note of each chapter and serve as a prompt to encourage critical thinking.
Thinking Geographically questions ask the student to apply a geographic concept to a real-life example and make great prompts for essays or as lecture launchers.
Detailed captions for maps and photographs help students learn to see and analyze patterns on maps and recognize geographic concepts in photographs. The 11th edition features more detailed captions for all maps and photographs than previous editions.
See More
Instructors Resources
ENHANCE YOUR COURSE
Request a print evaluation copy
Contact us

Contact your Wiley Representative
Find Your Rep

See More
See Less
Students Resources
See More
See Less
Purchase Options

Information about Wiley E-Texts:
Wiley E-Texts are powered by VitalSource and accessed via the VitalSource Bookshelf reader, available online and via a downloadable app.
Wiley E-Texts are accessible online and offline, and can be read on a variety of devices, including smartphones and tablets.
Wiley E-Texts are non-returnable and non-refundable.
Wiley E-Texts are protected by DRM. For specific DRM policies, please refer to our FAQ.
WileyPLUS registration codes are NOT included with any Wiley E-Text. For informationon WileyPLUS, click here .
To learn more about Wiley E-Texts, please refer to our FAQ.

Information about e-books:
E-books are offered as e-Pubs or PDFs. To download and read them, users must install Adobe Digital Editions (ADE) on their PC.
E-books have DRM protection on them, which means only the person who purchases and downloads the e-book can access it.
E-books are non-returnable and non-refundable.
To learn more about our e-books, please refer to our FAQ.
This title is also available on :