Textbook
Nursing Practice: Knowledge and Care
October 2014, ©2014, Wiley-Blackwell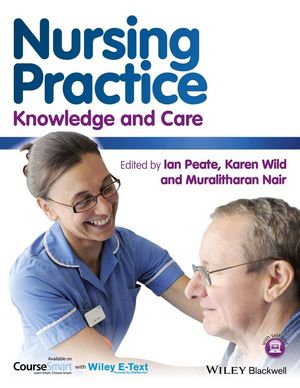 Nursing Practice is the essential, textbook to support you throughout your entire nursing degree, from your first year onwards. It explores all the clinical and professional issues that you need to know in one complete volume.
Written in the context of the latest Nursing and Midwifery Council Standards for Pre-Registration Nursing Education and the Essential Skills Clusters, this book covers all fields of nursing: Adult, Child, Mental Health, Learning Disabilities and also Maternity care, in both acute and community settings. With full colour illustrations, and plenty of activities and user-friendly features throughout, this evidence-based text encompasses essential nursing theory and practice, providing students with information to support their success.
Learning features in the book include:
Hear it from the experts- tips and advice from real life nurses, patients and their carers, and student nurses
Red Flags- alerting the student to potential dangers
Primary Care Considerations- informs students about care issues in the community setting
Fields boxes- giving further insight into other fields of nursing, making the book relevant to all fields of nursing practice
Medicines Management boxes provide key information about medicines
Self-assessment and activities throughout
A companion website to this title is available at www.wileynursingpractice.com
Here you'll find a range of resources for both the student and the lecturer, including:
Over 350 interactive multiple choice questions
Flashcards
Glossary
Links to references and further reading
Illustrations from the book
Worksheets
See More
Preface xiv
Acknowledgements xvi
About the Editors xvii
Contributors xviii
How to Use Your Textbook xxii
About the Companion Website xxvi
Unit 1 Contextualising the Art and Science of Nursing 1
1 Nursing: Past, Present and Future 2
2 The Professional Nurse and Contemporary Health Care 25
3 Health Promotion 50
4 Public Health 72
Unit 2 The Elements of Care 91
5 Ethics, the Law and the Nurse 92
6 The Nursing Process 111
7 Models of Nursing 130
Unit 3 The Principles of Care 147
8 The Principles of Safeguarding and Dignity 148
9 The Principles of Older People's Care 172
10 The Principles of Caring for People with Learning Disabilities and Autism 194
11 The Principles of Caring for Children and Families 212
12 The Principles of Caring for People with Mental Health Problems 238
13 The Principles of Maternity Care 257
14 The Principles of Surgical Care 274
15 The Principles of Cancer Care 293
16 The Principles of Infection Control 313
17 The Principles of Nutrition 336
18 The Principles of Skin Integrity 355
19 The Principles of Medicine Administration and Pharmacology 383
20 The Principles of Death, Dying and Bereavement 409
Unit 4 The Scientific Nature of Disease 437
21 The Cell 438
22 Immunity, Inflammation and Infection 464
23 Pain Management 490
24 Fluid and Electrolyte Imbalance, and Shock 516
Unit 5 The Art and Science of Nursing Care 541
25 The Person with a Cardiovascular Disorder 542
26 The Person with a Haematological Disorder 569
27 The Person with a Respiratory Disorder 595
28 The Person with a Gastrointestinal Disorder 626
29 The Person with a Urinary Disorder 653
30 The Woman with a Reproductive Disorder 677
31 The Man with a Reproductive Disorder 709
32 The Person with a Sexually Transmitted Infection 740
33 The Person with an Endocrine Disorder 763
34 The Person with a Neurological Disorder 793
35 The Person with an Ear or Eye Disorder 845
36 The Person with a Musculoskeletal Disorder 876
37 The Person with a Skin Disorder 908
Appendix A Reference Values in Venous Serum (Adults) 932
Appendix B List of Units 935
Index 936
See More
A comprehensive, student-friendly resource to accompany the student throughout the entire pre-registration programme
Explores both the theory and the practice of nursing care
Focuses predominantly on adult nursing, but with boxed examples of other fields of nursing care
Essential skills clusters woven throughout as themes
Supported by an online resource centre featuring both lecturer and student resources  
Over 350 full-colour high quality illustrations throughout
Available as online, customisable edition, making searching for information easy and accessible
Structured around the latest NMC Standards for pre-registration education, 2010
Includes tips, hints, and advice from real nurses, real students, service users, and other members of the multi-disciplinary team to bring the subject to life
Available in a range of digital formats
See More
Nursing Practice companion website
features resources for both the student and the lecturer
- Over 350 interactive multiple-choice questions
- Flashcards for self-test
- Glossary of key terms
- Links to references and further reading
- Illustractions from the book
- Worksheets for instructors
See More
Instructors Resources
Request a print evaluation copy
Contact us

Contact your Wiley Representative
Find Your Rep

See More
See Less
Purchase Options
Nursing Practice: Knowledge and Care
ISBN : 978-1-118-49679-4
992 pages
August 2014
Paperback
Nursing Practice: Knowledge and Care
ISBN : 978-1-118-48136-3
992 pages
October 2014
Nursing Practice: Knowledge and Care
ISBN : 978-1-118-49674-9
992 pages
October 2014

Information about Wiley E-Texts:
Wiley E-Texts are powered by VitalSource and accessed via the VitalSource Bookshelf reader, available online and via a downloadable app.
Wiley E-Texts are accessible online and offline, and can be read on a variety of devices, including smartphones and tablets.
Wiley E-Texts are non-returnable and non-refundable.
Wiley E-Texts are protected by DRM. For specific DRM policies, please refer to our FAQ.
WileyPLUS registration codes are NOT included with any Wiley E-Text. For informationon WileyPLUS, click here .
To learn more about Wiley E-Texts, please refer to our FAQ.

Information about e-books:
E-books are offered as e-Pubs or PDFs. To download and read them, users must install Adobe Digital Editions (ADE) on their PC.
E-books have DRM protection on them, which means only the person who purchases and downloads the e-book can access it.
E-books are non-returnable and non-refundable.
To learn more about our e-books, please refer to our FAQ.