Textbook
Clinical Textbook of Dental Hygiene and Therapy
May 2012, ©2012, Wiley-Blackwell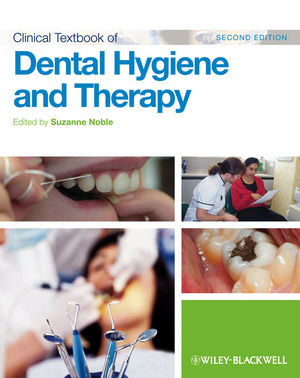 Fully revised and updated to reflect changes in clinical practice, legislation and regulation, this groundbreaking textbook intertwines the subjects of dental hygiene and dental therapy to provide a comprehensive resource for students of these courses, as well as those studying new degree programmes in oral health science. The
Clinical Textbook of Dental Hygiene and Therapy
is designed as a dedicated companion text for these disciplines and should enable students to streamline their primary reading. Following course developments and an expansion in the remits of both hygienists and therapists, this book is written not only for students, but also as a revision aid for those already in practice. Interactive questions on a companion website allow the reader to test their knowledge and understanding.
The opening section of the book is dedicated to relevant oral sciences: anatomy; histology; embryology; oral medicine and pathology. The clinical section contains fourteen chapters which provide coverage of the core syllabus for dental hygiene and therapy. The final section is dedicated to primary dental care services and law, ethics and professionalism.
FEATURES
• Provides unique combined coverage of the subjects of dental hygiene and dental therapy
• Emphasises the clinical domain and reflects role expansion
• Highly illustrated in full colour throughout
• Includes expert contributions from dental hygienists, therapists, and dentists
• Dedicated companion website at www.wiley.com/go/noble/dentalhygiene
See More
Author biographies ix
Preface xv
Acknowledgements xvi
Section 1 Core Basic Science 1
1 Oral embryology, histology and anatomy 3
Sheila Phillips
Introduction 3
Oral embryology 3
Early tooth development 4
Development of the dental tissues 5
Histology of oral tissues 8
Histology of dental tissues 11
Oral anatomy 15
Anatomy of the oral cavity 20
Tooth morphology 26
2 General pathology 32
Henk S. Brand and Arjan Vissink
Introduction 32
Inflammation and immunity 32
Wound healing 38
Hyperplasia, hypertrophy and atrophy 39
Neoplasia 41
Haemostasis 46
Atherosclerosis 48
Cardiac disease 49
Hypertension 51
3 Oral medicine and pathology 53
Paula Farthing
Introduction 53
Viral infections 53
Oral ulceration 54
White patches and premalignant lesions of the oral mucosa 56
Oral cancer 58
Soft tissue swellings of the oral mucosa 60
Cysts of the jaws 62
Conditions of the salivary glands 64
Oral manifestations of systemic disease 65
Common causes of facial pain 66
Disorders of the temporomandibular joint 67
Developmental tooth anomalies 67
Tooth wear 70
4 Dental caries and pulpitis 72
Avijit Banerjee and Naveen Karir
Introduction 72
Aetiology and microbiology of dental caries in relation to dental plaque 72
The epidemiology of caries 79
Features of enamel, dentine and root caries 80
Diagnostic methods for dental caries 83
Non-surgical management of dental caries 86
Surgical management of dental caries 86
The histopathology of pulpitis 88
Abscess formation 88
Section 2 Clinical 91
5 The periodontium, tooth deposits and periodontal diseases 93
Philip R. Greene and Maggie Jackson
Introduction 93
The normal periodontium 93
The classification of periodontal disease 96
Chronic gingivitis 96
Chronic periodontitis 98
Aggressive periodontitis 100
Histopathology of periodontal diseases 101
Gingival recession 102
Acute periodontal conditions 102
Microbiological aspects of periodontal disease 104
Principles of periodontal examination 105
Treatment of chronic periodontitis 111
Conclusion 123
6 Oral health education and promotion 125
Jane M. Pratt
Introduction 125
Meaning of health 126
Defining health education and health promotion 126
Promotion of oral health 127
Considerations while planning health education and health promotion 130
Planning a teaching session 133
Oral health promotion/education examples 136
Conclusion 138
7 Diet and nutrition 139
Suzanne L. Noble
Introduction 139
The relationship between diet and disease 139
The current national dietary
recommendations 140
Dietary requirements of groups with special needs 145
The effect of ethnicity and culture on nutrition 147
Dietary needs in specific states of disease 147
The principles behind the dietary control of dental caries 147
Classification of sugars in relation to dental caries 149
Alternative sweeteners 151
The relationship between diet and erosion 152
The relationship of diet to periodontal diseases 153
The role of the dental hygienist/therapist in dietary advice and counselling 155
8 Microbiology and infection prevention and control 158
Mary J. O'Donnell, Denise MacCarthy and David C. Coleman
Introduction 158
Requirement for a formal infection prevention and control policy 158
Microorganisms 159
Immunisation 161
Standard precautions 162
Hand hygiene 162
Aseptic techniques 164
Protective clothing 164
Processing and handling of dental instruments 166
Surgery design 170
General surface cleaning and disinfection 171
Waste management 171
The dental chair unit as a vehicle for cross-contamination and cross-infection 172
The dental laboratory 176
Diagnostic specimens 177
9 Materials in restorative dentistry 181
Paul Franklin and Paul Brunton
Introduction 181
Amalgam 181
Resin composite 183
Glass ionomer cements 187
Cermets 191
Compomers 191
Materials for the protection of fissures 192
Adhesion to tooth substance 192
Pulp protection regimes 195
Temporary dressing materials 196
Impression materials 197
Key points 198
10 Pharmacology and pain control 199
Margaret Kellett
Introduction 199
Prescribing regulations and the use of the BNF 199
The use of antibiotics and antimicrobials in dentistry 201
The use of analgesics in dentistry 204
The relevance of other drugs that may affect oral health and dental treatment 205
Local analgesic agents 208
Techniques for local analgesia 209
Difficulties, complications and emergencies that can be associated with local analgesia 214
Equipment used in dental local analgesia 216
Conclusions 218
11 Preventive dentistry 219
Sarah Murray and Baldeesh Chana
Introduction 219
Definitions of prevention 219
Prevention of periodontal disease 221
Prevention of caries 224
Fluoride 225
Fissure sealants 229
Life-long prevention 231
Prevention for persons
with special needs 232
Prevention and implantology 233
Oral cancer screening 235
Alcohol abuse 236
Smoking cessation 237
Smoking habits 237
Illegal drug abuse 240
The primary health care team 241
12 Paediatric dentistry 244
Sharon M.G. Lee and George T.R. Lee
Introduction 244
Dental development 244
Tooth notation 244
Tooth eruption 245
Morphological differences between primary and permanent teeth 245
Disruption in the number of teeth 245
Disruption of tooth form 246
Abnormalities of tooth structure 247
Dental caries 248
Tooth wear in children 253
Treatment of dental caries in the primary dentition 254
Soft tissue problems in children 260
Anxiety and pain control 262
Trauma in children 267
13 Adult restorative dentistry 269
Ann C. Shearer
Introduction: the importance of the treatment plan 269
Charting the adult dentition 270
Classification of cavities 270
Preparation of cavities 272
Pulp protection 276
Moisture control 277
Direct restoratives: clinical properties, handling and placement 279
Polishing and finishing restorations 288
Replacing and repairing restorations 288
Temporary restorative materials and their placement 289
Temporary crowns 289
The clinical aspects of taking impressions 290
The management of discoloured teeth 290
The management of tooth wear 291
Management of trauma 293
The principles of advanced restorative care 293
Care of instruments and handpieces 296
The ergonomic environment 297
Management of anxiety 297
14 Exodontia 299
Hazel J. Fraser
Introduction 299
Indications for tooth extraction 299
Contraindications for tooth extraction 300
Relevant anatomical structures 300
Preparation of the patient 300
Obtaining local analgesia 301
Clinical assessment 301
Extraction instruments 302
Extraction technique 304
Postoperative care 307
Complications of exodontia 307
15 Gerodontology 311
Fiona Sandom
Introduction 311
Physiological age changes 311
Pathological change 314
Nutritional disturbance 318
The dentate elderly 318
Domiciliary care 318
Treatment of the terminally ill 321
16 Medical emergencies and their management 325
Lesley Longman and Colette Balmer
Introduction 325
Management considerations 325
The role of the hygienist/therapist 327
Avoidance of a medical emergency 327
Assessment of the sick patient using the 'ABCDE' approach 329
Medical emergencies 330
Patient discharge 345
Conclusion 346
17 Health and safety at work 347
Hilary R. Samways
Introduction 347
Working environment 347
Materials 348
Equipment 348
First aid 350
Waste disposal 350
Accident book 351
Fire prevention 352
Radiation protection 353
Personal protection 354
Clinical governance 359
Risk assessment 359
18 Complementary and alternative medicine 361
Philip Wander
Introduction 361
Acupuncture 362
Herbalism 363
Aromatherapy 363
Chiropractic 364
Osteopathy 364
Hypnosis 364
Homeopathy 365
Biological medicine for the twenty-first century 369
Section 3 Non-clinical 371
19 Primary care services 373
Sara Holmes and Leanna Wynne
Introduction 373
The framework of UK primary dental care service provision 374
The provision of NHS dental services 374
The primary dental care team 376
The public health agenda and an introduction to epidemiology 379
Summary 382
20 Law, ethics and professionalism 383
Hew Matthewson
Introduction 383
Regulation of dental practice 383
Professional duties and obligations towards patients 385
Patient consent to treatment 388
Relationships with professional colleagues 390
Relationships with the public 391
Clinical governance 392
Employment law 394
Sources of advice 394
Index 396
Companion Website
This book is accompanied by a website: www.wiley.com/go/noble/dentalhygiene
The website includes:
● Multiple Choice Questions
● Figures from the book
See More
Suzanne L. Noble BDS, MFGDP, MDentSci, is Director of the Birmingham School of Dental Hygiene & Therapy, The University of Birmingham
See More
Purchase Options
Clinical Textbook of Dental Hygiene and Therapy, 2nd Edition
ISBN : 978-1-118-36261-7
432 pages
March 2012
Paperback
Clinical Textbook of Dental Hygiene and Therapy, 2nd Edition
ISBN : 978-0-470-65837-6
430 pages
May 2012
Clinical Textbook of Dental Hygiene and Therapy, 2nd Edition
ISBN : 978-1-119-05145-9
432 pages
October 2014

Information about Wiley E-Texts:
Wiley E-Texts are powered by VitalSource and accessed via the VitalSource Bookshelf reader, available online and via a downloadable app.
Wiley E-Texts are accessible online and offline, and can be read on a variety of devices, including smartphones and tablets.
Wiley E-Texts are non-returnable and non-refundable.
Wiley E-Texts are protected by DRM. For specific DRM policies, please refer to our FAQ.
WileyPLUS registration codes are NOT included with any Wiley E-Text. For informationon WileyPLUS, click here .
To learn more about Wiley E-Texts, please refer to our FAQ.

Information about e-books:
E-books are offered as e-Pubs or PDFs. To download and read them, users must install Adobe Digital Editions (ADE) on their PC.
E-books have DRM protection on them, which means only the person who purchases and downloads the e-book can access it.
E-books are non-returnable and non-refundable.
To learn more about our e-books, please refer to our FAQ.