Textbook
Occupational Science: Society, Inclusion, Participation
February 2012, ©2012, Wiley-Blackwell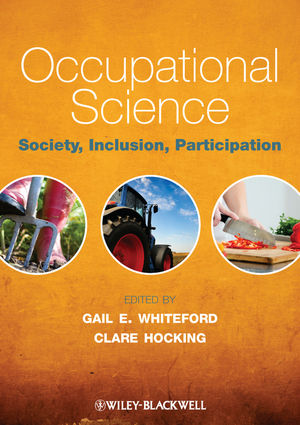 Occupational Science: Society, Inclusion, Participation is the must have resource for occupational therapists, occupational scientists, students and researchers. The book begins with a comprehensive review of the current literature and the knowledge generated to date. Reasons for the field's limited impact are proposed, including its focus on individuals rather than groups and communities, its psychological view of occupation, and its narrow focus on socially approved occupations. Global realities such as poverty, anti-social behaviour and ageing populations are discussed and implications for action are considered.

The second section of the books comprises a series of chapters that address the philosophical, theoretical and scientific bases that underpin and inform everyday decision making in occupational therapy practice. This is followed by a section on methodological and structural considerations. The concluding chapter offers a critical reflection on methods, strategies, values and relationships for the future, to achieve a relevant science that makes a difference to current occupational realities. Written by an internationally renowned team of contributors, this book offers a truly comprehensive critique of the field.
Features
• Internationally renowned Editors and contributors
• First comprehensive text on occupational science
• Fully up to date with the latest thinking and research
• Links theory to practice
See More
Dedication vii
About the Editors ix
Contributors xi
Preface xv
Part I: Introduction
1 Introduction to critical perspectives in occupational science 3
Clare Hocking and Gail E. Whiteford
2 What would Paulo Freire think of occupational science? 8
Lilian Magalhães
Part II: Understanding occupation
3 Transactionalism: Occupational science and the pragmatic attitude 23
Malcolm P. Cutchin and Virginia A. Dickie
4 Understanding the discursive development of occupation: Historico-political perspectives 38
Sarah Kantartzis and Matthew Molineux
5 Occupations through the looking glass: Reflecting on occupational scientists' ontological assumptions 54
Clare Hocking
Part III: Ways of knowing occupation
6 Knowledge paradigms in occupational science: Pluralistic perspectives 69
Elizabeth Anne Kinsella
7 Occupation and ideology 86
Ben Sellar
8 Governing through occupation: Shaping expectations and possibilities 100
Debbie Laliberte Rudman
9 When occupation goes 'wrong': A critical reflection on risk discourses and their relevance in shaping occupation 117
Silke Dennhardt and Debbie Laliberte Rudman
Part IV: Ways of doing in occupational science
10 The case for multiple research methodologies 137
Valerie A. Wright-St Clair
11 Occupational choice: The significance of socio-economic and political factors 152
Roshan Galvaan
12 The International Society for Occupational Science: A critique of its role in facilitating the development of occupational science through international networks and intercultural dialogue 163
Alison Wicks
Part V: Visioning a way forward
13 Occupation, inclusion and participation 187
Gail E. Whiteford and Robert B. Pereira
Index 209
See More
Purchase Options
Occupational Science: Society, Inclusion, Participation
ISBN : 978-1-118-28157-4
248 pages
November 2011
Paperback
Occupational Science: Society, Inclusion, Participation
ISBN : 978-1-4443-3316-9
242 pages
February 2012
Occupational Science: Society, Inclusion, Participation
ISBN : 978-1-119-05125-1
242 pages
October 2014

Information about Wiley E-Texts:
Wiley E-Texts are powered by VitalSource and accessed via the VitalSource Bookshelf reader, available online and via a downloadable app.
Wiley E-Texts are accessible online and offline, and can be read on a variety of devices, including smartphones and tablets.
Wiley E-Texts are non-returnable and non-refundable.
Wiley E-Texts are protected by DRM. For specific DRM policies, please refer to our FAQ.
WileyPLUS registration codes are NOT included with any Wiley E-Text. For informationon WileyPLUS, click here .
To learn more about Wiley E-Texts, please refer to our FAQ.

Information about e-books:
E-books are offered as e-Pubs or PDFs. To download and read them, users must install Adobe Digital Editions (ADE) on their PC.
E-books have DRM protection on them, which means only the person who purchases and downloads the e-book can access it.
E-books are non-returnable and non-refundable.
To learn more about our e-books, please refer to our FAQ.