Textbook
Canine and Feline Behavior for Veterinary Technicians and Nurses
November 2014, ©2015, Wiley-Blackwell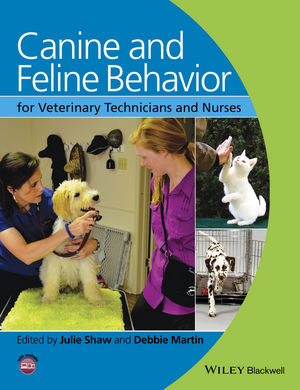 Canine and Feline Behavior for Veterinary Technicians and Nurses provides the veterinary technician with a solid foundation in behavioral medicine.  Designed as a daily resource for interacting with and educating pet owners, the book familiarizes readers with the behavioral, mental, and emotional needs of dogs and cats.  Canine and Feline Behavior for Veterinary Technicians and Nurses offers a complete guide to the technician's role in behavioral preventive services and how to assist the veterinarian with behavioral intervention.
Covering the roles of animal behavior professionals, normal development of dogs and cats, and the human-animal bond, the book includes correlations from human mental health care throughout.  The book encompasses learning theory, preventive behavioral services, standardized behavior modification terms and techniques, and veterinary behavior pharmacology.  Canine and Feline Behavior for Veterinary Technicians and Nurses is an essential resource for veterinary technicians to realize their full potential and become a pivotal component of the behavioral health care team for canine and feline patients.
See More
Contributors, xiii
Preface, xvi
Acknowledgments, xvii
About the companion website, xviii
1 The Role of the Veterinary Technician in Animal Behavior, 1
Kenneth M. Martin and Debbie Martin
Veterinarian's roles and responsibilities, 2
Medical differentials to behavior disorders, 4
Behavioral dermatology, 4
Aggression, 5
Elimination disorders, 5
Behavior disorder versus training problem, 5
Qualified professionals to treat animal behavior disorders, 6
Trainer's roles and responsibilities, 7
The role of the veterinary technician in the veterinary behavior consultation, 12
Triaging the issues, 12
Medical and/or behavioral disorder (veterinary diagnosis required), 13
Prevention and training (no veterinary diagnosis required), 14
Prevention, 14
Lack of training or conditioned unwanted behaviors, 14
Prior to the consultation, 16
During the consultation, 18
After the consultation: follow-up care, 21
Summary of the roles of the veterinarian, veterinary technician, and dog trainer in veterinary behavior, 22
Home versus clinic behavior consultations, 22
Pros and cons of the home behavior consultation versus the clinic behavior consultation, 22
Veterinary-technician-driven behavior services, 24
Behavior modification appointments, 24
Puppy socialization classes, 25
Kitten classes, 26
Pet selection counseling, 26
New puppy/kitten appointments, 26
Basic manners/training classes, 27
Head collar fitting, 27
Behavior wellness visits, 27
Avian classes, 27
Staff and client seminars, 27
Financial benefits, 28
Conclusion, 28
References, 28
2 Canine Behavior and Development, 30
Andrew U. Luescher
Canine sensory capacities, 30
Vision, 30
Hearing, 31
Olfaction, 31
Vomeronasal organ, 31
Taste, 31
Touch, 31
Canine communication, 31
Visual communication, 31
Body postures, 32
Play postures, 33
Tail wagging, 34
Facial expressions, 34
Auditory communication, 34
Olfactory communication, 35
Conflict behavior, 35
Canine social structure, 37
Domestication and canine behavior, 37
Social organization in stray or feral dogs, 38
Social organization in dogs living in a human household, 38
Exploratory behavior, 39
Ingestive behavior, 39
Eliminative behavior, 40
Stimuli that affect elimination, 40
Sexual behavior, 40
Maternal behavior, 40
Parent–offspring behavior, 41
Care-giving behavior, 41
Care-soliciting behavior, 41
Puppy activity and vocalization, 41
Play behavior, 41
Canine behavioral development, 41
Complexity of early environment, 41
Effect of neonatal stress, 42
Sensitive periods of development, 42
Fetal period, 43
Neonatal period, 43
Transition period, 44
Socialization period, 44
Fear period (8–10+ weeks), 47
Juvenile period, 47
Adolescent period, 48
Adult period, 48
Senior period, 48
Problem prevention, 48
Complex early environment, 48
Socialization, 48
Conclusion, 49
References, 50
Further reading, 50
3 Feline Behavior and Development, 51
Debbie Martin
Feline sensory capacities, 52
Vision, 52
Hearing, 52
Olfaction, 53
Vomeronasal organ, 53
Taste, 53
Touch, 53
Feline communication, 53
Visual communication, 53
Body postures, 54
Play postures, 54
Tail positions, 54
Facial expressions, 56
Head, 56
Eyes, 56
Ears, 56
Mouth/whiskers, 56
Auditory communication, 57
Olfactory communication, 58
Reading the entire cat, 58
Feline domestication, social structure, and behavior, 58
Domestication, 58
Social organization of domestic cats, 59
Sexual behavior, 60
Maternal behavior, 61
Ingestive and predatory behavior, 61
Eliminative behavior, 61
Urine marking, 62
Exploratory behavior and activity levels, 62
Grooming behavior, 62
Feline behavioral development, 63
Developmental periods and life stages, 63
Fetal, 64
Neonatal, 64
Transition, 64
Socialization, 65
Juvenile, 65
Adolescent, 67
Adult, 67
Senior, 67
Conclusion, 68
References, 68
4 The Human–Animal Bond – a Brief Look at its Richness and Complexities, 70
Julie K. Shaw and Sarah Lahrman
The HAB past, present, and future, 71
Special bonds, 71
Animal-assisted therapy, 71
Assistance (service) dogs, 72
Difficult to understand relationships, 73
Motives for animal abuse, 73
Dogfighting, 74
Children – the other victims, 74
The "dogmen", 74
Animal hoarders, 75
Puppy mill operators, 76
Defining healthy versus unhealthy bonds, 76
Defining and developing a healthy HAB, 76
Potential unhealthy pet relationships, 77
Identifying at-risk populations for unhealthy HAB, 77
Strengthening the HAB and preventing pet relinquishment, 78
Animals with behavioral disorders and the people who love them, 80
The stigma, 80
The impact on the pet owner, 80
Conclusion, 81
References, 81
5 Communication and Connecting the Animal Behavior Team, 83
Julie K. Shaw and Lindsey M. Fourez
A comparison between marriage and family therapist and the role of the animal behavior technician, 84
Communication, 85
Nonverbal communication, 85
Verbal communication, 86
Road blocks to verbal communication, 86
Active listening, 87
Connective communication techniques, 87
The four-habits communication model, 87
Validation, 87
Normalizing, 89
Guiding the conversation, 89
Reframing, 89
The dominance theory, 89
Empathy, 91
Teaching, 92
Learning styles, 92
TAGteach, 93
The Focus FunnelTM, 94
The Tag PointTM, 94
The tag, 95
The communication cycle, 95
Assessments, 97
Initial phone assessment, 97
Signalment and family orientation, 97
Identify high-risk factors, 97
Description and prioritized problem list, 97
Specific questions to ask pertaining to aggression, 98
Status of the HAB, 99
Assessment in the field, 99
Parts of a behavior history, 99
Follow-up reports, 99
Acquiring a behavior history and improving pet owner compliance, 100
Question styles, 100
Improving compliance, 101
Compliance enhancers, 101
Grief counseling, 102
The "normal" grief process, 102
Types of grievers, 103
Complex grief, 103
Disenfranchised grief, 103
Grieving the pet they thought they had, 105
Choosing to euthanize because of a behavioral disorder, 105
Denial/shock, 105
Anger, 105
Bargaining, 106
Rehoming versus euthanasia, 106
Guilt, 106
Anticipatory grief and acceptance, 107
Breaking the bond, 107
Determining the current level of attachment, 108
The decision, 109
After the loss, 109
Relief, 110
After care – additional support, 110
Conclusion, 111
References, 111
6 Learning and Behavior Modification, 113
Virginia L. Price
Genetics and learning, 113
Effect of domestication on learning, 119
Effects of nutrition on learning, 122
Early environment and learning, 123
Habituation and sensitization, 124
Behavior modification using habituation, 125
Operant conditioning, 126
Behavior modification using operant conditioning, 133
Classical conditioning, 135
Behavior modification using classical conditioning, 136
Conditioned taste aversion, 138
Behavior modification using taste aversion conditioning, 138
Social learning, 138
Behavior modification using social learning, 139
Conclusion, 140
References, 140
7 Problem Prevention, 145
Debbie Martin, Linda M. Campbell, and Marcia R. Ritchie
Introduction, 146
Preventing fear of the veterinary hospital, 147
Prevention techniques to ensure positive experiences in the veterinary hospital, 147
Ideal characteristics for pet owners, 149
Canine management and prevention techniques, 151
Understanding dogs and their characteristics, 151
Management of the learning history, 151
Routine, 152
Canine environmental enrichment, 152
Toys, 152
Games, 153
Retrieving, 153
Biscuit hunt or find it, 153
Hide and seek, 153
Round robin, 153
Chase the toy, 154
Dog parks and dog daycares, 154
Canine prevention: effects of neutering, 154
Canine prevention: socialization, 155
Canine prevention: crate training, 155
Canine prevention: elimination training, 157
Litter/pad training puppies, 159
Canine prevention: independence training, 159
Canine prevention: handling and restraint, 160
Canine prevention: safety around the food bowl and relinquishing objects, 162
Feline management and prevention techniques, 164
Understanding cats and their characteristics, 164
Feline management recommendations, 164
Feline environmental enrichment, 165
Toys and play, 165
Vertical space and places to hide, 166
Outdoor exposure, 166
Feline prevention: effects of neutering, 166
Feline prevention: socialization, 166
Feline prevention: litter box training, 167
Feline prevention: crate training, 167
Feline prevention: handling and restraint, 168
Prevention (canine and feline): introducing a new pet, 168
Introductions: dog to dog, 168
Introductions: cat to cat, 169
Introductions interspecies, 169
Prevention (canine and feline): children and pets, 170
Problem solving normal species-specific behavior, 171
General problem-solving model, 172
Problems with aversive training techniques and equipment, 173
Problem solving typical canine behaviors, 174
Mouthing and play biting, 174
Chewing, 175
Stealing objects, 176
Jumping on people, 178
Digging, 179
Barking, 180
Problem solving typical feline behaviors, 181
Play biting and scratching, 181
Destructive scratching, 182
Prevention services, 182
Pet selection counseling, 182
Counseling sessions, 184
Counseling forms, 184
Household composition, 185
Previous pets, 185
Household logistics and dynamics, 185
Anticipated responsibilities, 186
Living arrangements, 186
Financial considerations, 186
Husbandry considerations, 186
Management and training considerations, 186
Adopting multiple pets at the same time, 186
Personal preferences, 186
Pet-selection reports, 187
Finding a source for obtaining the pet, 187
Puppy socialization classes, 188
Logistics, 189
Location, 189
Instructor characteristics, 189
Participant characteristics, 191
Class style, 192
Disease prevention, 192
Puppy socialization class format, 192
Orientation, 192
Puppy play sessions, 192
Exploration and exposure, 194
Preventive exercises, 194
Puppy parenting tips, 195
Introduction to positive reinforcement training, 195
Kitten classes, 195
Juvenile/Adolescent/Adult canine classes, 196
Geriatric canine classes, 198
Private in-home or in-clinic prevention/training appointments, 198
Special prevention topic seminars or classes, 199
Integrating behavior wellness into the veterinary hospital, 199
Puppy and kitten visits, 199
Fearful puppies and kittens, 200
High-risk puppies, 200
The adolescent behavior wellness examination, 201
The adult behavior wellness examination, 202
The senior behavior wellness examination, 202
Behavior wellness conclusion, 202
Conclusion, 202
References, 202
8 Specific Behavior Modification Techniques and Practical Applications for Behavior Disorders, 204
Julie K. Shaw
Common veterinary behavior disorder diagnosis and descriptions, 206
Aggression, 207
Conflict-induced aggression, 207
Possessive aggression, 209
Petting-induced aggression, 209
Disease-induced or pain-induced aggression, 210
Fear/defensive aggression, 210
Idiopathic aggression, 211
Inter-dog aggression (IDA), 211
Inter-cat aggression (ICA), 211
Status-induced aggression, 211
Inter-dog aggression – household (IDA-H), 211
Alliance-induced aggression, 211
Status-induced aggression, 212
Learned aggression, 212
Maternal/hormonal induced aggression, 212
Play-induced aggression, 212
Redirected aggression, 212
Territorial aggression, 212
Ingestive disorders, 213
Coprophagia, 213
Pica, 213
Predatory behavior, 213
Elimination, 213
House soiling, 213
Urine marking, 213
Excitement urination, 214
Extreme appeasement urination, 214
Anxiety disorders, 214
Generalized anxiety, 214
Global fear, 214
Separation anxiety/distress, 214
Sound/thunderstorm phobia, 215
Acute conflict behaviors, stereotypical behaviors, and compulsive disorders, 215
Acute conflict behaviors, 215
Stereotypical behaviors, 215
Compulsive disorder, 215
Other, 215
Cognitive dysfunction syndrome, 215
Hyperexcitability or hyperactive, 215
Conditioned unwanted behavior, 216
Common veterinarian-prescribed behavioral treatments, 216
Management, 216
Avoiding triggers, 217
Ignore attention-seeking behaviors, 217
Ignore at specific times, 218
Cue→response→reward interactions, 218
Change primary caregiver, 218
Environmental modifications, 218
Crate confinement or other confinement, 219
Crate (or other confinement) reconditioning, 219
Tethering, 220
Dietary changes, 220
Regular schedule, 220
Meal feed twice daily, 220
Mental stimulation, 220
Walking off property, 220
Aerobic exercise, 221
Clicker training, 221
SEEKING system, 221
Training techniques, 221
Why punishment is not recommended in training or the application of behavior modification, 222
Poor learning and cognition, 222
Criteria for effective punishment are difficult to meet, 223
The animal's motivation strength is not too high, 223
Always contingent on behavior and only associated with the behavior, 223
Proper intensity, 223
Timing, 223
Alternative behavior choice, 223
Punishment is counter-productive to treatment, 224
Why the prevalence of punishment-based training and domination techniques persist, 224
Lure reward training, 226
Event marker (clicker) training, 226
Benefits of clicker training, both in training and in the application of behavior modification techniques, 226
Accelerated learning, 226
Improved retention time, 227
Hands-off and nonthreatening, 227
Marker training as a tool in behavior modification, 227
Strengthens the human–animal bond, 227
Assists in repairing the human–animal bond, 227
Builds confidence and creativity, 227
Other training, 228
Agility training, 228
Concept training, 228
K9 Nose Work®, 229
Training tools, 230
Head halters, 231
Practical applications and uses, 231
Benefits, 231
Disadvantages and cautionary comments, 232
Basket muzzles/other muzzles, 232
Nylon muzzles, 232
Basket muzzles, 233
Cautions, 233
Body harnesses, 234
No-pull harnesses, 234
Considerations, 234
Standard harnesses, 234
Treats, 234
Practical applications and uses, 234
Considerations, 235
Treat bags, 235
Target sticks, 235
Calming cap, 236
Considerations, 236
Anxiety clothing, 236
Considerations, 237
Waist leashes, tethers, draglines, long lines, 237
Waist leashes, 237
Considerations, 237
Tethers, 237
Considerations, 237
Draglines, 237
Considerations, 238
Long lines, 238
Considerations, 238
Interactive toys or puzzles, 238
Pheromones, 238
Considerations, 238
Reward markers, 238
Remote reward, 239
Considerations, 239
Double leashing, 239
Decoys, 240
Marker training techniques and skills, 240
Functional behavior analysis, 240
Functional assessment, 240
Foundation trainer skills, 241
Ability to observe behavior, 241
Species differences, 241
Choosing an appropriate event marker, 242
Conditioning the event marker and teaching contingency, 243
Determining a reinforcement hierarchy, 244
Manipulating motivations, 245
Reinforcement schedules, 245
Reinforcement delivery, 245
Treat delivery from the hand, 246
Tossing the treat, 246
Timing, 246
Capturing behaviors, 246
Shaping, 247
Creating a shaping plan, 248
Rate of reinforcement per minute, 248
Prompting, 249
Physical and environmental prompts, 250
Luring – handler prompts, 250
Targeting, 250
Fading prompts, 251
Cues, 251
Types of cues, 252
How and when to add the cue, 252
Generalization, 252
Transferring cues, 252
"Poisoned" cues, 253
Stimulus control, 253
Fluency, 253
Behavior chains, 254
Behavior modification, 255
Using a marker in the application of behavior modification, 256
Generalization and behavior modification, 256
Classical counter-conditioning, 256
Practical application of CC, 257
Response substitution, 258
Practical application of RS, 259
Systematic desensitization, 260
Requirements for the systematic desensitization program, 260
Creation of a systematic desensitization plan, 260
Conclusion, 262
Drug desensitization, 262
Other, 262
Interruption of behavior, 262
Cease punishment, 262
Remote punishment, 262
Euthanasia or rehoming, 263
Grief counseling of client, 263
The practical applications of behavior modification, 263
Foundation behaviors, 263
Targeting, 263
Target to hand, 263
Hand target recall, 263
Attention, 263
Game of opposites: "look" and "watch", 264
Basic cued behaviors – sit, down, come, loose leash walking, 264
Place – go to a specific location, 265
Applications of behavior modification, 265
CC/RS/DS behavior at the door, 265
CC/RS/DS of muzzle or head halter, 266
CC/RS/DS to a person, animal, or other stimulus, 267
CC/RS/DS thunderstorms/sounds, 269
CC/RS on a walk, 269
Relinquishment exercises, 270
Food bowl exercises, 270
Exchange DS exercise, 271
Independence training, 272
DS to departure cues and planned departures, 273
Handling issues, 274
CC/RS/DS to the veterinary hospital, 275
Relaxation, 275
Staying safe, 276
Safety techniques for the behavior consultation room, 276
Understand the animal's arousal and bite thresholds, 277
Greeting a fearful patient, 277
Control as many antecedents as possible, 277
CC and DS to your presence, 277
Conclusion, 279
References, 279
9 Introductory Neurophysiology and Psychopharmacology, 281
Sara L. Bennett and Carissa D. Sparks
Introduction, 281
Basic neurophysiology, 282
Hindbrain, 283
Midbrain, 285
Forebrain, 285
Parietal lobe, 285
Occipital lobe, 285
Temporal lobe, 286
Basal ganglia, 286
Frontal lobe, 286
Hypothalamus/thalamus, 286
Olfactory bulb, 286
Blood–brain barrier, 287
Neurotransmitters, 287
Acetylcholine, 287
Monoamines, 287
Dopamine, 287
Norepinephrine/epinephrine, 288
Serotonin, 289
Gamma-Aminobutyric acid, 289
Glutamate, 289
Pharmacokinetics, 289
Drug categories, 290
Tranquilizers/neuroleptics/antipsychotics, 291
Anxiolytics, 294
Antidepressants, 295
Tricyclic antidepressants, 295
Selective serotonin reuptake inhibitors, 295
Fluoxetine, 296
Paroxetine, 296
Monoamine oxidase inhibitors, 296
Selegiline, 296
Mood stabilizers, 297
Atypical antidepressants, 298
Trazodone, 298
Mirtazapine, 298
CNS stimulants, 298
Miscellaneous drugs, 298
Conclusion, 299
References, 299
Further reading, 300
Appendix Section 1: Forms and Questionnaires
Appendix 1 Canine Behavior History Form Part 1, 303
Appendix 2 Canine Behavior History Form Part 2, 308
Appendix 3 Feline Behavior History Form Part 1, 313
Appendix 4 Feline Behavior History Form Part 2, 318
Appendix 5 Trainer Assessment Form, 322
Appendix 6 Determining Pet Owner Strain, 324
Appendix 7 Canine Behavior Plan of Care, 325
Appendix 8 Behavior Problem List, 327
Appendix 9 Technician Observation, 328
Appendix 10 Follow-up Communation Form, 329
Appendix 11 Behavior Diary, 331
Appendix 12 Adult Cat (3 months to ∼12 years) Questionnaire, 333
Appendix 13 Juvenile/Adolescent/Adult Dog (4 months to ∼7 years) Questionnaire, 335
Appendix 14 New Kitten (less than 3 months) Questionnaire, 337
Appendix 15 New Puppy (less than 4 months) Questionnaire, 339
Appendix 16 Senior Cat (greater ∼12 years) Questionnaire, 341
Appendix 17 Senior Dog (∼7 + years) Questionnaire, 343
Appendix 18 Pet Selection Counseling, 345
Appendix 19 Canine Breeder Interview Questions, 347
Appendix Section 2: Training Exercises
Appendix 20 Acclimatizing a Pet to a Crate, 351
Appendix 21 Elimination Training Log, 352
Appendix 22 Shaping Plan for Teaching a Puppy to Ring a Bell to go Outside to Eliminate, 353
Appendix 23 Preventive Handling and Restraint Exercises, 354
Appendix 24 Preventive Food Bowl Exercises, 356
Appendix 25 Teaching Tug of War, 357
Appendix Section 3: Samples and Letters
Appendix 26 Canine Behavior Plan of Care Sample, 361
Appendix 27 Sample Field Assessment, 363
Appendix 28 Sample of a Pet Selection Report, 368
Appendix 29 Dr. Andrew Luescher's Letter Regarding Puppy Socialization, 372
Appendix 30 Dr. RK Anderson's Letter Regarding Puppy Socialization, 373
Appendix 31 Sample Puppy Socialization Class Curriculum, 375
Appendix 32 Sample Kitten Class Curriculum, 377
Index, 379
See More
Julie Shaw, RVT, VTS (Behavior), KPA-CTP, was the Senior Animal Behavior Technologist at Purdue University for 13 years and is now an owner of TEAM Education in Animal Behavior, LLC, in Spicewood, Texas, USA.
Debbie Martin, RVT, CPDT-KA, KPA CTP, VTS (Behavior), is the Animal Behavior Technician for Veterinary Behavior Consultations, LLC, and an owner of TEAM Education in Animal Behavior, LLC, in Spicewood, Texas, USA.
See More
Equips veterinary technicians with a thorough grounding in behavioral medicine to help them better understand and care for their patients
Presents practical information for managing canine and feline behavior cases
Focuses on the technician's central role in behavior medicine, emphasizing opportunities for coordinating and assisting the behavioral health care team to ensure that it is effective and efficient 
Offers advice on effective client communication to better educate pet owners and assist the veterinarian with behavioral intervention
Provides a full understanding of the behavioral, mental, and emotional needs of canine and feline patients
Includes access to a companion website offering forms, handouts, review questions, and the images from the book for download at www.wiley.com/go/shaw/behavior
See More
"Veterinary technicians are in the primary and pivotal position to prevent behavior problems, protect and strengthen the human animal bond and be the catalyst for Fear Free veterinary visits. This book has been long needed and will help your hospital reach those goals. Achieve these goals and you thrive, it's that simple. This book is a must have in every veterinary hospital library. Read it and reap (the benefits)!"
Dr. Marty Becker "America's Veterinarian"
"Taking the pet out of petrified...puts pets back into practices"

"There are few people with the breadth of experience as Julie Shaw to understand the importance of an integrated team approach to problem behaviour management, and even fewer who can communicate so articulately. Julie is a rare talent and this book is a "must have" for every veterinary clinic."

Daniel S. Mills BVSc PhD CBiol FSB FHEA CCAB Dip ECAWBM(BM) MRCVS
European & RCVS Recognised Specialist in Veterinary Behavioural Medicine

"I believe it will be a great resource for veterinary technicians and anyone else interested in the clinical veterinary behavior of dogs and cats." (Journal of the American Veterinary Medical Association, 15 March 2015)
See More
Instructors Resources
Digital evaluation copy available for this title
Request Copy

Contact your Wiley Representative
Find Your Rep

See More
See Less
Purchase Options
Canine and Feline Behavior for Veterinary Technicians and Nurses
ISBN : 978-1-118-92548-5
408 pages
October 2014
Paperback
Canine and Feline Behavior for Veterinary Technicians and Nurses
ISBN : 978-0-8138-1318-9
408 pages
November 2014
Canine and Feline Behavior for Veterinary Technicians and Nurses
ISBN : 978-1-118-92549-2
408 pages
December 2014

Information about Wiley E-Texts:
Wiley E-Texts are powered by VitalSource and accessed via the VitalSource Bookshelf reader, available online and via a downloadable app.
Wiley E-Texts are accessible online and offline, and can be read on a variety of devices, including smartphones and tablets.
Wiley E-Texts are non-returnable and non-refundable.
Wiley E-Texts are protected by DRM. For specific DRM policies, please refer to our FAQ.
WileyPLUS registration codes are NOT included with any Wiley E-Text. For informationon WileyPLUS, click here .
To learn more about Wiley E-Texts, please refer to our FAQ.

Information about e-books:
E-books are offered as e-Pubs or PDFs. To download and read them, users must install Adobe Digital Editions (ADE) on their PC.
E-books have DRM protection on them, which means only the person who purchases and downloads the e-book can access it.
E-books are non-returnable and non-refundable.
To learn more about our e-books, please refer to our FAQ.