Textbook
Ultrasonic Periodontal Debridement: Theory and Technique
September 2014, ©2014, Wiley-Blackwell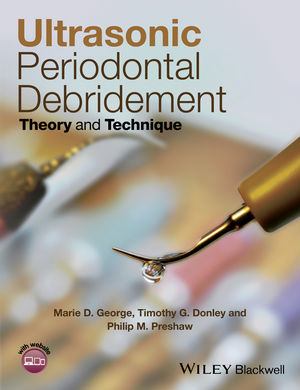 Ultrasonic Periodontal Debridement: Theory and Technique is the first textbook to focus exclusively on this fundamentally important component of periodontal therapy. George, Donley, and Preshaw provide a comprehensive resource for dental students, dental hygiene and therapy students, and periodontal residents, as well as practicing dental hygienists and dentists who are looking to increase their familiarity and skills with ultrasonic instrumentation.
The opening section describes the basic foundational knowledge of periodontal debridement; how it differs from and supersedes scaling and root planing, how it fits with modern concepts of periodontal disease pathogenesis, and includes a comparison of periodontal debridement instrumentation modalities. Section 2 describes ultrasonic technology, the variety of tip designs that are available, and provides practical guidance in appropriate tip selection. Section 3 focuses on the clinical applications of ultrasonic periodontal debridement, including patient assessment, medical and dental considerations, and provides specific guidance in clinical debridement techniques. Included are technique modules for each quadrant as well as case studies using real-world examples of situations likely to be encountered in everyday clinical practice, including ultrasonic instrumentation around dental implants.
See More
About the authors vii
Foreword ix
Preface xi
Acknowledgments xiii
SECTION I: FOUNDATIONAL CONCEPTS
1 The treatment of periodontal disease: the shift from "SRP" to "Periodontal Debridement" 3
2 Comparison of periodontal debridement instrumentation modalities 23
SECTION II: ULTRASONIC TECHNOLOGY
3 What is ultrasonic instrumentation? 41
4 Ultrasonic tip design and selection 63
SECTION III: CLINICAL APPLICATION
5 Patient assessment 85
6 Ultrasonic instrumentation technique 111
7 Ultrasonic instrumentation technique modules 139
8 Case studies in ultrasonic debridement 181
Glossary 207
Index 211
See More
Marie D. George, RDH, MS, is a clinician, author, and educator, with current appointments as Adjunct Faculty in the Department of Dental Hygiene at both the University of Pittsburgh School of Dental Medicine and the Community College of Philadelphia. She develops and presents evidence-based educational programming specific to ultrasonic debridement to practicing clinicians, dental and dental hygiene students, and faculty nationally and internationally.

Timothy G. Donley, DDS, MSD, is in the private practice of periodontics and implantology in Bowling Green, KY, and is an adjunct professor in the College of Health and Human Services at Western Kentucky University. Dr. Donley regularly lectures throughout the U.S. and abroad on the science and clinical applicability of ultrasonic instrumentation.

Philip M. Preshaw, BDS, FDS RCSEd, PhD, is Professor of Periodontology and the Course Director for Undergraduate Periodontology at Newcastle University, UK. He is also actively involved in clinical research, with numerous publications in peer-reviewed scientific journals, and has been awarded a Distinguished Scientist Award from the International Association for Dental Research.
See More
"This book has been proficiently designed with clarity and the latest evidence, making it of excellent value to every clinician's library – from undergraduate students and hygiene therapists to experienced general dental practitioners." (British Dental Journal, 14 November 2015)
See More
Instructors Resources
Digital evaluation copy available for this title
Request Copy

Contact your Wiley Representative
Find Your Rep

See More
See Less
Purchase Options
Ultrasonic Periodontal Debridement: Theory and Technique
ISBN : 978-1-118-87524-7
232 pages
October 2014
Paperback
Ultrasonic Periodontal Debridement: Theory and Technique
ISBN : 978-1-118-29545-8
232 pages
September 2014
Ultrasonic Periodontal Debridement: Theory and Technique
ISBN : 978-1-118-88610-6
232 pages
November 2014

Information about Wiley E-Texts:
Wiley E-Texts are powered by VitalSource and accessed via the VitalSource Bookshelf reader, available online and via a downloadable app.
Wiley E-Texts are accessible online and offline, and can be read on a variety of devices, including smartphones and tablets.
Wiley E-Texts are non-returnable and non-refundable.
Wiley E-Texts are protected by DRM. For specific DRM policies, please refer to our FAQ.
WileyPLUS registration codes are NOT included with any Wiley E-Text. For informationon WileyPLUS, click here .
To learn more about Wiley E-Texts, please refer to our FAQ.

Information about e-books:
E-books are offered as e-Pubs or PDFs. To download and read them, users must install Adobe Digital Editions (ADE) on their PC.
E-books have DRM protection on them, which means only the person who purchases and downloads the e-book can access it.
E-books are non-returnable and non-refundable.
To learn more about our e-books, please refer to our FAQ.