Textbook
Interaction Design: Beyond Human-Computer Interaction, 4th Edition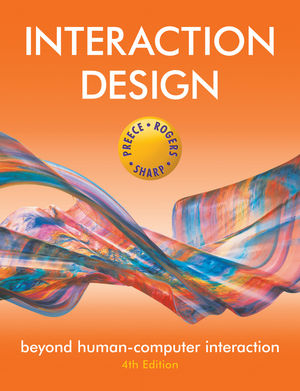 A new edition of the #1 text in the Human Computer Interaction field!
Hugely popular with students and professionals alike,
Interaction Design
is an ideal resource for learning the interdisciplinary skills needed for interaction design, human–computer interaction, information design, web design and ubiquitous computing.
This text offers a cross-disciplinary, practical and process-oriented introduction to the field, showing not just what principles ought to apply to interaction design, but crucially how they can be applied.
id-book.com, the accompanying website, contains extensive additional teaching and learning material including slides for each chapter, comments on chapter activities and a number of in-depth case studies written by researchers and designers.
See More
What's Inside ix
1 WHAT IS INTERACTION DESIGN? 1
1.1 Introduction 1
1.2 Good and Poor Design 2
1.3 What Is Interaction Design? 8
1.4 The User Experience 12
1.5 The Process of Interaction Design 15
1.6 Interaction Design and the User Experience 19
Interview with Harry Brignull 34
2 UNDERSTANDING AND CONCEPTUALIZING INTERACTION 36
2.1 Introduction 36
2.2 Understanding the Problem Space and Conceptualizing Interaction 37
2.3 Conceptual Models 41
2.4 Interface Metaphors 45
2.5 Interaction Types 47
2.6 Paradigms, Visions, Theories, Models, and Frameworks 54
Interview with Kees Dorst 62
3 COGNITIVE ASPECTS 65
3.1 Introduction 65
3.2 What Is Cognition? 66
3.3 Cognitive Frameworks 85
4 SOCIAL INTERACTION 100
4.1 Introduction 100
4.2 Being Social 101
4.3 Face-to-Face Conversations 102
4.4 Remote Conversations 106
4.5 Telepresence 111
4.6 Co-presence 118
5 EMOTIONAL INTERACTION 131
5.1 Introduction 131
5.2 Emotions and the User Experience 132
5.3 Expressive Interfaces 138
5.4 Annoying Interfaces 140
5.5 Detecting Emotions and Emotional Technology 143
5.6 Persuasive Technologies and Behavioral Change 146
5.7 Anthropomorphism and Zoomorphism 152
6 INTERFACES 158
6.1 Introduction 158
6.2 Interface Types 159
6.3 Natural User Interfaces and Beyond 219
6.4 Which Interface? 221
Interview with Leah Beuchley 224
7 DATA GATHERING 226
7.1 Introduction 226
7.2 Five Key Issues 227
7.3 Data Recording 231
7.4 Interviews 233
7.5 Questionnaires 244
7.6 Observation 252
7.7 Choosing and Combining Techniques 269
8 DATA ANALYSIS, INTERPRETATION, AND PRESENTATION 275
8.1 Introduction 275
8.2 Qualitative and Quantitative 276
8.3 Simple Quantitative Analysis 279
8.4 Simple Qualitative Analysis 291
8.5 Tools to Support Data Analysis 300
8.6 Using Theoretical Frameworks 303
8.7 Presenting the Findings 314
9 THE PROCESS OF INTERACTION DESIGN 319
9.1 Introduction 319
9.2 What Is Involved in Interaction Design? 320
9.3 Some Practical Issues 333
Interview with Ellen Gottesdiener 346
10 ESTABLISHING REQUIREMENTS 350
10.1 Introduction 350
10.2 What, How, and Why? 351
10.3 What Are Requirements? 353
10.4 Data Gathering for Requirements 361
10.5 Data Analysis, Interpretation, and Presentation 368
10.6 Task Description 370
10.7 Task Analysis 380
11 DESIGN, PROTOTYPING, AND CONSTRUCTION 385
11.1 Introduction 385
11.2 Prototyping 386
11.3 Conceptual Design 397
11.4 Concrete Design 406
11.5 Using Scenarios 409
11.6 Generating Prototypes 409
11.7 Construction 420
Interview with the late Gary Marsden 429
12 INTERACTION DESIGN IN PRACTICE 432
12.1 Introduction 432
12.2 AgileUX 433
12.3 Design Patterns 443
12.4 Open Source Resources 447
12.5 Tools for Interaction Design 448
13 INTRODUCING EVALUATION 452
13.1 Introduction 452
13.2 The Why, What, Where, and When of Evaluation 453
13.3 Types of Evaluation 456
13.4 Evaluation Case Studies 462
13.5 What Did We Learn from the Case Studies? 467
13.6 Other Issues to Consider when Doing Evaluation 469
14 EVALUATION STUDIES: FROM CONTROLLED TO NATURAL SETTINGS 474
14.1 Introduction 474
14.2 Usability Testing 474
14.3 Conducting Experiments 484
14.4 Field Studies 488
Interview with danah boyd 498
15 EVALUATION: INSPECTIONS, ANALYTICS, AND MODELS 500
15.1 Introduction 500
15.2 Inspections: Heuristic Evaluation and Walkthroughs 500
15.3 Analytics 514
15.4 Predictive Models 518
References 523
Index 553
See More
The fourth edition of this best-selling textbook has been substantially updated to reflect this dynamic and fast moving field and includes:
Wiley e-text featuring videos and Q&A
A new chapter - Interaction Design in Practice
Coverage of many new and traditional interfaces
25 new talking head videos with HCI experts answering questions like 'has HCI gone too far?'
A new section on emotional tech and automated emotion
Coverage of AgileUX and the maker movement
New sections on social interaction and social media
See More
A cross-disciplinary, practical and process-oriented approach to the subject, showing not just what principles ought to apply to interaction design, but crucially how they can be applied.

Focuses on how to design interactive products that enhance and extend the way people communicate, interact and work.

Includes motivating examples illustrating both technical, but also social and ethical issues, making the book both accessible and adaptable for computer science and non-computer science users.

Features interviews with key HCI luminaries and provides an insight into current and future trends.

Accompanied by an extensive set of web resources, including case studies, videos, powerpoints and other useful material about interaction design, available at id-book.com
See More
"This book has changed the world of a generation of students, educators and designers – helping them to see life and technology in ways that inspire and inform appealing, delightful and effective interactive devices and services. Foundational knowledge and emerging topics are presented with virtuoso flair.  It charms from the start: page after page you'll encounter stimulating, thoughtful wisdom written in a friendly, encouraging and empowering way. If you only ever buy one interaction design book in your life, this is the one: buy it and join the vital movement of person, community and society centred design that is building a bright future for billions of users worldwide."—Professor Matt Jones, Future Interaction Technology Lab, co-author of There's Not an App for That – Mobile User Experience for Life (www.changetheworldUX.org)
 "The 4th edition of Interaction Design, with its comprehensive and refreshing take on fundamentals of Human–Computer Interaction and integration in practice and recent research, sustains its status of first choice HCI course book in Namibia. The book is well-structured and content blended with plentiful case studies, activities and relevant and entertaining links which promote students' appreciation beyond their course work."—Dr Heike Winschiers-Theophilus, School of Computing and Informatics, Polytechnic of Namibia
"Interaction Design has always been my favorite textbook for all levels of education in HCI – so much so it inspired the development of our new undergraduate and postgraduate programmes named after it. With this new edition it continues to be the most updated and accessible work available. As always, it captures state of the art in the field's cumulative body of knowledge, and is a timely pointer toward new and emerging trends in interactive technology design and use."—Dr Jesper Kjeldskov, Professor of Computer Science, Aalborg University
See More
From the Reviews of Previous Editions …
"Interaction Design presents a highly needed comprehensive and contemporary perspective on the field of interaction design. The third edition once again establishes the book as the fundamental textbook in the field."
Bob Fields, Interaction Design Centre, Middlesex University 
"In many years of using this text for my courses at both the graduate and undergraduate levels, I have continually been impressed at the clarity and accessibility to students at all levels. As the book has evolved through ever-better editions,it has kept up with the changes in the field and has become THE text in human computer interaction."
Terry Winograd, Professor of Computer Science, Stanford University


 "The book is an excellent textbook for engineering students, and a practical and up-to-date handbook for user experience researchers.  I am especially delighted that the language is consistently easy, and pleasurable to read especially by the non-native English speakers."
Kaisa Väänänen-Vinio-Mattila, Professor of Usability and User Experience, Tampere University of Technology, Finland
See More
Instructors Resources
Digital evaluation copy available for this title
Request Copy

Contact your Wiley Representative
Find Your Rep

See More
See Less
Purchase Options

Information about Wiley E-Texts:
Wiley E-Texts are powered by VitalSource and accessed via the VitalSource Bookshelf reader, available online and via a downloadable app.
Wiley E-Texts are accessible online and offline, and can be read on a variety of devices, including smartphones and tablets.
Wiley E-Texts are non-returnable and non-refundable.
Wiley E-Texts are protected by DRM. For specific DRM policies, please refer to our FAQ.
WileyPLUS registration codes are NOT included with any Wiley E-Text. For informationon WileyPLUS, click here .
To learn more about Wiley E-Texts, please refer to our FAQ.

Information about e-books:
E-books are offered as e-Pubs or PDFs. To download and read them, users must install Adobe Digital Editions (ADE) on their PC.
E-books have DRM protection on them, which means only the person who purchases and downloads the e-book can access it.
E-books are non-returnable and non-refundable.
To learn more about our e-books, please refer to our FAQ.