Textbook
Psychology Around Us, 2nd Canadian Edition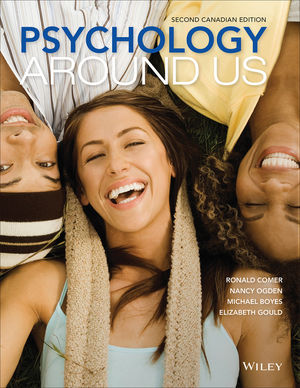 Psychology Around Us is the first introductory psychology textbook to successfully present psychology as an integrated discipline. Every chapter not only offers a thorough presentation of the concepts, applications, and research of that area but also illustrates the interrelations among the subfields of psychology—brain function, development, dysfunctions, and individual differences. This approach not only serves to engage students, but also presents psychology as a united and integrated discipline. Combined with a balance of Canadian and global research, rigorous scientific content, and engaging applications, this text is an invaluable resource for your Canadian introductory psychology students. In this second Canadian edition the chapters have been streamlined to be more accessible to students and many references have been updated.
See More
Chapter 1: Psychology: Yesterday and Today
Chapter 2: Psychology as a Science
Chapter 3: Neuroscience
Chapter 4: Human Development
Chapter 5: Sensation and Perception
Chapter 6: Consciousness
Chapter 7: Learning
Chapter 8: Memory
Chapter 9: Language and Thought
Chapter 10: Intelligence
Chapter 11: Motivation and Emotion
Chapter 12: Personality
Chapter 13: Social Psychology
Chapter 14: Stress, Coping, and Health
Chapter 15: Psychological Disorders
Chapter 16: Treatment of Psychological Disorders
See More
Ch. 3 (Human Development) and Ch. 4 (Neuroscience) have been switched to coincide with how most courses are taught.
Ch. 11 (Motivation) and Ch. 12 (Emotion) have been merged into one chapter so there will now be 16 chapters instead of 17.
Feature boxes have been reduced and streamlined; now there will be only two types: 'Psychology Around Us' and 'Practically Speaking'.
Updated references throughout.
End-of-Chapter Self-Study Questions have been added, with answers provided, to help students do a quick check of key concepts covered
See More
The Integrated Approach of Comer 2ceillustrates the interrelations among the subfields of psychology: brain function, development, dysfunctions, and individual differences
The Psychology Around Us feature provides examples that demonstrate the real-world relevance of psychology to students' lives. Several of these features appear throughout each chapter, showing that the psychological principles under discussion are, indeed, all around us.
Tying It Together: Your Brain and Behaviour are two-page art spreads that demonstrate exactly how our brain works when we engage in everyday activities such as eating pizza, studying a second language, or speaking in public. Three to four review and critical thinking questions are included with each spread.
Learning Objectives for each chapter section identifies the most important material for students to understand while reading that section.
Before You Go On follows each chapter section and helps students check their mastery of the important concepts covered. What Do You Know? questions prompt students to stop and review the key concepts just presented and encourage them to think critically on key aspects of the chapter.
Practically Speaking boxes emphasize the practical application of everyday psychology. They allow students to apply the psychology they are learning in an active, meaningful way.
See More
Instructors Resources
ENHANCE YOUR COURSE
Request a print evaluation copy
Contact us

Contact your Wiley Representative
Find Your Rep

See More
See Less
Purchase Options
Hardcover
Psychology Around Us, 2nd Canadian Edition
ISBN : 978-1-118-87072-3
816 pages
March 2015, ©2015

Information about Wiley E-Texts:
Wiley E-Texts are powered by VitalSource and accessed via the VitalSource Bookshelf reader, available online and via a downloadable app.
Wiley E-Texts are accessible online and offline, and can be read on a variety of devices, including smartphones and tablets.
Wiley E-Texts are non-returnable and non-refundable.
Wiley E-Texts are protected by DRM. For specific DRM policies, please refer to our FAQ.
WileyPLUS registration codes are NOT included with any Wiley E-Text. For informationon WileyPLUS, click here .
To learn more about Wiley E-Texts, please refer to our FAQ.

Information about e-books:
E-books are offered as e-Pubs or PDFs. To download and read them, users must install Adobe Digital Editions (ADE) on their PC.
E-books have DRM protection on them, which means only the person who purchases and downloads the e-book can access it.
E-books are non-returnable and non-refundable.
To learn more about our e-books, please refer to our FAQ.
This title is also available on :