Textbook
Nutrition: Science and Applications, 2nd Canadian Edition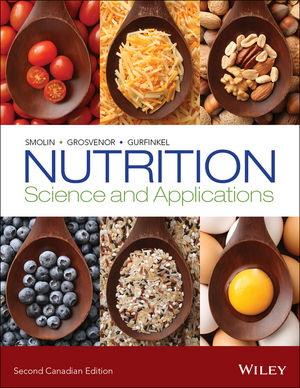 Nutrition: Science and Applications, Second Canadian Edition guides students towards an understanding of the scientific principles underlying what they know about nutrition. The research-based scientific content is detailed and supported by figures and comprehensive real-life examples that help students easily visualize complex processes. Using a critical thinking approach, the book contains many questions and exercises that require interpretation of research results and give students an opportunity to apply the concepts learned–both as consumers and as future scientists and health professionals. This second Canadian edition of this market leading text has updated references throughout, with seamlessly integrated Canadian content and an approach that helps students develop the scientific understanding to support their personal and professional nutrition decisions.
See More
Chapter 1: Nutrition: Food for Health
Chapter 2: Nutrition Guidelines: Applying the Science of Nutrition
Chapter 3: Digestion, Absorption, and Metabolism
Chapter 4: Carbohydrates: Sugars, Starches, and Fibre
Focus on Beyond the Basics
Chapter 5: Lipids
Focus on Alcohol
Chapter 6: Proteins and Amino Acids
Chapter 7: Energy Balance and Weight Management
Focus on Obesity
Chapter 8: The Water-Soluble Vitamins
Chapter 9: The Fat-Soluble Vitamins
Focus on Phytochemicals
Chapter 10: Water and the Electrolytes
Chapter 11: Major Minerals and Bone Health
Focus on Non-Vitamin and Non-Mineral Supplements  
Chapter 12: The Trace Elements
Focus on Integrating Nutrient Function
Chapter 13: Nutrition and Physical Activity
Chapter 14: Nutrition During Pregnancy and Lactation
Chapter 15: Nutrition from Infancy to Adolescence
Focus on Eating Disorders 
Chapter 16: Nutrition and Aging: The Adult Years
Chapter 17: Food Safety
Focus on Biotechnology 
Chapter 18: World Hunger and Malnutrition
See More
Updates to research and Health Canada developments
New Focus On module covering Beyond the Basics (formerly an appendix)
Additional and/or updated and figures to more effectively illustrate processes and concepts
Some explanations and descriptions rewritten to improve clarity (e.g., diet-gene interactions (Section 1.2), types of nutrition research studies)
New material on recent trends in nutrition and health (required listing of caloric values on restaurant menus; popularity of pseudocereals—amaranth, quinoa, chia, buckwheat)
See More
Strong scientific coverage
Research-based
Comprehensive, real-life examples
Chapter covering the history and context of Canada's Food Guide (ch02)
Seamless integration of Canadian content throughout
Canada's Food Guide is described in detail early in the text and its usefulness as a tool for making nutritious food choices is emphasized throughout the text.
Data from the Canadian Community Health Survey is presented throughout, often in the form of critical thinking exercises in which students are asked to interpret results and evaluate their implications.
Canadian regulations such as those related to food labelling, natural health products, and food safety and the activities of food regulatory agencies such as Health Canada and the Canadian Food Inspection Agency are widely discussed.
See More
Instructors Resources
ENHANCE YOUR COURSE
Request a print evaluation copy
Contact us

Contact your Wiley Representative
Find Your Rep

See More
See Less
Purchase Options

Information about Wiley E-Texts:
Wiley E-Texts are powered by VitalSource and accessed via the VitalSource Bookshelf reader, available online and via a downloadable app.
Wiley E-Texts are accessible online and offline, and can be read on a variety of devices, including smartphones and tablets.
Wiley E-Texts are non-returnable and non-refundable.
Wiley E-Texts are protected by DRM. For specific DRM policies, please refer to our FAQ.
WileyPLUS registration codes are NOT included with any Wiley E-Text. For informationon WileyPLUS, click here .
To learn more about Wiley E-Texts, please refer to our FAQ.

Information about e-books:
E-books are offered as e-Pubs or PDFs. To download and read them, users must install Adobe Digital Editions (ADE) on their PC.
E-books have DRM protection on them, which means only the person who purchases and downloads the e-book can access it.
E-books are non-returnable and non-refundable.
To learn more about our e-books, please refer to our FAQ.
This title is also available on :