Textbook
Food and Beverage Cost Control, 6th Edition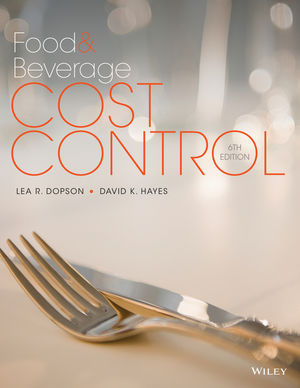 This fully updated sixth edition of Food and Beverage Cost Control provides students and managers with a wealth of comprehensive resources and the specific tools they need to keep costs low and profit margins high. In order for foodservice managers to control costs effectively, they must have a firm grasp of accounting, marketing, and legal issues, as well as an understanding of food and beverage sanitation, production, and service methods.
See More
Preface ix
Acknowledgments xvi
About WileyPLUS Learning Space xvii
Chapter 1: Managing Revenue and Expense 1
Professional Foodservice Manager 2
Profit: The Reward for Service 2
Getting Started 7
Understanding the Income (Profit and Loss) Statement 12
Understanding the Budget 15
Chapter 2: Creating Sales Forecasts 25
Importance of Forecasting Sales 26
Sales Histories 27
Maintaining Sales Histories 34
Sales Variances 34
Predicting Future Sales 36
Chapter 3: Purchasing and Receiving 50
Forecasting Food Sales 51
Forecasting Beverage Sales 53
Importance of Standardized Recipes 56
Purchasing Food 62
Purchasing Beverages 70
Purchase Orders 76
Receiving Food and Beverage Products 78
Chapter 4: Managing Inventory and Production 96
Product Storage 97
Inventory Control 103
Product Issuing and Restocking 112
Managing Food Production 121
Managing Beverage Production 128
Chapter 5: Monitoring Food and Beverage Product Costs 139
Cost of Sales 140
Computing Cost of Food Sold 140
Computing Cost of Beverage Sold 143
Computing Costs with Transfers 144
Utilizing the Cost of Sales Formula 146
Reducing the Cost of Sales Percentage 160
Chapter 6: Managing Food and Beverage Pricing 181
Menu Formats 182
Menu Specials 186
Factors Affecting Menu Pricing 187
Assigning Menu Prices 195
Special Pricing Situations 199
Chapter 7: Managing the Cost of Labor 215
Labor Expense in the Hospitality Industry 216
Evaluating Labor Productivity 219
Maintaining a Productive Workforce 219
Measuring Current Labor Productivity 234
Managing Payroll Costs 246
Reducing Labor-Related Costs 255
Chapter 8: Controlling Other Expenses 265
Other Expenses 266
Controllable and Non-controllable Other Expenses 266
Fixed, Variable, and Mixed Other Expenses 269
Monitoring Other Expenses 272
Managing Other Expenses 275
Chapter 9: Analyzing Results Using the Income Statement 288
Introduction to Financial Analysis 289
Uniform System of Accounts 290
Income Statement (USAR Format) 291
Analysis of Sales/Volume 296
Analysis of Food Expense 298
Analysis of Beverage Expense 302
Analysis of Labor Expense 303
Analysis of Other Expenses 305
Analysis of Profits 307
Chapter 10: Planning for Profit 320
Financial Analysis and Profit Planning 321
Menu Analysis 321
Cost/Volume/Profit Analysis 334
The Budget 342
Developing the Budget 344
Monitoring the Budget 349
Chapter 11: Maintaining and Improving the Revenue Control System 367
Revenue Security 368
External Threats to Revenue Security 369
Internal Threats to Revenue Security 372
Developing the Revenue Security System 376
The Complete Revenue Security System 384
Glossary 391
Index 399
See More
Cost Control Around the World: Found in each chapter, this feature directly addresses the international aspects of cost control management.
Here's How It's Done: This unique feature was added to aid readers understanding of key mathematical concepts
The number of chapter-ending Test Your Skills exercises have been expanded by approximately 20%
See More
Emphasizes the practical aspects of cost control
Coverage of legal issues that may affect a future manager's decisions
Apply What You Have Learned exercises that focus on practical applications of topics and concepts in real-world industry scenarios
Provides ready-to-use forms and formulas that can be easily applied to a future manager's operations
Consider the Cost: a new feature that gives students the ability to directly apply what they've learned to actual situations they will encounter
Green and Growing: a new feature that emphasizes the importance of sustainability and environmental responsibility as it relates to foodservice cost control
See More
Instructors Resources
ENHANCE YOUR COURSE
Digital evaluation copy available for this title
Request Copy

Contact your Wiley Representative
Find Your Rep

See More
See Less
Students Resources
See More
See Less
Purchase Options

Information about Wiley E-Texts:
Wiley E-Texts are powered by VitalSource and accessed via the VitalSource Bookshelf reader, available online and via a downloadable app.
Wiley E-Texts are accessible online and offline, and can be read on a variety of devices, including smartphones and tablets.
Wiley E-Texts are non-returnable and non-refundable.
Wiley E-Texts are protected by DRM. For specific DRM policies, please refer to our FAQ.
WileyPLUS registration codes are NOT included with any Wiley E-Text. For informationon WileyPLUS, click here .
To learn more about Wiley E-Texts, please refer to our FAQ.

Information about e-books:
E-books are offered as e-Pubs or PDFs. To download and read them, users must install Adobe Digital Editions (ADE) on their PC.
E-books have DRM protection on them, which means only the person who purchases and downloads the e-book can access it.
E-books are non-returnable and non-refundable.
To learn more about our e-books, please refer to our FAQ.
This title is also available on :