Textbook
Health Care Professionalism at a Glance
August 2015, ©2015, Wiley-Blackwell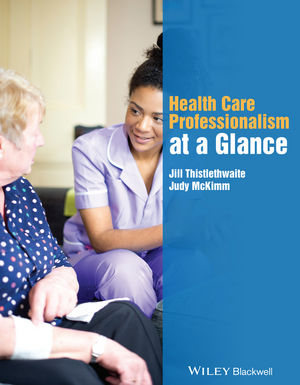 Health Care Professionalism at a Glance offers accessible coverage of an increasingly important aspect of medical and health professional education. This concise text includes how to identify and develop professional behaviours, how they are assessed, and how to challenge unprofessional behaviours.

Health Care Professionalism at a Glance:
• Provides a user-friendly and thought provoking overview of health care professionalism
• Introduces the main topics, key definitions and explores aspects relevant to learners and novice professionals
• Considers fundamental features of professionalism that students are expected to acquire as well as how they are taught, learned and assessed
• Includes summary boxes that highlight important points, reflection points, clinical cases and suggested further reading
• Includes references relevant to different countries' accrediting bodies

This important new book will assist students in understanding the nature of professionalism, its assessment, and the implications for professional practice.
See More
Contributors vii
Preface ix
Part 1 Professionalism in context 1
1 What is professionalism? 2
2 Health professionalism 4
3 Brief history of the profession of medicine 6
4 Becoming a professional 8
5 Role of regulatory and professional bodies 10
6 Fitness to practise and health for practice 12
7 Revalidation and remediation 14
8 Social media and the professional 16
Part 2 Learning to be a professional 19
9 The formal curriculum 20
10 Learning and teaching professionalism 22
11 Informal learning, role models and the hidden curriculum 24
12 Assessing professionalism 26
13 Principles of selection 28
14 Academic writing and plagiarism 30
Part 3 Professionalism in practice 33
15 Professional behaviours 34
16 Empathy, compassion and altruism 36
17 Handling emotions 38
18 Self-care: looking after your own health 40
19 Reflective practice 42
20 Ethics and the law 44
21 Evidence-based practice 46
22 Values-based practice 48
23 Cultural competency, sensitivity and safety 50
24 Dealing with bias and prejudice 52
Part 4 Working with patients 55
25 Patient advocacy 56
26 Patient safety 58
27 Relationships with patients 60
28 The nature of autonomy: patient and doctor 62
29 Boundary crossings and violations 64
30 Compliance, adherence and shared decision-making 66
31 Prescribing: medication and management 68
32 Communication 70
Part 5 Working with others 73
33 Written communication 74
34 Teamwork and interprofessional collaborative practice 76
35 Leadership and followership 78
Part 6 Professional issues and dilemmas 81
36 When things go wrong 82
37 Dealing with complaints 84
38 Case studies: professional dilemmas 86
References 87
Further reading 90
Index 92
See More
Jill Thistlethwaite is Professor & Health Professions Education Consultant, University of Technology Sydney, NSW Australia
Judy McKimm is Professor and Dean of Medical Education, Swansea University
See More
Purchase Options
Health Care Professionalism at a Glance
ISBN : 978-1-118-75635-5
104 pages
May 2015
Paperback
Health Care Professionalism at a Glance
ISBN : 978-1-118-75638-6
104 pages
August 2015
Health Care Professionalism at a Glance
ISBN : 978-1-118-75637-9
104 pages
January 2016

Information about Wiley E-Texts:
Wiley E-Texts are powered by VitalSource and accessed via the VitalSource Bookshelf reader, available online and via a downloadable app.
Wiley E-Texts are accessible online and offline, and can be read on a variety of devices, including smartphones and tablets.
Wiley E-Texts are non-returnable and non-refundable.
Wiley E-Texts are protected by DRM. For specific DRM policies, please refer to our FAQ.
WileyPLUS registration codes are NOT included with any Wiley E-Text. For informationon WileyPLUS, click here .
To learn more about Wiley E-Texts, please refer to our FAQ.

Information about e-books:
E-books are offered as e-Pubs or PDFs. To download and read them, users must install Adobe Digital Editions (ADE) on their PC.
E-books have DRM protection on them, which means only the person who purchases and downloads the e-book can access it.
E-books are non-returnable and non-refundable.
To learn more about our e-books, please refer to our FAQ.
More in this series