Textbook
Musculoskeletal X-rays for Medical Students
August 2016, ©2016, Wiley-Blackwell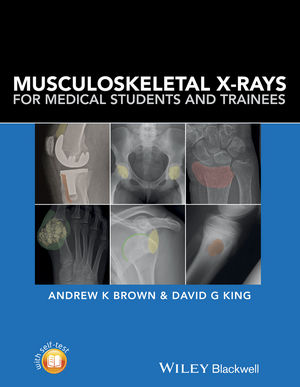 Musculoskeletal X-rays for Medical Students provides the key principles and skills needed for the assessment of normal and abnormal musculoskeletal radiographs. With a focus on concise information and clear visual presentation, it uses a unique colour overlay system to clearly present abnormalities.

Musculoskeletal X-rays for Medical Students:
• Presents each radiograph twice, side by side – once as would be seen in a clinical setting and again with clearly highlighted anatomy or pathology
• Focuses on radiographic appearances and abnormalities seen in common clinical presentations, highlighting key learning points relevant to each condition
• Covers introductory principles, normal anatomy and common pathologies, in addition to disease-specific sections covering adult and paediatric practice
• Includes self-assessment to test knowledge and presentation techniques

Musculoskeletal X-rays for Medical Students is designed for medical students, junior doctors, nurses and radiographers, and is ideal for both study and clinical reference.
See More
Preface, vii
Acknowledgements, viii
Part 1: Introduction, 1
1 Musculoskeletal X -rays, 3
Introduction, 3
Basic principles of requesting plain radiographs of bones and joints, 4
Basic principles of examining and reporting plain radiographs of bones and joints, 6
Normal anatomy on musculoskeletal X-rays, 8
Part 2: Pathology, 21
2 Trauma, 23
Bone and joint injuries, 23
Specific injuries, 41
Spine, 58
Paediatric fractures, 67
Fractures in child abuse, 73
Further reading, 76
3 Arthritis, 77
Osteoarthritis, 77
Rheumatoid arthritis, 80
Crystal arthropathy, 83
Gout, 83
Calcium pyrophosphate disease, 86
Psoriatic arthritis, 91
Axial spondyloarthritis (ankylosing spondylitis), 95
4 Tumours and tumour -like lesions, 98
Radiological evaluation of the patient, 98
X-rays – general principles, 101
Malignant tumours, 105
Bone metastases, 105
Multiple myeloma, 107
Plasmacytoma, 108
Osteosarcoma, 110
Chondrosarcoma, 111
Ewing's sarcoma, 113
Benign tumours, 114
Exostosis (Osteochondroma), 115
Osteoid osteoma, 116
Tumour -like lesions, 117
Simple bone cyst, 118
Infection, 119
5 Metabolic bone disease, 120
Osteoporosis, 120
Osteomalacia, 121
Hyperparathyroidism, 122
Chronic kidney disease metabolic bone disorder, 124
Haemochromatosis, 126
6 Infection, 128
Routes of spread, 128
Causative organisms, 128
Osteomyelitis, 129
Septic arthritis, 134
Infective discitis, 136
7 Non -traumatic paediatric conditions, 138
Developmental dysplasia of the hip, 138
Perthes' disease, 140
Tarsal coalition, 141
Osteochondritis dissecans, 143
8 Other bone pathology, 144
Paget's disease of bone, 144
Hypertrophic Osteoarthropathy (HOA), 147
Avascular necrosis, 147
9 Joint replacement, 149
Hardware failure and aseptic loosening, 149
Infection, 154
Malalignment and instability, 155
Periprosthetic fracture, 156
Part 3, 157
Self-assessment questions, 159
Self-assessment answers, 172
Index, 185
See More
Dr Andrew Brown is a Consultant Rheumatologist and Senior Lecturer in Medical Education at Hull York Medical School, and as such is involved in all aspects of undergraduate and postgraduate education with an emphasis on his clinical discipline of musculoskeletal medicine.

Dr David King is a Consultant Musculoskeletal Radiologist based at The York Teaching Hospital. He teaches musculoskeletal radiology to medical students, trainees in radiology, orhopaedics and emergency medicine, as well as professionals allied to medicine.
See More
Purchase Options

Information about Wiley E-Texts:
Wiley E-Texts are powered by VitalSource and accessed via the VitalSource Bookshelf reader, available online and via a downloadable app.
Wiley E-Texts are accessible online and offline, and can be read on a variety of devices, including smartphones and tablets.
Wiley E-Texts are non-returnable and non-refundable.
Wiley E-Texts are protected by DRM. For specific DRM policies, please refer to our FAQ.
WileyPLUS registration codes are NOT included with any Wiley E-Text. For informationon WileyPLUS, click here .
To learn more about Wiley E-Texts, please refer to our FAQ.

Information about e-books:
E-books are offered as e-Pubs or PDFs. To download and read them, users must install Adobe Digital Editions (ADE) on their PC.
E-books have DRM protection on them, which means only the person who purchases and downloads the e-book can access it.
E-books are non-returnable and non-refundable.
To learn more about our e-books, please refer to our FAQ.