Textbook
Nutrition Research Methodologies
March 2015, ©2014, Wiley-Blackwell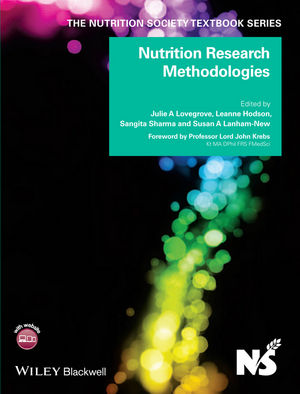 A new book in the acclaimed Nutrition Society Textbook Series, Nutrition Research Methodologies addresses the rapidly advancing field of nutrition research. It covers the diverse methodologies required for robust nutritional research to ensure thorough understanding of key concepts, both for students at undergraduate and postgraduate levels and for scientists working in nutrition research.

Combining theory with practical application, Nutrition Research Methodologies addresses both traditional research methods and new technologies, and focuses on a range of complex topics, including energy compensation, nutrient-gene interactions and metabolic adaptation. It also considers statistical issues as well as application of data to policy development.


Provides the reader with the required scientific basics of nutrition research in the context of a systems and health approach
Written specifically to meet the needs of individuals involved in nutrition research
Combines the viewpoints of world-leading nutrition experts from academia and research with practical applications
See More
Contributors vii
Series Foreword ix
Preface x
About the Companion Website xii

1 Nature, Purpose and Implications of Research in Nutrition 1
Alan A Jackson, Stephen A Wootton and Martin Wiseman
2 Study Design: Population-Based Studies 13
Janet Cade and Jayne Hutchinson
3 Study Design: Intervention Studies 28
Jayne V Woodside, Robert W Welch, Chris C Patterson and Michelle C McKinley
4 Methods to Determine Dietary Intake 48
Nadia Slimani, Heinz Freisling, Anne-Kathrin Illner and Inge Huybrechts
5 Food Composition 71
Barbara Burlingame and U Ruth Charrondiere
6 Biomarkers of Intake 90
Gunter G C Kuhnle
7 Methods of Data Analysis 108
Graham Horgan
8 Considerations for Including Different Population Groups in Nutrition Research 123
Maria J Maynard
9 Use of Biobanks in Nutrition Research 141
Kurt Zatloukal, Pieter van't Veer, Christian Viertler, Marc-Jeroen Bogaardt and Peter Hollman
10 Methods Investigating Food-Related Behaviour 151
Moira Dean, Monique M Raats and Liisa Lähteenmäki
11 Methods for Assessing Nutritional Status and Body Composition 169
Peter Murgatroyd, Les Bluck and Laura Watson
12 Energy Expenditure and Intake Methods 186
Klaas R Westerterp
13 Application of 'Omics' Technologies 198
Helen M Roche, Baukje de Roos and Lorraine Brennan
14 Epigenetics 212
John C Mathers
15 Nutrient–Gene Interactions 225
Anne Marie Minihane
16 Data Analytical Methods for the Application of Systems Biology in Nutrition 235
Corrado Priami and Melissa J Morine
17 Stable Isotopes in Nutrition Research 250
Margot Umpleby and Barbara A Fielding
18 Animal Models in Nutrition Research 265
Andrew M Salter
19 Cellular Models in Nutrition Research 278
Kathleen M Botham
20 Translation of Nutrition Research 307
Judith Buttriss
Glossary 326
Index 335
See More
Professor Julie A Lovegrove, Hugh Sinclair Unit of Human Nutrition and Institute for Cardiovascular Research, Department of Food and Nutritional Sciences, University of Reading, UK.
Associate Professor Leanne Hodson, Oxford Centre for Diabetes, Endocrinology & Metabolism, Radcliffe Department of Medicine, University of Oxford, UK.
Professor Sangita Sharma, Centennial Professor, Endowed Chair in Aboriginal Health, Professor of Aboriginal & Global Health Research, Aboriginal and Global Health Research Group, Department of Medicine, Faculty of Medicine & Dentistry, University of Alberta, Canada.
Professor Susan A Lanham-New, Department of Nutritional Sciences, School of Biosciences and Medicine, Faculty of Health and Medical Sciences, University of Surrey, UK.
See More
Purchase Options
Nutrition Research Methodologies
ISBN : 978-1-118-55466-1
360 pages
January 2015
Paperback
Nutrition Research Methodologies
ISBN : 978-1-118-55467-8
360 pages
March 2015
Nutrition Research Methodologies
ISBN : 978-1-118-97233-5
360 pages
April 2015

Information about Wiley E-Texts:
Wiley E-Texts are powered by VitalSource and accessed via the VitalSource Bookshelf reader, available online and via a downloadable app.
Wiley E-Texts are accessible online and offline, and can be read on a variety of devices, including smartphones and tablets.
Wiley E-Texts are non-returnable and non-refundable.
Wiley E-Texts are protected by DRM. For specific DRM policies, please refer to our FAQ.
WileyPLUS registration codes are NOT included with any Wiley E-Text. For informationon WileyPLUS, click here .
To learn more about Wiley E-Texts, please refer to our FAQ.

Information about e-books:
E-books are offered as e-Pubs or PDFs. To download and read them, users must install Adobe Digital Editions (ADE) on their PC.
E-books have DRM protection on them, which means only the person who purchases and downloads the e-book can access it.
E-books are non-returnable and non-refundable.
To learn more about our e-books, please refer to our FAQ.
More in this series