Textbook
Fundamentals of Oral Histology and Physiology
January 2015, ©2015, Wiley-Blackwell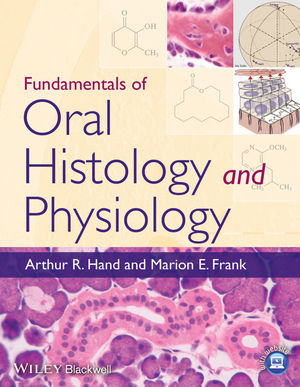 Fundamentals of Oral Histology and Physiology is a landmark new text streamlining the essentials of histology and physiology into one clinically accessible textbook. Written for predoctoral dental students, the book brings together structure, function, and clinical correlations for maximum retention and ease of use.
Assuming a background in basic biologic sciences, this text focuses on the histology and physiology that students need to know to practice dentistry and to understand and evaluate the current literature, without repeating basic information learned in other courses.
Fundamentals of Oral Histology and Physiology
concentrates on Oral Structures and Features, including Development, Teeth, Tooth and Jaw Support, Mucosal Structure and Function, and Effectors.
See More
Contributor List viii
Preface ix
1 Oral Structures and Tissues 1
Arthur R. Hand and Marion E. Frank
The oral cavity 1
Oral mucosa 3
Teeth 4
Supporting tissues of the teeth 5
Salivary glands 5
Temporomandibular joint 7
PART I DEVELOPMENT
Chapter 2 Development of the Head, Face, and Mouth 13
Joseph A. Grasso
Introduction 13
Early events establishing the head region 13
Development of the pharyngeal region
and the pharyngeal arches 19
Development of the face and jaws 26
Clinical correlations 40
Chapter 3 Tooth Development 44
Martyn T. Cobourne and Paul T. Sharpe
The histology of tooth development 44
The biology of early tooth development 47
The molecular control of early tooth development 51
Clinical correlations 54
PART II THE TEETH
Chapter 4 Enamel 63
Arthur R. Hand
Enamel structure, composition, and properties 63
Enamel formation 69
Clinical correlations 79
Chapter 5 Dentin, Pulp, and Tooth Pain 85
Michel Goldberg
Evolution of dental structures 85
Dentin structure and composition 85
Dentin formation 90
Pulp structure and function 97
Pulp vascularization 100
Innervation of the dentin and pulp 102
Mechanisms of tooth pain 103
Clinical correlations 105
PART III TOOTH AND JAW SUPPORT
Chapter 6 Structure and Physiology of the Periodontium 115
Arthur R. Hand
Cementum structure, composition and formation 115
Periodontal ligament structure and function 122
Sensory functions of the periodontal ligament 128
Structure and function of alveolar bone 128
Clinical correlations 132
Chapter 7 Tooth Eruption and Shedding 136
Arthur R. Hand
Normal eruption sequence 136
Histology of tooth eruption 138
Cellular and molecular mechanisms of tooth eruption 144
Structure and formation of the dentogingival junction 144
Clinical correlations 147
Chapter 8 Temporomandibular Joint 149
Felipe Porto
Structure of the TMJ 149
TMJ histology 153
Function (biomechanics) of the TMJ 154
Clinical correlations 156
PART IV MUCOSAL STRUCTURE AND FUNCTION
Chapter 9 Oral Mucosa and Mucosal Sensation 165
Ellen Eisenberg, Easwar natarajan, and Bradley K. Formaker
The oral cavity - anatomy 165
Oral mucosa 169
Stratified squamous epithelium – general principles \and differentiation 171
The epithelial-stromal interface 175
Non-keratinocytes 176
Types of oral mucosa 176
Oral sensation 179
Clinical correlations 182
Chapter 10 Chemoreception and Perception 191
Marion E. Frank
Taste 191
Smell 205
Oral chemosensation 216
Clinical correlations 217
PART V ORAL EFFECTORS
Chapter 11 Salivary Glands, Salivary Secretion, and Saliva 223
Arthur R. Hand
Structure 223
Development 230
Major glands 231
Minor glands 232
Salivary secretion 233
Saliva composition and function 235
Diagnostic and forensic uses of saliva 238
Clinical correlations 238
Chapter 12 Orofacial Pain, Touch and Thermosensation, and Sensorimotor Functions 241
Barry J. Sessle
Sensory functions 241
Sensorimotor functions and motor control 251
Clinical correlations 258
Chapter 13 Anatomy and Physiology of Speech Production 263
Janet Rovalino
Phonation and vocal tract modulations 263
Articulation 267
Clinical correlations 269
Index 274
See More
Arthur R. Hand, DDS, is Professor of Craniofacial Sciences and Cell Biology at the University of Connecticut Health Center. He has more than 180 peer-reviewed publications, was the founding editor of Advances in Dental Research, and serves or has served on the editorial boards of The Journal of Oral Science, Journal of Dental Research, Journal of Histochemistry and Cytochemistry, Biotechnic & Histochemistry and Acta Histochemica et Cytochemica. Prior to his position in academia, he spent 21 years as a scientist in the intramural research program of the National Institute of Dental and Craniofacial Research. He has directed a course for 1st year dental students on Oral Histology and Physiology for more than 15 years.

Marion E. Frank, PhD, is Professor of Oral Health and Diagnostic Sciences and Director of the Center for Chemosensory Sciences at the University of Connecticut Health Center.  Her basic and clinical research in the chemical senses is reported in more than 65 peer-reviewed publications and she has served on the editorial boards of the Journal of General Physiology, Journal of Neurophysiolgy and Chemical Senses. She obtained her doctorate from Brown University and began her academic career at the Rockefeller University before joining the School of Dental Medicine to teach Oral Physiology and Neuroscience and lead the research team of the NIH-sponsored Connecticut Chemosensory Clinical Research Center in Farmington.
See More
Instructors Resources
Digital evaluation copy available for this title
Request Copy

Contact your Wiley Representative
Find Your Rep

See More
See Less
Purchase Options
Fundamentals of Oral Histology and Physiology
ISBN : 978-1-118-93830-0
296 pages
November 2014
Paperback
Fundamentals of Oral Histology and Physiology
ISBN : 978-1-118-34291-6
296 pages
January 2015
Fundamentals of Oral Histology and Physiology
ISBN : 978-1-118-97027-0
296 pages
April 2015

Information about Wiley E-Texts:
Wiley E-Texts are powered by VitalSource and accessed via the VitalSource Bookshelf reader, available online and via a downloadable app.
Wiley E-Texts are accessible online and offline, and can be read on a variety of devices, including smartphones and tablets.
Wiley E-Texts are non-returnable and non-refundable.
Wiley E-Texts are protected by DRM. For specific DRM policies, please refer to our FAQ.
WileyPLUS registration codes are NOT included with any Wiley E-Text. For informationon WileyPLUS, click here .
To learn more about Wiley E-Texts, please refer to our FAQ.

Information about e-books:
E-books are offered as e-Pubs or PDFs. To download and read them, users must install Adobe Digital Editions (ADE) on their PC.
E-books have DRM protection on them, which means only the person who purchases and downloads the e-book can access it.
E-books are non-returnable and non-refundable.
To learn more about our e-books, please refer to our FAQ.