Textbook
Concise Guide to Hematology
November 2011, ©2011, Wiley-Blackwell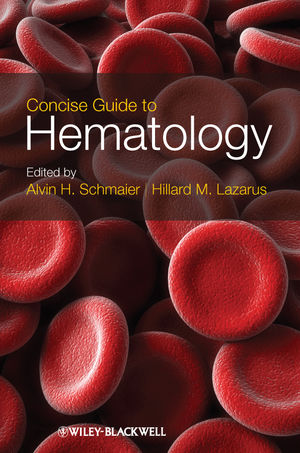 Concise Guide to Hematology
is highly practical, user-friendly, and will be invaluable to all residents, fellows, and trainees working with hematology patients. Designed to highlight the important basic concepts and diseases throughout the spectrum of hematology, the book has a clear and accessible format and includes simple line figures, algorithms, and key points thoughout. Each chapter begins with an overview and then main concepts are outlined for each disorder and topic covered.
Edited by two leading figures in the rapidly evolving field of hematology, this attractively-produced and concise book is an essential guide and ready resource for all those undertaking rotations and examinations in the discipline.
See More
List of Contributors ix
Preface xii
1 Introduction to Hematology 1
Alvin H. Schmaier
2 Hematopoiesis 6
Yuan Lin and Stanton L. Gerson
3 Red Blood Cell Biochemistry and Physiology 16
Kevin T. McDonagh
4 Anemia: Clinical Approach 24
Peter W. Marks
5 Iron Deficiency 35
Alice Ma
6 Vitamin-B12 (Cobalamin) and Folate Deficienc, 44
As´ok C. Antony
7 Congenital Hemolytic Anemia, 62
Archana M. Agarwal and Josef T. Prchal
8 Acquired Hemolytic Anemia, 75
Scott D. Gitlin
9 Overview of Hemostasi, 91
Alvin H. Schmaier
10 Approach to the Bleeding Patien, 103
Alvin H. Schmaier
11 Congenital Bleeding Disorder, 112
Anjali A. Sharathkumar and Steven W. Pipe
12 Acquired Bleeding Disorder, 131
Howard A. Liebman
13 Platelet Function in Hemostasis and Inherited Disorders of Platelet Number and Function 140
A. Koneti Rao and David W. Essex
14 Acquired Thrombocytopenia 154
Theodore E. Warkentin and Andrew E. Warkentin
15 Thrombosis and Anticoagulation 174
Alvin H. Schmaier
16 Myeloid Cell Physiology and Disorders 184
Alvin H. Schmaier, Lilli M. Petruzzelli, Niels Borregaard and Laurence A. Boxer
17 Bone Marrow Structure and Diagnostic Testing 197
Howard J. Meyerson and Hillard M. Lazarus
18 Myeloproliferative Neoplasms and Myelodysplastic Syndromes 220
Gabriela Motyckova and Richard M. Stone
19 Acute Leukemia 235
Tsila Zuckerman and Jacob M. Rowe
20 Classifi cation of Lymphoma 251
Yi-Hua Chen and Amy Chadburn
21 Clinical Evaluation and Management of Lymphoma 268
Makiko Ban-Hoefen, Jonathan W. Friedberg and Richard I. Fisher
22 Plasma Cell Disorders 287
Sumit Madan and Philip R. Greipp
23 Pediatric Hematology 307
Sanjay P. Ahuja
24 Blood Banking 319
Lawrence Tim Goodnough
25 Transfusion Therapy 332
Beth H. Shaz and Christopher D. Hillyer
26 Hematopoietic Cell Transplantation 344
Hillard M. Lazarus
27 Atlas of Hematology Slides 363
Alvin H. Schmaier
Index 389
See More
Dr Alvin H. Schmaier
is the Robert W. Kellermeyer Professor of Hematology and Oncology and Chief of Hematology and Oncology at Case Western Reserve University and University Hospitals Case Medical Center, Cleveland, Ohio. He is formally a Professor at Temple University and the University of Michigan. At both institutions he was Director of the Coagulation Laboratory and at the University of Michigan he was course Director of the Hematology sequence from 1999-2005. His research area is in the field of hemostasis, thrombosis, and vascular biology. He was an Associate Editor of
Thrombosis and Haemostasis
and serves as an Advisor to the
Journal of Thrombosis and Haemostasis
. He is the President of Thromgen, Inc, an early-stage cardiovascular pharmacology company. He is the author of 114 peer-reviewed papers, 70 review articles, 13 editorials, 1 book and 8 patents.
Dr Hillard Lazarus is a tenured full Professor of Medicine in the Division of Hematology-Oncology and the Director of the Stem Cell Transplant Program at the Ireland Cancer Center, University Hospitals Case Medical Center. Dr Lazarus was the Chair of the Stem Cell Transplant Committee of the Eastern Cooperative Oncology Group (ECOG) from the time it was established in the mid-1980s. Dr Lazarus has been identified as an Outstanding Physician in national and local surveys. He has over 250 publications in peer-reviewed journals, 43 book chapters and 50 review articles. He is Co-Editor of the journal Bone Marrow Transplantation and also is an editor of three textbooks in the field of blood and bone marrow transplantation, hematologic malignancies, and supportive care for cancer patients.
See More
Purchase Options
Hardcover
Concise Guide to Hematology
ISBN : 978-1-4051-9666-6
432 pages
November 2011

Information about Wiley E-Texts:
Wiley E-Texts are powered by VitalSource and accessed via the VitalSource Bookshelf reader, available online and via a downloadable app.
Wiley E-Texts are accessible online and offline, and can be read on a variety of devices, including smartphones and tablets.
Wiley E-Texts are non-returnable and non-refundable.
Wiley E-Texts are protected by DRM. For specific DRM policies, please refer to our FAQ.
WileyPLUS registration codes are NOT included with any Wiley E-Text. For informationon WileyPLUS, click here .
To learn more about Wiley E-Texts, please refer to our FAQ.

Information about e-books:
E-books are offered as e-Pubs or PDFs. To download and read them, users must install Adobe Digital Editions (ADE) on their PC.
E-books have DRM protection on them, which means only the person who purchases and downloads the e-book can access it.
E-books are non-returnable and non-refundable.
To learn more about our e-books, please refer to our FAQ.