Textbook
Economics of Strategy, 7th Edition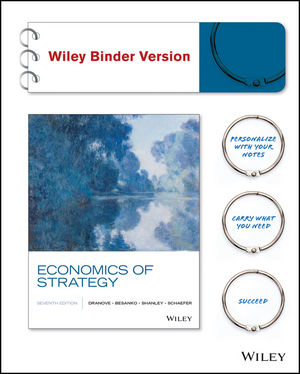 This text is an unbound, three hole punched version. Access to WileyPLUS sold separately.
Economics of Strategy, Binder Ready Version focuses on the key economic concepts students must master in order to develop a sound business strategy. Ideal for undergraduate managerial economics and business strategy courses, Economics of Strategy offers a careful yet accessible translation of advanced economic concepts to practical problems facing business managers. Armed with general principles, today's students--tomorrows future managers--will be prepared to adjust their firms business strategies to the demands of the ever-changing environment.
See More
PART ONE: FIRM BOUNDARIES
1: The Power of Principles - A Historical Perspective
2: The Horizontal Boundaries of the Firm
3: The Vertical Boundaries of the Firm
4: Integration and Its Alternatives
PART TWO: MARKET AND COMPETITVE ANALYSIS
5: Competitors and Competition
6: Entry and Exit
7: Dynamics: Competing Across Time
8: Industry Analysis
PART THREE: STRATEGIC POSITION AND DYNAMICS
9: Strategic Positioning for Competitive Advantage
10: Information and Value Creation
11: Sustaining Competitive Advantage
PART FOUR: INTERNAL ORGANIZATION
12: Performance Measurement and Incentives
13: Strategy and Structure
14: Environment, Power, and Culture
See More
Extended Coverage Expanded and updated treatment of key areas such as the economics of innovation, strategic sources, value creation, commitment and dynamics, emerging economies, information disclosure with examples of Facebook and Google, and the practice of using intelligence to identify a firm's top competitors.
New Examples Additional examples with more variety of topics involving international business and business practices from the eighteenth century to present day.
Applications Practical applications through Financial Statement Analysis exercises that relate to real companies in virtually every chapter.
Easy Assessment New automatically graded multiple-choice test bank questions make assessment simple to create and schedule in WileyPLUS Learning Space.
See More
WileyPLUS Learning Space addresses the challenges of student readiness and retention, and helps instructors and students improve learning outcomes by integrating course content with learning tools, assessment, and practice activities in one platform.
Designed to engage today's student, WileyPLUS Learning Space is an easy way to help your students learn, collaborate, and grow. Using the Course Stream and dynamic e-textbook, students will ask more questions, share more insights, and see how their participation leads to progress.
See More
Instructors Resources
Digital evaluation copy available for this title
Request Copy

Contact your Wiley Representative
Find Your Rep

See More
See Less
Purchase Options

Information about Wiley E-Texts:
Wiley E-Texts are powered by VitalSource and accessed via the VitalSource Bookshelf reader, available online and via a downloadable app.
Wiley E-Texts are accessible online and offline, and can be read on a variety of devices, including smartphones and tablets.
Wiley E-Texts are non-returnable and non-refundable.
Wiley E-Texts are protected by DRM. For specific DRM policies, please refer to our FAQ.
WileyPLUS registration codes are NOT included with any Wiley E-Text. For informationon WileyPLUS, click here .
To learn more about Wiley E-Texts, please refer to our FAQ.

Information about e-books:
E-books are offered as e-Pubs or PDFs. To download and read them, users must install Adobe Digital Editions (ADE) on their PC.
E-books have DRM protection on them, which means only the person who purchases and downloads the e-book can access it.
E-books are non-returnable and non-refundable.
To learn more about our e-books, please refer to our FAQ.