Textbook
How Things Work: The Physics of Everyday Life, 6th Edition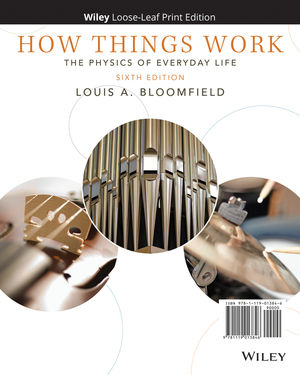 How Things Work provides an accessible introduction to physics for the non-science student. Like the previous editions it employs everyday objects, with which students are familiar, in case studies to explain the most essential physics concepts of day-to-day life. Lou Bloomfield takes seemingly highly complex devices and strips away the complexity to show how at their heart are simple physics ideas. Once these concepts are understood, they can be used to understand the behavior of many devices encountered in everyday life. The sixth edition uses the power of WileyPLUS Learning Space with Orion to give students the opportunity to actively practice the physics concepts presented in this edition. This text is an unbound, three hole punched version. Access to WileyPLUS sold separately.
See More
The Laws of Motion, Part 1
The Laws of Motion, Part 2
Mechanical Objects, Part 1
Mechanical Objects, Part 2
Fluids
Fluids and Motion
Heat and Phase Transitions
Thermodynamics
Resonance and Mechanical Waves
Electricity
Magnetism and Electrodynamics
Electromagnetic Waves
Light
Optics and Electronics
Modern Physics
See More
Now Featuring WileyPLUS Learning Space with Orion! Packed with interactive study tools and resources—including the complete online textbook—to give your students more value for their money. www.wileyplus.com
New Animations: Lou Bloomfield has created animations for each chapter. These animations are based on the most difficult concepts for students to understand, therefore providing a dynamic, visual representation that improves upon the standard static images. The animations are highlighted in the text to correspond to the location in the WileyPLUS Learning Space course.
New Art: The art program has been updated to include reworked illustrations and graphics that provide a clearer representation of the ideas shared in the text.
See More
WileyPLUS Learning Space is an easy way for students to learn, collaborate, and grow. With WileyPLUS Learning Space, students create a personalized study plan, assess progress along the way, and make deeper connections as they interact with the course material and each other.

WileyPLUS Learning Space also includes ORION–integrated, adaptive practice that helps students build their proficiency on topics and use their study time most effectively. This collaborative learning environment provides immediate insight into strengths and problem areas through a combination of dynamic course materials and visual reports so that both you and your students can act on what's most important.
Active Learning Experiments: An opportunity for students to attempt demonstrations of key physics concepts on their own—reinforcing the "everyday" nature of physics.
Three–way approach to the equation of physics: Because these students respond differently to equations, there presented carefully and in context in three different formats: word equation, symbolic equation, in a sentence that conveys the meaning of the equation in simple terms and often by example.
Accomplished Physicist and Professor: Lou Bloomfield gives talks all over the country on teaching physics through everyday objects. He brings his wealth of experience in the field of physics to this new edition.
See More
Instructors Resources
ENHANCE YOUR COURSE
Request a print evaluation copy
Contact us

Contact your Wiley Representative
Find Your Rep

See More
See Less
Purchase Options

Information about Wiley E-Texts:
Wiley E-Texts are powered by VitalSource and accessed via the VitalSource Bookshelf reader, available online and via a downloadable app.
Wiley E-Texts are accessible online and offline, and can be read on a variety of devices, including smartphones and tablets.
Wiley E-Texts are non-returnable and non-refundable.
Wiley E-Texts are protected by DRM. For specific DRM policies, please refer to our FAQ.
WileyPLUS registration codes are NOT included with any Wiley E-Text. For informationon WileyPLUS, click here .
To learn more about Wiley E-Texts, please refer to our FAQ.

Information about e-books:
E-books are offered as e-Pubs or PDFs. To download and read them, users must install Adobe Digital Editions (ADE) on their PC.
E-books have DRM protection on them, which means only the person who purchases and downloads the e-book can access it.
E-books are non-returnable and non-refundable.
To learn more about our e-books, please refer to our FAQ.
This title is also available on :