Textbook
Paediatric Handbook, 9th Edition
August 2015, ©2014, Wiley-Blackwell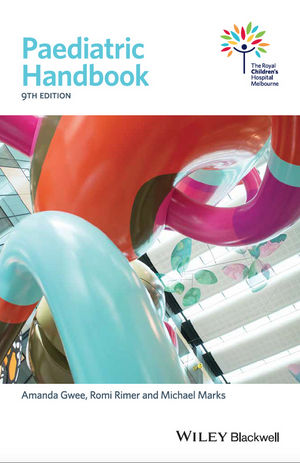 This new edition of the best-selling manual, The Royal Children's Hospital Melbourne Paediatric Handbook 9th Edition is a succinct and practical guide to managing common and serious disorders in childhood. Relevant to medical, nursing and allied health fields, this is both a useful source for revision and an essential guide to clinical management and rapid decision-making at the point of care.
For this edition, the handbook has been restructured according to body systems and is now more closely aligned with the Royal Children's Hospital Clinical Practice Guidelines. It also includes updated evidence-based information in all chapters, an additional genetics chapter, new renal and oncology chapters and fully updated drug doses.
The Handbook includes:
Clear illustrations, and plenty of accessible diagnostic and management algorithms
A Paediatric Pharmacopoeia
Step-by-step guidelines for paediatric procedures
Emphasis on the modern, community-based approach to the management of children's problems
A strong emphasis on practical management by the doctor at first contact
With well-presented, summarized information that you can easily access during a consultation, this text is also an excellent supplemental handbook for students, junior medical staff and medical practitioners.
See More
Contributors, vii
Acknowledgements, xii
Foreword, xiii
RCH Handbook List, xiv
Preface, xv
1 Medical emergencies, 1
Michael Clifford, Ed Oakley, James Tibballs
2 Surgical emergencies, 9
Russell Taylor, John Hutson, Tom Clarnette, Ed Oakley, Michael Nightingale
3 Pain management, 17
Jane Munro, George Chalkiadis
4 Procedures, 30
Ed Oakley
5 Poisoning and envenomation, 48
James Tibballs
6 Cardiac conditions, 61
Bryn Jones, Michael Cheung
7 Respiratory conditions, 74
Sarath Ranganathan, John Massie
8 Gastrointestinal conditions, 90
George Alex, Susie Gibbs, Winita Hardikar, Michael Nightingale
9 Fluids and nutrition, 106
Sarah McNab, Julian Kelly, Trevor Duke, Zoe¨ McCallum, Michele Meehan, Liz Rogers
10 Genitourinary conditions, 126
Amanda M. Walker, John Hutson, Mike O'Brien, Sonia Grover
11 Neurologic conditions, 144
Andrew Kornberg, Mark Mackay, Wirginia Maixner
12 Haematologic conditions and oncology, 159
Anthea Greenway, Diane Hanna, Francoise Mechinaud, Yves Heloury
13 The endocrine system, 184
Margaret Zacharin, Fergus Cameron, George Werther, Michele O'Connell
14 Growth and puberty, 203
Matthew Sabin, Michele O'Connell, Georgia Paxton
15 Bones and joints, 215
Peter Barnett, Jane Munro, Leo Donnan, Roger Allen
16 Head and neck conditions, 231
James Elder, Kerrod Hallett, Elizabeth Rose, Kathy Rowe
17 Dermatologic conditions, 250
Rod Phillips, David Orchard
18 Infectious diseases and immunisation, 265
Nigel Curtis, Mike Starr, Tom Connell, Nigel Crawford
19 Allergy and immunology, 305
Ralf Heine, Joanne Smart, Dean Tey
20 Genetics and metabolics, 320
David Amor, Joy Lee
21 Neonatal conditions, 330
Rod Hunt
22 Adolescent health, 345
Susan Sawyer, Michelle Telfer, Sonia Grover
23 Child development and disability, 357
Daryl Efron, Catherine Marraffa, Sheena Reilly, Dinah Reddihough
24 Sleep problems, 370
Margot Davey
25 Behaviour and mental health, 376
Chidambaram Prakash, Lionel Lubitz, Daryl Efron
26 Prescribing for children, 400
Noel Cranswick, Antun Bogovic
27 Immigrant health, 404
Georgia Paxton
28 The death of a child, 412
Jenny Hynson
29 Forensic medicine, 417
Anne Smith
Appendices
1 Growth charts, 426
2 Pharmacopoeia, 443
3 Antimicrobial guidelines, 483
4 Formulae, 494
Index, 496
See More
Purchase Options
Paediatric Handbook, 9th Edition
ISBN : 978-1-119-05679-9
544 pages
June 2015
Paediatric Handbook, 9th Edition
ISBN : 978-1-118-77745-9
544 pages
May 2015
Paperback
Paediatric Handbook, 9th Edition
ISBN : 978-1-118-77748-0
544 pages
August 2015

Information about Wiley E-Texts:
Wiley E-Texts are powered by VitalSource and accessed via the VitalSource Bookshelf reader, available online and via a downloadable app.
Wiley E-Texts are accessible online and offline, and can be read on a variety of devices, including smartphones and tablets.
Wiley E-Texts are non-returnable and non-refundable.
Wiley E-Texts are protected by DRM. For specific DRM policies, please refer to our FAQ.
WileyPLUS registration codes are NOT included with any Wiley E-Text. For informationon WileyPLUS, click here .
To learn more about Wiley E-Texts, please refer to our FAQ.

Information about e-books:
E-books are offered as e-Pubs or PDFs. To download and read them, users must install Adobe Digital Editions (ADE) on their PC.
E-books have DRM protection on them, which means only the person who purchases and downloads the e-book can access it.
E-books are non-returnable and non-refundable.
To learn more about our e-books, please refer to our FAQ.