Textbook
Nutrition: Science and Applications, 4th Edition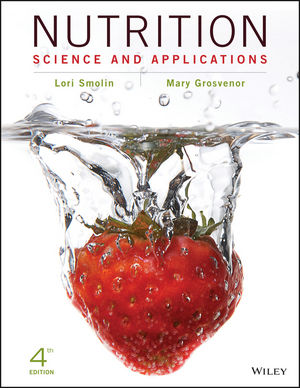 Nutrition: Science and Applications, 4th Edition helps students develop the scientific understanding to support their personal and professional decisions. Using a critical thinking approach, Smolin brings nutrition out of the classroom and allows students to apply the logic of science to their own nutrition concerns – both as consumers and as future scientists and health professionals.
See More
1. Nutrition: Food for Health
2. Nutrition Guidelines: Applying the Science of Nutrition
3. Digestion, Absorption, and Metabolism
4. Carbohydrates: Sugars, Starches, and Fiber
5. Lipids: Triglycerides, Phospholipids, and Cholesterol

Focus on Alcohol

6. Proteins and Amino Acids
7. Energy Balance and Weight Management

Focus on Eating Disorders

8. The Water-Soluble Vitamins
9. The Fat-Soluble Vitamins

Focus on Phytochemicals

10. Water and the Electrolytes
11. Major Minerals and Bone Health
12. The Trace Minerals

Focus on Dietary Supplements

13. Nutrition and Physical Activity
14. Nutrition During Pregnancy and Lactation
15. Nutrition from Infancy to Adolescence
16 Nutrition and Aging: The Adult Years
17. Food Safety

Focus on Biotechnology

18. World Hunger and Malnutrition

Focus on Metabolism (online only)
See More
• Updated Dietary Standards. Completely updated and revised to reflect the updated Dietary Standards released by the FDA in Fall 2015.
• Now Featuring WileyPLUS Learning Space! WileyPLUS Learning Space is a research-based online environment for effective teaching and learning. WileyPLUS Learning Space is packed with interactive study tools and resources–including the complete online textbook–to give your students more value for their money. www.wileypluslearningspace.com
• A number of new digital activities found in WileyPLUS Learning Space. a number of new drag-n-drop interactivities focused on food sources and qualities for the macro- and micronutrient chapters, as well as 8 calculating "working it out" activities that allow students to create unique meals and calculate the amount of calories and percent of calories for each of the macronutrients.
• Updated Video Resources. 12 Nutrition Bites videos that explain tough concepts and relate chapter topics to everyday life, as well as 5 new videos focusing on the most current, relevant topics in nutrition.
• Mobile media assets are now accessible on tablets and smartphones, including How It Works Animations, Interactive Process Diagrams, What's On My Plate? animations, and iProfile, Dietary Assessment Program.
See More
Develop Scientific Understanding. Nutrition: Science and Applications, 4th Edition equips students with the resources they need to understand challenging concepts.
Metabolism. This concept is presented via an integrated approach, making it more accessible to students. We integrate metabolism because we believe that it is more effective to cover metabolism when it appears germane to the topic. Metabolism is introduced in Chapter 3: Digestion, Absorption, and Metabolism. It is then carried out through the rest of the book. By incorporating both metabolism, and health and disease information throughout the text, students can see that a nutrient's function in metabolism is related to its role in health and disease.
Metabolism Icons. These icons are integrated throughout the text. They allow for easy identification of where metabolism information has been integrated into each chapter.
See More
Instructors Resources
ENHANCE YOUR COURSE
Request a print evaluation copy
Contact us

Contact your Wiley Representative
Find Your Rep

See More
See Less
Students Resources
See More
See Less
Purchase Options

Information about Wiley E-Texts:
Wiley E-Texts are powered by VitalSource and accessed via the VitalSource Bookshelf reader, available online and via a downloadable app.
Wiley E-Texts are accessible online and offline, and can be read on a variety of devices, including smartphones and tablets.
Wiley E-Texts are non-returnable and non-refundable.
Wiley E-Texts are protected by DRM. For specific DRM policies, please refer to our FAQ.
WileyPLUS registration codes are NOT included with any Wiley E-Text. For informationon WileyPLUS, click here .
To learn more about Wiley E-Texts, please refer to our FAQ.

Information about e-books:
E-books are offered as e-Pubs or PDFs. To download and read them, users must install Adobe Digital Editions (ADE) on their PC.
E-books have DRM protection on them, which means only the person who purchases and downloads the e-book can access it.
E-books are non-returnable and non-refundable.
To learn more about our e-books, please refer to our FAQ.
This title is also available on :