Textbook
Human Geography: People, Place, and Culture, 11th Edition, Advanced Placement Edition Study Guide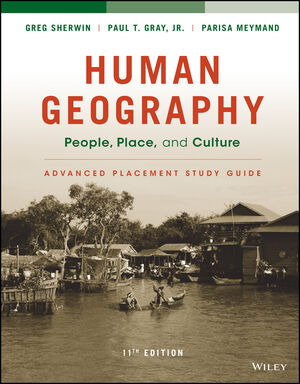 Written to support Human Geography: People, Place, and Culture 11e AP Edition, the study guide provides students with the tools and understanding they need to succeed in the AP course and on the AP exam. Three books in one, the first section of the study guide will help students understand the AP Human Geography course and how it is organized. Section two includes reading strategies and a chapter-by-chapter study tool, while the third section provides study tools and practice for the AP Human Geography exam.
See More
PART 1: Understanding AP Human Geography 1
Section 1: Why Everyone Needs to Take Human Geography.1
It's a Smaller World after All
Section 2: This Ain't Yo Daddy's or Momma's Geography 7
Section 3: How to Read Your Textbook or 18
How This Workbook Saved My Grade
PART 2: Understanding Your Textbook 29
Chapter 1: Introduction to Human Geography 29
Chapter 2: Population 38
Chapter 3: Migration 49
Chapter 4: Local Culture, Popular Culture, and Cultural Landscapes 59
Chapter 5: Identity: Race, Ethnicity, Gender, and Sexuality 67
Chapter 6: Language 75
Chapter 7: Religion 85
Chapter 8: Political Geography 95
Chapter 9: Urban Geography 104
Chapter 10: Development 113
Chapter 11: Agriculture and the Rural Landscape 122
Chapter 12: Industry and Services 132
Chapter 13: The Humanized Environment 141
Chapter 14: Globalization and the Geography of Networks 151
Part 3: Getting Ready for the AP Exam 158
Section 1: Anatomy of a Multiple-Choice Question 159
Section 2: Anatomy of a Free-Response Question 166
Section 3: Practice Exam #1 169
Section 4: Practice Exam #2 190
See More
Purchase Options
Paperback
Human Geography: People, Place, and Culture, 11e Advanced Placement Edition (High School) Study Guide
ISBN : 978-1-119-11934-0
216 pages
June 2015, ©2015

Information about Wiley E-Texts:
Wiley E-Texts are powered by VitalSource and accessed via the VitalSource Bookshelf reader, available online and via a downloadable app.
Wiley E-Texts are accessible online and offline, and can be read on a variety of devices, including smartphones and tablets.
Wiley E-Texts are non-returnable and non-refundable.
Wiley E-Texts are protected by DRM. For specific DRM policies, please refer to our FAQ.
WileyPLUS registration codes are NOT included with any Wiley E-Text. For informationon WileyPLUS, click here .
To learn more about Wiley E-Texts, please refer to our FAQ.

Information about e-books:
E-books are offered as e-Pubs or PDFs. To download and read them, users must install Adobe Digital Editions (ADE) on their PC.
E-books have DRM protection on them, which means only the person who purchases and downloads the e-book can access it.
E-books are non-returnable and non-refundable.
To learn more about our e-books, please refer to our FAQ.