Textbook
Lecture Notes: Gastroenterology and Hepatology, 2nd Edition
May 2016, ©2017, Wiley-Blackwell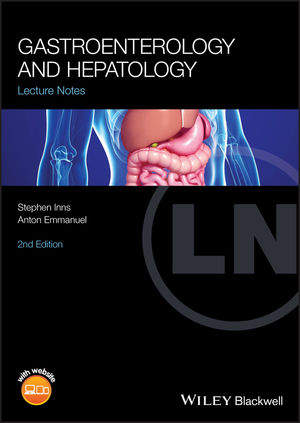 Gastroenterology and Hepatology Lecture Notes is a comprehensive yet easy-to-read overview of luminal gastroenterology and hepatology. Covering the epidemiology, causes, clinical features, investigation, treatment and prognosis of all the main gut and liver conditions, it is ideal for both exam preparation and fact finding.

Key features include:

• A full range of new illustrations, including clinical photographs and scans, that clearly demonstrate signs and symptoms
• Sections on anatomy, physiology, pharmacology, and epidemiology – written to enhance understanding of clinical features
• Essential information highlighted throughout the text
• Case-based self-assessment for each chapter helps retention of knowledge and puts it in its clinical context
• A new section of "best answer" MCQs
• New chapters on inflammatory bowel disease and different diagnosis of the upper GI tract
• Includes a companion website at www.lecturenoteseries.com/gastroenterology featuring 16 in-depth case studies

Whether learning the basics of the gastrointestinal system, starting a general medical or gastroenterological placement, or looking for a quick-reference overview to revise key concepts,
Gastroenterology and Hepatology Lecture Notes is an ideal resource for medical students, MRCP or FRACP candidates, and junior doctors.
See More
Preface to the second edition vii
Preface to the first edition viii
About the companion website ix
Part I Clinical Basics
1 Approach to the patient with abdominal pain 3
2 Approach to the patient with liver disease 13
3 Approach to the patient with luminal disease 20
4 Nutrition 34
5 Gastrointestinal infections 46
6 Gastrointestinal investigations 53
Part II Gastrointestinal Emergencies
7 Acute gastrointestinal bleeding 63
8 Acute upper and lower gastrointestinal emergencies 67
9 Acute liver failure 75
10 Pancreatobiliary emergencies 81
Part III Regional Gastroenterology
11 Oral cavity 91
12 Oesophagus 93
13 Stomach and duodenum 101
14 Small intestine 107
15 Small and large bowel disorders 115
16 Colon 128
17 Anorectum 135
18 Pancreatic diseases 141
19 Biliary diseases 149
20 Consequences of chronic liver disease 160
21 Liver transplantation 174
22 Alcoholic liver disease 182
23 Non‐alcoholic fatty liver disease 186
24 Viral hepatitides 190
25 Drug‐induced liver injury 204
26 Autoimmune hepatitis 209
27 Liver tumours and lesions 212
28 Vascular liver diseases 218
29 Pregnancy‐related liver disease 229
30 Hereditary and congenital liver diseases 233
Part IV Study Aids and Revision
Gastrointestinal history check-list 255
Abdominal examination routine 257
Rectal examination routine 259
Common OSCE cases 260
Surgical sieve 261
Part V Self‐Assessment: Answers
Self-assessment: answers 265
Index 271
See More
Purchase Options

Information about Wiley E-Texts:
Wiley E-Texts are powered by VitalSource and accessed via the VitalSource Bookshelf reader, available online and via a downloadable app.
Wiley E-Texts are accessible online and offline, and can be read on a variety of devices, including smartphones and tablets.
Wiley E-Texts are non-returnable and non-refundable.
Wiley E-Texts are protected by DRM. For specific DRM policies, please refer to our FAQ.
WileyPLUS registration codes are NOT included with any Wiley E-Text. For informationon WileyPLUS, click here .
To learn more about Wiley E-Texts, please refer to our FAQ.

Information about e-books:
E-books are offered as e-Pubs or PDFs. To download and read them, users must install Adobe Digital Editions (ADE) on their PC.
E-books have DRM protection on them, which means only the person who purchases and downloads the e-book can access it.
E-books are non-returnable and non-refundable.
To learn more about our e-books, please refer to our FAQ.
More in this series