Textbook
The Sciences: An Integrated Approach, Eighth Edition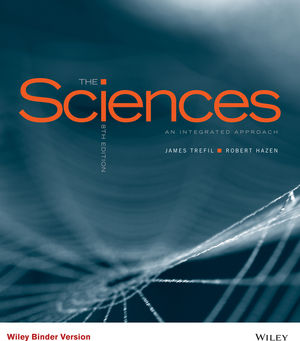 This text is an unbound, three hole punched version.

The Sciences: An Integrated Approach, Binder Ready Version, 8th Edition by James Trefil and Robert Hazen uses an approach that recognizes that science forms a seamless web of knowledge about the universe. This text fully integrates physics, chemistry, astronomy, earth sciences, and biology and emphasizes general principles and their application to real- world situations. The goal of the text is to help students achieve scientific literacy. Applauded by students and instructors for its easy-to-read style and detail appropriate for non-science majors, the eighth edition has been updated to bring the most up-to-date coverage to the students in all areas of science.
See More
Science: A Way of Knowing
The Ordered Universe
Energy
Heat and the Second Law of Thermodynamics
Electricity and Magnetism
Waves and Electromagnetic Radiation
Albert Einstein and the Theory of Relativity
The Atom
Quantum Mechanics
Atoms in Combination: The Chemical Bond
Materials and Their Properties
The Nucleus of the Atom
The Ultimate Structure of Matter
The Stars
Cosmology
Earth and Other Planets
Plate Tectonics
Earth's Many Cycles
Ecology, Ecosystems, and the Environment
Strategies of Life
The Living Cell
Molecules of Life
Classical and Modern Genetics
The New Science of Life
Evolution
See More
• Now Featuring WileyPLUS Learning Space!
• Interactive Discovery Labs have been updated into Javascript to provide a better user experience in WileyPLUS Learning Space.
• Updated Technologies All chapters have been updated where appropriate to reflect the most recent technologies, including newer examples of computers and hybrid vehicles.
• New and Updated End of Chapter Questions written to stimulate discussion, integrated thinking, and check students' understanding of the materials.
See More
WileyPLUS Learning Space
is an easy way for students to learn, collaborate, and grow. With WileyPLUS Learning Space, students create a personalized study plan, assess progress along the way, and make deeper connections as they interact with the course material and each other.
Through a combination of dynamic course materials and visual reports, this collaborative learning environment gives you and your students immediate insight into strengths and problem areas in order to act on what's most important.
See More
Instructors Resources
ENHANCE YOUR COURSE
Request a print evaluation copy
Contact us

Contact your Wiley Representative
Find Your Rep

See More
See Less
Students Resources
See More
See Less
Purchase Options

Information about Wiley E-Texts:
Wiley E-Texts are powered by VitalSource and accessed via the VitalSource Bookshelf reader, available online and via a downloadable app.
Wiley E-Texts are accessible online and offline, and can be read on a variety of devices, including smartphones and tablets.
Wiley E-Texts are non-returnable and non-refundable.
Wiley E-Texts are protected by DRM. For specific DRM policies, please refer to our FAQ.
WileyPLUS registration codes are NOT included with any Wiley E-Text. For informationon WileyPLUS, click here .
To learn more about Wiley E-Texts, please refer to our FAQ.

Information about e-books:
E-books are offered as e-Pubs or PDFs. To download and read them, users must install Adobe Digital Editions (ADE) on their PC.
E-books have DRM protection on them, which means only the person who purchases and downloads the e-book can access it.
E-books are non-returnable and non-refundable.
To learn more about our e-books, please refer to our FAQ.
This title is also available on :