Textbook
Medicine Management for Nurses at a Glance
February 2016, ©2016, Wiley-Blackwell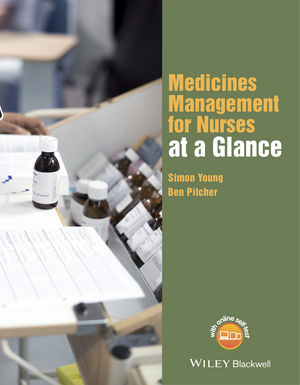 Medicines Management for Nurses at a Glance is the perfect companion for study and revision for pre-registration nursing and healthcare students. Combining superb full colour illustrations with accessible and informative text, it provides an easy-to-read and supportive guide to the key pharmacological knowledge nursing students and registered nurses need to know.
Divided into three sections, the first introduces key topics within clinical pharmacology and medicines management including, numeracy, pharmacokinetics, routes of administration, and pharmacodynamics. The second and final sections cover the management of medicines for common medical conditions, drug interactions, side effects, and safe and effective prescribing.
Written specifically for nurses, it covers the fundamentals of pharmacology as they apply to nursing practice.
Breaks down complex concepts in an accessible way, providing helpful overviews of all key pharmacological topics.
Includes practical issues relating to practice, and is written to support the Essential Skills Cluster of the NMC, and the content of the BNF.
Includes content relevant to each of the four fields of nursing, and covers drugs for specific groups such as children, pregnant and breastfeeding women, and the elderly.
A companion website is available at www.ataglanceseries.com/nursing/medicinesmanagement featuring interactive multiple choice questions.
See More
Preface vii
About the companion website ix
Part 1 Introduction to Pharmacology and Medicines Management 1
1 Why is managing medicines important in nursing? 2
2 Keeping up to date with medicines management 4
3 What is a medicine? 6
4 Medicines nomenclature: what's in a name? 8
5 Numeracy and medicines management 10
6 Clinical pharmacokinetics I 12
7 Clinical pharmacokinetics II 14
8 Routes of administration I 16
9 Routes of administration II 18
10 Pharmacodynamics I 20
11 Pharmacodynamics II 22
Part 2 Managing medicines 25
12 Dyspepsia 26
13 Acute diarrhoea and constipation 28
14 Chronic bowel disease 30
15 Nausea and vomiting 32
16 Anti-anginals 34
17 Anti-arrhythmics 36
18 Heart failure 38
19 Hypertension 40
20 Diuretics 42
21 Respiratory conditions I 44
22 Respiratory conditions II 46
23 Opioid analgesics 48
24 Anxiolytics and hypnotics 50
25 Antipsychotics 52
26 Depression 54
27 Epilepsy 56
28 Alcohol: detoxification 58
29 Alcohol: maintaining abstinence 60
30 Smoking cessation 62
31 Fighting infection 64
32 Antibiotics 66
33 Diabetes: insulin 68
34 Diabetes: antiglycaemics 70
35 Thyroid conditions 72
36 Oral contraception 74
37 Anticoagulants 76
38 Antiplatelet drugs 78
39 Musculoskeletal disorders 80
40 Non-steroidal anti-inflammatory drugs and non-opioid analgesics 82
41 Topical agents and emollients 84
42 Topical steroids 86
Part 3 Safe and effective medicines management 89
43 Medicines management in pregnancy and breastfeeding 90
44 Medicines management in children 92
45 Medicines management in elderly people 94
46 Medicines management in people with hepatic and renal impairment 96
47 Drug interactions 98
48 Adverse drug reactions 100
49 Pharmacovigilance 102
50 Classification of medicines 104
Index 107
See More
Purchase Options

Information about Wiley E-Texts:
Wiley E-Texts are powered by VitalSource and accessed via the VitalSource Bookshelf reader, available online and via a downloadable app.
Wiley E-Texts are accessible online and offline, and can be read on a variety of devices, including smartphones and tablets.
Wiley E-Texts are non-returnable and non-refundable.
Wiley E-Texts are protected by DRM. For specific DRM policies, please refer to our FAQ.
WileyPLUS registration codes are NOT included with any Wiley E-Text. For informationon WileyPLUS, click here .
To learn more about Wiley E-Texts, please refer to our FAQ.

Information about e-books:
E-books are offered as e-Pubs or PDFs. To download and read them, users must install Adobe Digital Editions (ADE) on their PC.
E-books have DRM protection on them, which means only the person who purchases and downloads the e-book can access it.
E-books are non-returnable and non-refundable.
To learn more about our e-books, please refer to our FAQ.
More in this series